Check out the "Mash Squat Every Day" E-Book with 4 twelve week programs for weightlifting, powerlifting, super total, and bodybuilding. Find out more below:
Whether you want to lose weight, gain weight, or get jacked, check out the "Mash Eat What You Want Program" for all of you Nutrition needs. Check it out today at the link below:
==> The Mash Eat What You Want Program
Join Team Mash Mafia for weightlifting, powerlifting, athletic performance, bodybuilding, running, or a hybrid approach. This team is already taking over weightlifting, and I plan on taking over all of the other disciplines one at a time. Check it out below:
The 3-Day Mash Camp is happening at the Compound July 8-10. Max Out Friday and Dinner with the team on the 8th, seminar on the 9th, and meet seminar followed by a sanctioned meet on the 10th. To find out more, check out the link below:
Undisputed Strength's Role in Growing the Mash Mafia
In 2014, I reached out to all the gyms in Minneapolis about affiliating with my brand. For all of you that don't know, I have a daughter, Bailey, that lives in Minnesota, and I wanted to find a way to see her more often. I was blessed to have several reach out to me, but there was one gym that immediately connected with me. It wasn't really a gym at that point, but it was in the works.
The two owners Vinh and Jason were the reason that I chose to affiliate with them. They care about people. They love weightlifting. Most importantly they are sincere and honest. I could tell it in their communication with me, and that was the deciding factor. I haven't regretted that decision at all. It has been a huge blessing in my life.
Their gym is Undisputed Strength and Conditioning in Eagan, MN. If you live near them, I recommend checking them out. It's definitely a guaranteed way to get to know me, and to automatically be a part of my family. There website is www.undisputedsc.com if you want to investigate.
Jason and Vinh have become like family to me. As a matter of fact, the entire gym family at Undisputed is like family. I love going for my visits. I stay in the same hotel, and we go to the same restaurant. A big chunk of the gym comes out to dinner with Bailey and me, and we simply love each and every one of them.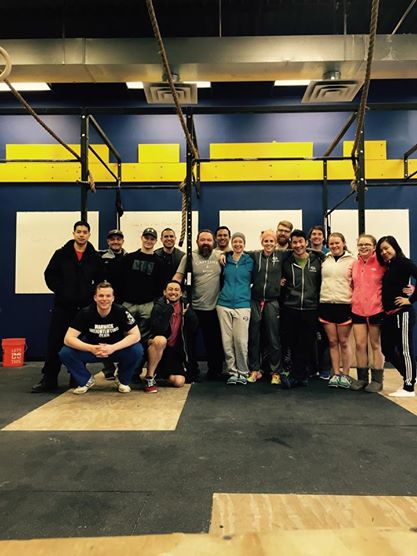 As you can tell I am super biased in my view of Undisputed Strength and Conditioning. However, that's not the reason that I am writing this. I want to show you how communication is the main key that will propel American Weightlifting forwards. Jason and Vinh are National coaches. They aren't just some gym that affiliates with me. We are one big team.
We share all ideas with each other. If I discover something that works, I tell them, and they do the same for me. Our team is one big team, and it is spreading throughout the United States. The beautiful thing that I have noticed is the way that our team communicates at big National Meets. They interact like one big family. That has been a beautiful thing to watch.
When I create something, I always have a vision. However, that vision doesn't always go as planned. In the case of Undisputed Strength and Conditioning it became something better than I ever dreamed. Their weightlifting club is called Mash Mafia MN, and they are truly an extension of my team in North Carolina. We have the same culture, and we have the same dreams for the sport.
If there was more communication in the world of weightlifting, we could advance as a sport so much quicker. Unfortunately too many people want it to be about them personally. They want to have their own club, and coach their own athletes. They want everyone to think that they are some guru, and that their club has a magical program. Hog Wash is what I say!
Nobody cares about your magical program. We just want to see weightlifting improve in America. There are a lot of coaches out there that are mad because I am able to give some stipends and other benefits. I find this to be crazy. I am trying to stipend all of my athletes, and soon I will do just that. I want to provide my athletes with the ability to succeed. I don't want them working 40-hour jobs, and I don't want them worrying about bills. I want them worrying about crushing big weights and slamming bars.
Instead of hating on me why don't you guys email me and ask questions. I would help any coach in America. Nothing that I do is a secret. I put most of it out for free on my site. I open my doors to anyone at our gym. How could anyone not appreciate that?
If people cared more about their athletes and less about their own ego, then all the coaches from around the United States could cooperate like I do with Vinh and Jason. We could all work together with the advancement of our beloved sport. Imagine a scenario where all of the best coaches in America come together on the topics of:
• Programming
• Technique
• Muscular balance
• Accessory work
• Nutrition
• Supplementation
• Biomechanics
• Recovery
• Recruitment
• Identifying talent
• Youth programs
• Funding
These are just a few things that we could all do together if we could just cooperate. I am not saying that we all have to agree 100% with each other. Let's just learn from each other. I have learned from Greg Everett, Sean Waxman, Don McCauley, Ray Jones, and the list goes on and on. I will never stop learning. No coach out there should think that his system is perfect. If it were perfect, he would be churning out Olympic medalists on the regular. As far as I know, no one is doing that, so we all have a lot to learn.
Undisputed is the first Mash Barbell Affiliate, but it's not the only. We have 13 now, and we are looking to add more. The whole point is to help other programs get better, provide some branding, and to teach perspective coaches how to:
• Teach proper technique
• Program according to their athletes
• Recruit new athletes
• Grow their business
• Market their programs
I just want to spread what we are doing. I want to grow our family. I work closely with my affiliates, and I am currently working on partnerships with four of them on ideas that they came up with. I just help them accelerate their ideas to completion.
Vinh and I are working on a lot of ideas together. We are about to drop two awesome things for all of you to enjoy. I just can't tell you about them yet. The point of all of this is we can work together and create something amazing for all the athletes in America. We can do way more together than we ever could separately.
I thank God for Vinh, Jason, and my entire Mash Mafia MN family. You guys opened your hearts to me, and for that I am forever loyal to all of you. You provided a way to see my daughter more often, and that is something that I can never repay.
If any of you reading this are interested in checking out the Mash Barbell Affiliate Program, check out the link below:
⇒ Mash Barbell Affiliate Program