Check out one of the Online Teams:
• Mash Mafia Bronze
• Mash Mafia Silver
• Mash Mafia Gold
• Eat What You Want
• Eat and Lift What You Want
Check them out here: ⇒ Mash Mafia Online Teams
=================================================================================
2017 Youth Nationals Day 2 and Closing Thoughts
First I want to say that the Georgia people and the USAW Staff that put on this monster meet did an incredible job. There were 800 kids at this meet with zero incidents that I saw at least. There was only one technical stop that lasted for about 30-seconds. It was an incredible experience for the athletes, coaches, and spectators. Thank you so much!
I also want to say that our Youth Team along with their parents is the best group of people that a coach could ever ask for. The athletes supported each other the entire weekend, and we hung out as a team the entire weekend. When I say team, I am talking about the families as well. Weightlifting is an incredibly fun sport, but it is the entire culture that makes the sport so darn addicting. We killed it the entire weekend, and hung out each and every day. We were one big family this weekend, and I loved it.
The final day was just as exciting as day one. Matt Wininger was up first in the 77kg class. Matt has been with me longer than any of my athletes. I started coaching him about seven years ago. This was his best meet ever. He went 5 for 6 hitting all meet PRs, and even Clean & Jerk 136kg, but was called for a slight press out. We will go ahead and call that a training make with 300lb. He weighed in at 70kg, so we probably should have gone to 69kg. He learned a lot this weekend. I believe that he finally realized that he could be a part of Team USA if he simply put in the consistent work. I believe that he is going to turn the corner and smash some really big weights in the coming years.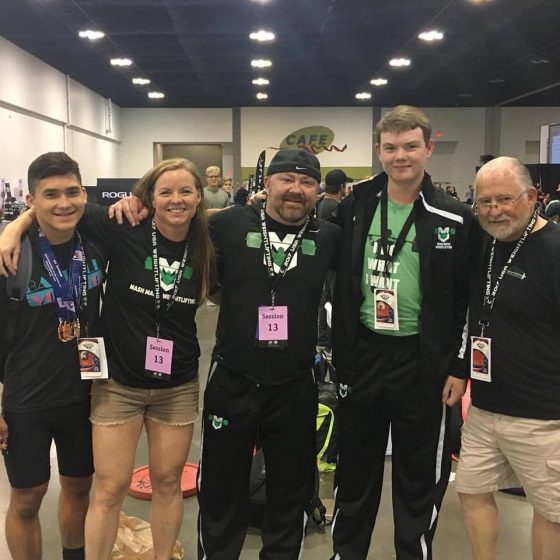 Matt King was up next in the 85kg Class. He easily won Gold with his 107kg Snatch Opener. He made a few technical mistakes or he would have easily Snatch 115kg. In the Clean & Jerk he hit 140kg on his second attempt, and then we went for 143kg on his third attempt for Gold overall. Unfortunately he ran out of gas a bit. Silver in his first Youth Nationals is still great, and he has a good chance at making a Pan Am Team. We are just waiting now to see if he made it.
Nadeen Pierre has absolutely taken the sport by storm. She went 5:6 hitting Competition PRs of 80kg in the Snatch and 102kg in the Clean & Jerk to take Silver across the board. It looks like she earned a spot on the Youth Pan Am Team as well. She only missed one lift and that was her second attempt in the Snatch of 78kg. Her Coach Vinh Huynh had her go on up to 80kg anyways, and she stuck it. That's basically 6:6 in my book.
So now we are just waiting to see who is actually on the Youth Pan Am Team going to Colombia. Three of our team members have a real shot: Morgan McCullough, Matt King, and Nadeen. I assume that they will come out with the invites this week sometime. All that I can say is that these kids killed it, and I have never been so proud.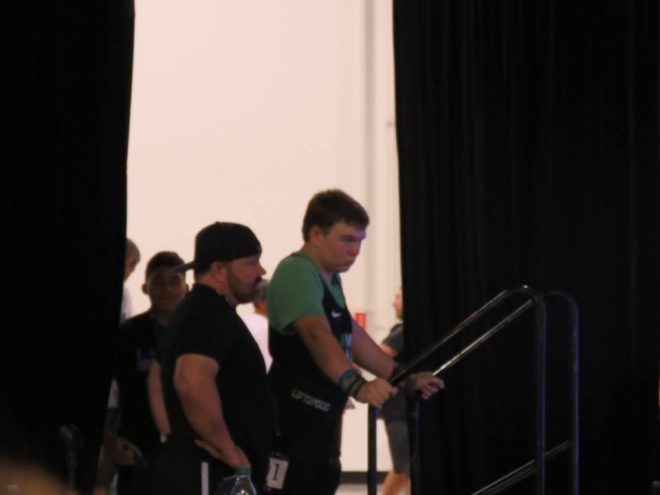 I hope that all coaches take the opportunity to teach their athletes life lessons at these competitions. Of course all of us want them to be champion weightlifters, but the truth is that the life application is so much more important. Let me point out some of the things that were taught this weekend:
1. Overcoming Adversity in a Pressure Situation- Every athlete on our team was placed in situations that were high pressure. Some were put in a position to medal, some to make a Pan Am Team, and some to win Gold. Some of them were able to overcome the adversity, and some fell short. Either way there were lessons learned. I have watched Matt Wininger go from being terrified on the National stage to going 5:6 and dang near 6:6. He used to turn white as a sheet and get sick. Weightlifting has taught him to overcome his anxieties. Make no mistake about it; life will present all of us with pressure situations from time to time. These athletes are learning how to deal with those situations at a very early age.
2. Dealing with Failure- I hate to use the word failure. I would rather say "less than desirable outcome", but I am calling an ace an ace in this instance. Here's the thing. Things are not always going to go as planned. We had one of our team members fall victim to a freak injury in the warm up room. Brett, our 62kg lifter, was warming up with 60kg in the Clean & Jerk, when he suddenly dislocated his knee. Obviously he was disappointed, and he was worried that I would be upset. Of course I wasn't upset. My heart was crushed for him. My job as a coach is to show him how to overcome injury and setbacks. As soon as he gets his official diagnosis, we will develop a plan, and we will get him back stronger than ever. He definitely has some imbalances that we are going to target. He came to me late in the season, so I haven't had a lot of time to focus on hypertrophy and muscular balance yet.
3. Sportsmanship and Team Work- These two characteristics are exactly what made me the most proud all weekend long. My athletes won and loss with humility. They shook the hands of all their competitors. The cheered on their teammates, and they helped each other in the back room. Not one athlete tried to avoid helping or supporting their team. They had each other's back the entire weekend, and these boys and girls will remain friends for life because of it.
I am so thankful to coach alongside two of the greatest coaches in the business: Don McCauley and Vinh Huynh. We make a good team, and I look forward to a long career of victories and success. Either one of those guys could easily coach an Olympic Team, and Team Mash Mafia is very lucky to have them. Not to mention they are family to me, and they really make these long weekends a lot of fun.
I also want to thank our sponsors for believing in this team: Intek Strength, Nike Weightlifting, Harbinger Fitness, and BiPro. You guys make this possible, and I am so glad that we could represent your companies in such a fashion as we did last weekend. There is two more coming, but I will announce them one at a time in the coming months. Thank all of you so much!
===========================================================================
Check out one of our nine E-Books:
• "Squat Every Day" (High Frequency Squat Programming)
• "Eat What You Want" (Nutrition, Macros, and a built-in Macro Calculator
• "Squat Every Day 2" (Part 2 of High Frequency Squat Programming)
• "No Weaknesses" (Defeat Muscular Imbalances crush the Recovery Game)
• "Mash Program Sampler" (Athletic Performance, Oly, Powerlifting, and Functional Programming)
• "Mash Program Sampler 2 (8 More 12-week Programs)
• "The Mash Blueprint for Program Design" (Learn all about Programming)
• "Performance Zone" (Defeat all Mental Roadblocks)
• "Train Stupid"(Programming and Philosophy of Nathan Damron)
• "MashJacked" (Hypertrophy for Performance and Aesthetics)
Check them out here: ⇒ Mash Elite E-Books