Check out one of the Online Teams:
• Mash Mafia Bronze
• Mash Mafia Silver
• Mash Mafia Gold
• Eat What You Want
• Eat and Lift What You Want
Check them out here: ⇒ Mash Mafia Online Teams
===============================================
So CrossFit is Stupid?
There are a lot of people that hate on CrossFit. So-called experts complain about the programming and the technique that "they" use. My question to them is, "Have you ever been in a commercial gym?" If so, why are you singling out CrossFit? I went to L.A. Fitness in Atlanta this past Friday and a local gym tonight, and man did I see some of the craziest movements of my life. Actually I am not sure that I can even call what these people were doing, "movements".
Tonight I looked at my wife and said, "Wow this is real! People actually do this insanity." I shook my head as a group of teenage boys came in the gym, slapped 205lb on the squat bar, and proceed to perform the most rounded back, knee-knobbing, and high squats that I have ever seen. Not to mention they of course were using the sissy pad to protect their precious little necks. I almost threw up, and that's when I was inspired to write this blog.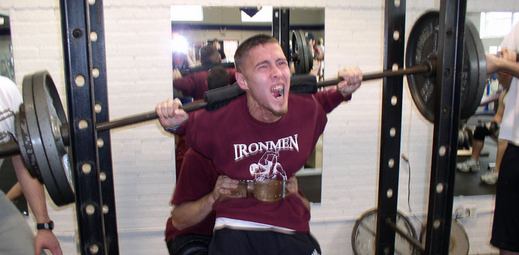 You can hate on CrossFit all you want, but I have never seen more insane movements and awful technique than in a commercial gym. Now before I become the first hater of commercial gyms, I want to say that good things do happen in commercial gyms. Heck Ed Coan trained in a commercial gym. Nathan Damron trained in a commercial gym. I just trained in one tonight, so obviously there are people doing it right in commercial gyms.
Here's the point that I want to make. Whether you are in a CrossFit, commercial gym, collegiate strength and conditioning room, or any other type of gym in America, there will be good coaches, bad coaches, ridiculous people, and amazing people. It doesn't matter the genre of strength that you love. There will always be good and bad.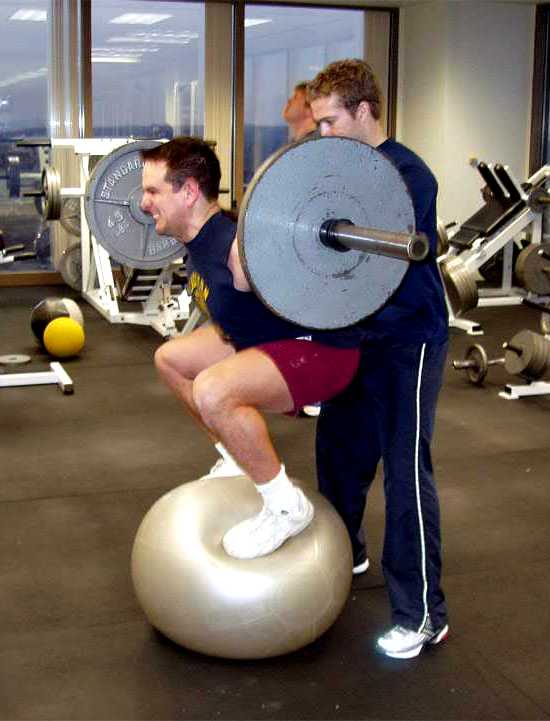 I just want to make this point once and for all. I want all of you to know that there isn't a strength genre that is perfect. There are no absolutes, and that goes both ways. I have met some amazing CrossFit Coaches like CJ Martin, Kevin Simons, and Ryan Grady. They are masters of their craft, and are dang good weightlifting coaches as well.
I have been in CrossFit where all the movements were beautiful. That's pretty darn impressive because there are a lot of movements to perfect. I have also seen some pretty crazy stuff like a 60-year-old snatching when they had no business snatching. I have watched people snatching that needed to learn how to air squat properly.
I have also been in Division I strength and conditioning rooms where I was actually confused about what was going on. I am talking about major universities with strength coaches that weren't qualified to teach a spin class at your local YMCA. I have also watched guys like Coach Kenn from the Carolina Panthers run a room as if he was conducting an orchestra with athletes performing exercises with perfect movement.
The problem is that there isn't enough regulation anywhere in the strength world. A guy goes to a CrossFit certification over the weekend, and now he's a coach. A guy takes his C.S.C.S and now he's coaching Division I Athletes because he knows somebody in the organization. Heck a guy or gal goes online tonight and takes some certification, and then gets a job at L.A. Fitness tomorrow. Are you kidding me? Clients and athletes deserve better.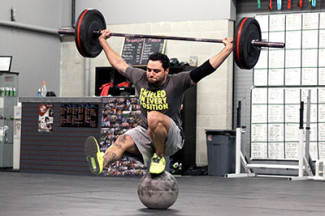 Instead of everyone hating on each other, we need to find common ground where we can judge all coaches. Here is a list to judge a coach/trainer by:
• Have they produced quality athletes?
• Basic understanding of physiology, anatomy, physics, biomechanics, and kinesiology.
• A desire for continued education and an overall thirst for knowledge.
• An eye for movement
• A sincere desire to help their athletes/clients.
If they possess these qualities, you have something to work with. If not, they need to keep working until they have them. I want this industry cleaned up. I want people to get the help that they deserve. There isn't one genre worse than the other. This is an entire industry problem. Let's stop pointing fingers, and let's look around and see where we can help.
CrossFit has done a lot for the strength world. It has introduced more people to the barbell than anything before. CrossFit has been the catalyst for millions of people to get off the couch and into shape. It has done a lot more good than bad. Personally I am a big fan, and I enjoy programming for my CrossFit clients and gyms.
Let's all stop hating and get to work cleaning this industry up as a whole. Let's become better coaches and trainers. Let's work our best to help our clients reach their dreams.
================================================
Check out one of our Ten E-Books:
• "Squat Every Day" (High Frequency Squat Programming)
• "Eat What You Want" (Nutrition, Macros, and a built-in Macro Calculator
• "Squat Every Day 2" (Part 2 of High Frequency Squat Programming)
• "No Weaknesses" (Defeat Muscular Imbalances crush the Recovery Game)
• "Mash Program Sampler" (Athletic Performance, Oly, Powerlifting, and Functional Programming)
• "Mash Program Sampler 2 (8 More 12-week Programs)
• "The Mash Blueprint for Program Design" (Learn all about Programming)
• "Performance Zone" (Defeat all Mental Roadblocks)
• "Train Stupid"(Programming and Philosophy of Nathan Damron)
• "MashJacked" (Hypertrophy for Performance and Aesthetics)
Check them out here: ⇒ Mash Elite E-Books