Check out one of the Online Teams:
• Mash Mafia Bronze
• Mash Mafia Silver
• Mash Mafia Gold
• Eat What You Want
• Eat and Lift What You Want
Check them out here: ⇒ Mash Mafia Online Teams
======================================================
Youth Nationals 2017
So far this has been the most exciting competition that I have ever coached. Number one there is something so special coaching young men and women. You are preparing them for the future in the sport, and more importantly you are teaching them traits that they will use in life like perseverance, work ethic, and competitiveness. This sport is filled with opportunities to make a positive impact on these young men and women, and for that I am so grateful.
Yesterday, I started out the day helping out Coach Chris Coker with his young stud, Tyler Payne. Tyler went 6:6 winning Gold across the board. Getting to know Tyler and his mother, Paige has been one of the bright spots of the weekend so far. You guys should have seen the smile on Tyler's face when he won Gold in the Snatch and the Clean & Jerk. That boy smiled from ear to ear, and as a coach you know at that one moment in time you have been a small part in bringing happiness into a youngster's life. Weightlifting can bring joy into the lives of young people even when the world around them is filled with sadness and struggle. That's what makes this sport so beautiful.
Ryan Grimsland has been doing the sport of weightlifting for less than a year. He started with me at the end of last year, and now he is decorated with medals everywhere. He set all competition PRs, and won Silver in the Snatch, Bronze in the Clean & Jerk, and Bronze overall. Ryan gets better every competition, and now he has his sights set on an International Team. He is totally capable. He finished 21st in the World in the Teenage CrossFit Regionals just missing the games by one. He is a competitor, so I know that he will do the work required to reach his goals.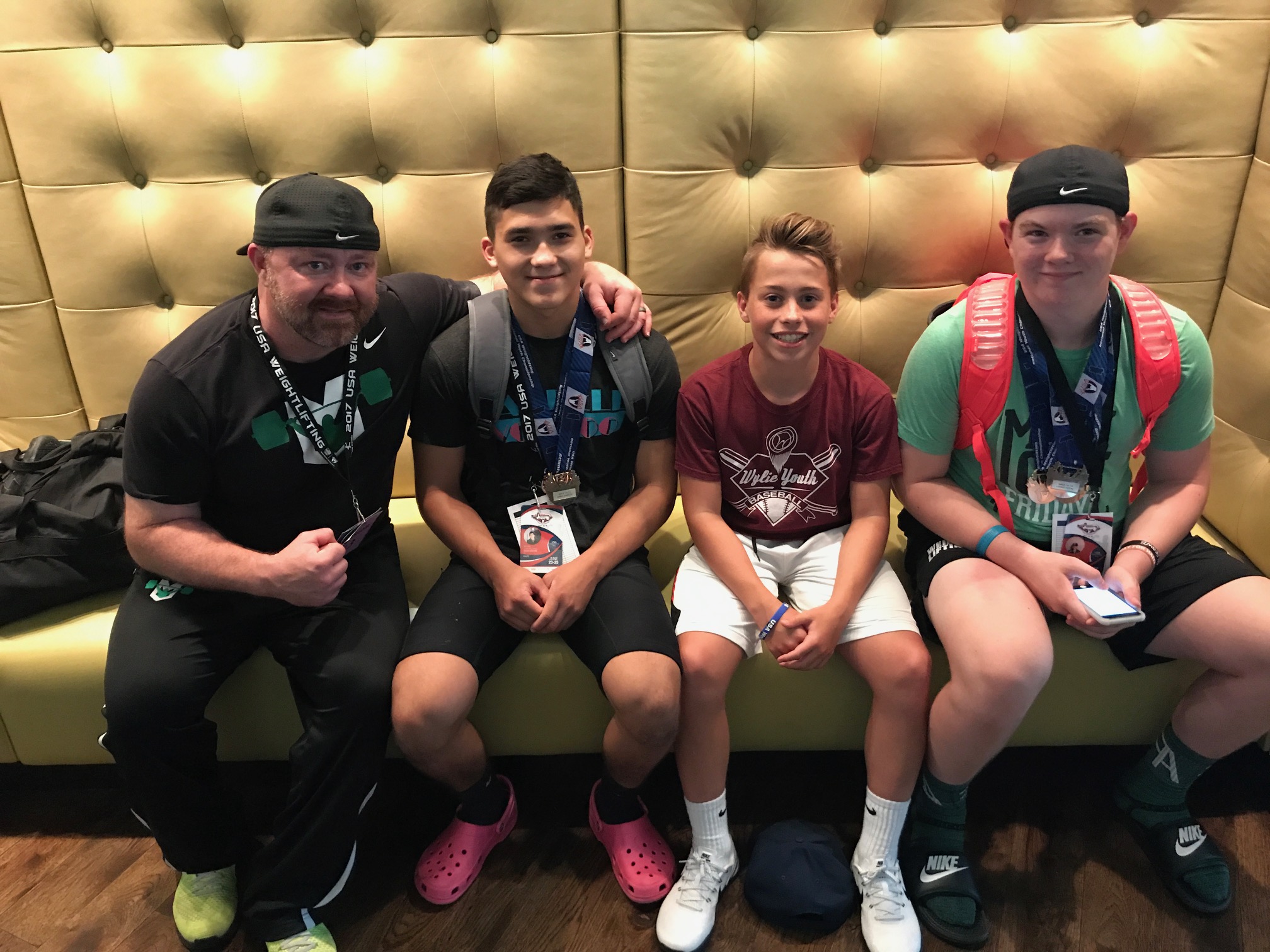 Next up was Morgan McCullough, and boy did he kill it. I don't know how to say enough about his performance. He went 6:6 setting lifetime PRs in the Snatch, Clean & Jerk, and Total. The best part of the whole thing was the finish. After his second Clean & Jerk of 135kg, Morgan was feeling tired. We had planned to go to 140kg, but he was asking for 138kg, and on most days I would have agreed. However in this case we needed a 246kg total to give him a solid chance at making the Youth Pan Am Team, so I looked at him in the eye and said, "No, we need 140kg, and I know that you can do it". At that moment 13-year-old Morgan grew up and became the competitor that I knew he could be. He walked up to the bar and stuck the weight. Team USA is going to see a lot of Morgan McCullough over the next several years.
To see one of my young men grow up like that right before my eyes was an experience that I will never forget as a coach. If you are a coach, I really want you to listen to what I am about to say. If you don't care more about your athletes than you do your own popularity or ego, you are in the wrong profession. My heart literally melts when I see one of my athletes smile. Coaching is a profession gifted directly from God if it is received with a heart filled with love for the athletes. To be able to share in a moment like last night is something that I will never forget, and that moment could never be replaced by anything that I might personally do. See, there is just something way more special about helping someone else reach success. Never did I ever experience so much joy in one of my own personal wins like I did last night helping others.
Brett McCarroll is one of my newest team members. He has unlimited potential, and we are going to unlock it. He started the day off with a scare by missing his opener of 80kg in the Snatch, but then he came back to nail 80kg and 85kg. Brett is strong and fast. We are going to sharpen his technique up a bit, and I think that he will be hard to beat.
Brett is normally more of a Clean & Jerker, but tragedy struck during his warm ups. With a 60kg warm up Clean & Jerk, he hurt his knee and had to withdraw. The medical staff seems to think that it might me a meniscus, but he will get an MRI to confirm. The poor kid was more worried about disappointing me than the pain he was experiencing. I just told him that I loved him, and let him know that Youth Nationals are nothing but a practice for Senior Nationals. I wasn't mad at him. I was heartbroken for him. This is the other part of being a coach. Sometimes you just have to teach athletes how to love others. Hopefully if he becomes a coach or when he has kids, he will pass on that love.
Guys and gals, it is important that you let your athletes know that you love them in victory or defeat. You want them to know that you are just there to help them facilitate their own goals. This is such a great opportunity to have a small impact on making this world a better place.
Today I have three more incredible athletes for Team Mash Mafia. At 11:30am we have Matt Wininger. Then at 1:30pm we have Nadeen Pierre and Matt King. All three of these athletes have a shot at medals and more. Stay tuned for the results tomorrow. Now I am off to coach. It's cool knowing that I am right where I am supposed to be. I pray that all of you will experience that same feeling some day.
===================================================
Check out one of our nine E-Books:
• "Squat Every Day" (High Frequency Squat Programming)
• "Eat What You Want" (Nutrition, Macros, and a built-in Macro Calculator
• "Squat Every Day 2" (Part 2 of High Frequency Squat Programming)
• "No Weaknesses" (Defeat Muscular Imbalances crush the Recovery Game)
• "Mash Program Sampler" (Athletic Performance, Oly, Powerlifting, and Functional Programming)
• "Mash Program Sampler 2 (8 More 12-week Programs)
• "The Mash Blueprint for Program Design" (Learn all about Programming)
• "Performance Zone" (Defeat all Mental Roadblocks)
• "Train Stupid"(Programming and Philosophy of Nathan Damron)
• "MashJacked" (Hypertrophy for Performance and Aesthetics)
Check them out here: ⇒ Mash Elite E-Books
==============================================