Squat Every Day
World Champion and World-Class Coach Travis Mash shares his unique approach to high frequency training and the methods that are producing unprecedented results for his athletes.

#SquatEveryDay is 170+ pages of programming insight, explanations, as well as four 12-week programs (one for weightlifting, one for powerlifting, one for bodybuilding, and a weightlifing/powerlifting combo).

Get the $49 ebook that will take your training to the next level!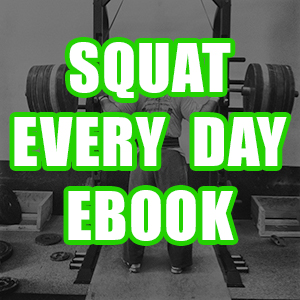 ---
No Weaknesses
Travis Mash's Protocols for Aches and Pains, Muscular Imbalances, and Recovery

– Identify and Quantify Your Unique Muscular Imbalances with Travis's 30-Point Test
– Prevent Injury with Travis's Specific Corrections for Your Individual Muscular Imbalances
– Reduce Pain and Maintain Joint Health with Travis's Drills and Mobility Exercises
Bulletproof your body for training and life with this $99 ebook!