Anders has been into this crazy world of CrossFit longer than probably anyone else you know. He was also one of the first people to ever own a CrossFit box. And now he's teamed up with Barbell Shrugged to expand their network of podcasts and to teach us all.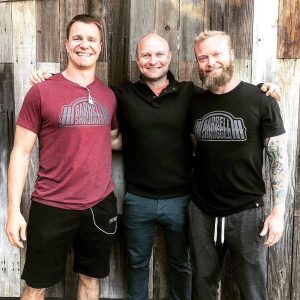 So listen in to this one to hear the scoop on where CrossFit has been and where it's going – and what Anders would do if he were to open a CrossFit box today. And Anders drops some great insight into teaching people about fitness, the great guests that he's met and interviewed, and what makes a guest truly incredible in his mind.
We also get into how Anders is currently training himself – because it's not easy fitting everything in when life gets super busy.
Short on time in the gym? Here's the blueprint you need to follow.
Get Travis Mash's Guide to Building Your Own Program
If your schedule is packed but you still want to smash weight, if you want a reliable method to break through plateaus, if you want to build a strength program that works for YOU, grab the Blueprint.
LISTEN IN TO TODAY'S PODCAST AS WE TALK ABOUT:
How he has been instrumental in Barbell Shrugged's current direction
Why he got out of CrossFit and what he would do now if he were starting a gym
How to know an interview is killing it
The impact "Body for Life" had on him
Training to go slow?
and more…