In baseball most pitchers play their entire career without throwing a perfect game. A perfect game for a pitcher is a game without any walks, hits, or runs. It's a beautiful thing to watch for baseball fans. What about in weightlifting?
I don't think there is a defined "perfect meet" – but if there was such a thing, our team just experienced it. I'll define a "perfect meet" as a meet where each athlete meets or exceeds the goals laid out for them and no one bombs out. You might ask, "What about a meet where everyone wins?" That's a fair question, but it misses the mark.
I could easily go to our state meet in North Carolina, and most of my athletes would win their age and weight class – maybe all of them. Would that mean that was a perfect meet? Not in my book! That's an easy meet not a perfect one. If that's not the perfect meet then what is?
Every time we go into a competition, I have goals written out for each of our team members. Winning the competition isn't everything. For a lot of our athletes, we are trying to qualify for international teams, earn higher stipend levels, or even break an American Record. It really just depends on the athlete and their individual goals.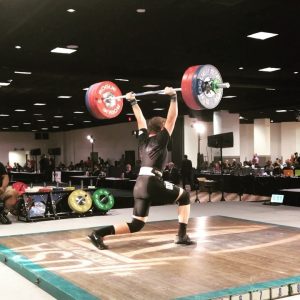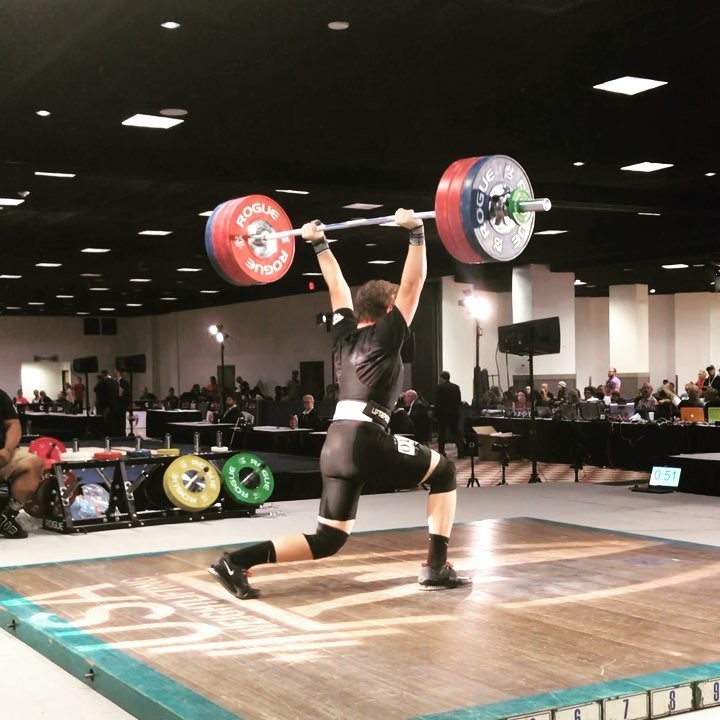 Last weekend, I pitched the perfect meet as a coach. It was one of the most incredible moments for me as a coach. Every single athlete that I coached exceeded my expectations. I'll be honest and tell you that when we were starting the last session, I was a little nervous. We had three young men in the last session, and I was definitely a little worried that one of them would mess up this perfect meet. I wonder if pitchers feel a bit nervous before they walk out to the mound for the last inning. I bet as soon as they throw the first pitch in the ninth inning, they probably just let their instincts take over and the nervousness subsides. That's what happened with me. As soon as the first lifter hit their first snatch, we were off and running.
Derek Bryant
I want to start with this young man because he made the biggest increase. He came to our gym only a few months ago – right after the Junior Nationals where he totaled 263kg. We had a lofty goal for him. I saw massive potential in him at the Junior Nationals. I wanted him to have a big jump in his first meet with us, and he killed it. He hit a 120kg snatch and a 168kg clean and jerk to produce a massive total of 288kg – a 25kg increase. Once we straighten out a few of his technical issues, this young man will be totaling well over 300kg. He's one of the most powerful athletes I've ever coached. I'd call him a Wes Kitts type of athlete, but only time will tell what he's really capable of.
Ryan Grimsland
Ryan is one of my athletes who just competed in the Youth Pan American Championships six weeks ago. He killed it at that meet, lifting personal records in both the snatch and clean and jerk. I knew I couldn't expect miracles in that short amount of time, so here was my first goal: I simply wanted a small PR total to move him even higher up the Youth World list. He's sitting in second right now, but I will never allow my athletes to be complacent. That approach seems to have gotten several of USA's top athletes in trouble lately as there is always someone out there training hard to take a spot. To take a spot from one of my athletes, you are going to have to earn it.
Ryan was also battling his friend from Krypton Barbell, Logan Griffith, and coach Joe Cox, Head Coach at Krypton. So yes, we had three goals for Ryan:
Increase his total
Move up the ranking chart
Beat his buddy Logan
We were able to do all three with his PR snatch of 111kg and PR total of 252kg.
Morgan McCullough
Morgan also competed at the Youth Pan American Championships six short weeks ago. Like Ryan, we wanted to move up the ranking chart and set a total PR. Yet Morgan had one more goal in mind, and that was to break an American Record. Ian Wilson held the clean and jerk American Record for the 14-15 year-old age group of 166kg. Obviously that record had stood for years, so we wanted to hit that record before it was retired forever with the weight class changes. Once again, three goals:
Increase his total
PR his total
Set the American Record
He crushed all three with his 120kg snatch, PR clean and jerk of 167kg, and PR total of 287kg. His American Record clean and jerk was definitely the highlight of the weekend. I guess the golden boy shined very brightly this weekend.
EVERYTHING YOU NEED TO COMPETE IN WEIGHTLIFTING
---
SEMINAR WITH DOUG LARSON, DR. ANDY GALPIN, AND TRAVIS MASH
Struggling to master the Olympic lifts?
Could one weekend change it all?
Get ready for Comp Camp!
Hannah Damron
Hannah trains with us in a part-time remote and part-time on-site capacity. She's always had a tremendous amount of potential, but I believe that she has now decided to use that potential. Our goal was to hit a PR total for her first meet back, and she did just that with her 70kg snatch, 85kg PR clean and jerk, and 155kg PR total. She also made the most courageous move of the weekend – missing 65kg twice in the snatch, going up 5kg to 70kg for her third attempt, and then crushing the weight. She was also my co-pilot on the way up and back down, and we had so many laughs. She definitely made the trip enjoyable. We are going to miss her as she returns to Kansas.
Hannah Dunnjoy
This was the biggest surprise of the weekend. I really didn't want her to compete because I wanted her to totally focus on killing it at the AO3. I didn't think this meet was going to be a Youth World Qualifier, and then we got to the meet and found out the news. USA Weightlifting decided to let athletes make the weight of the new weight classes. They competed within the old classes, but they could hit a qualifying total for Youth Worlds. That's exactly what we did. Luckily she was weighing close to the new 59kg class anyways, so we didn't have much of a cut. She made it easily, and then went on to hit a five for six performance, ranking her seventh or eighth by my calculations.
She put up a clutch performance. I love the way she remains calm during the meet. She was dancing and being silly half the time, and I think that kept her totally calm. She hit a 65kg snatch, an 86kg clean and jerk, and a total of 151kg – which were all PRs for the new weight class. This also earned her silver in the snatch, gold in the clean and jerk, and silver in the total with her total counting for the 63kg class where the medals counted.
Jared Flaming
This young man makes me smile every time I see him. He's always laughing and having a good time, which is so important for weightlifting. He also competed at the Youth Pan American Championships, but he didn't do that well. He only totaled 247kg, so our main goal here was to beat that and show consistency. He did so much more.
He snatched 115kg (barely missing a PR of 121kg), clean and jerked a PR 155kg, and hit a PR total of 270kg. He went four for six, only missing massive PR attempts. This young man has unlimited potential. We did this with only a few weeks of him being full-time at the compound. Get ready to watch him make some waves in the Junior ranks.
Connie Ruales
Connie is our stud Master athlete. Our goals were to qualify for Master Nationals and to make totals that might qualify her for Master Pan Ams and Master Worlds. Connie absolutely crushed it – hitting a PR snatch, PR clean and jerk, and PR total. I'd say that's just about all you can ask from an athlete. She crushed all of her goals, qualifying for everything.
So much to consider
Well that's the story. Hopefully you all can see how we set goals. There are always so many things to consider at each meet. The key is to understand each of your athletes, assess their potential, and know how far each of them can go. Each meet can be a step in the right direction or a step backwards. However, meets can always be a learning experience for the athlete and the coach.
I wanted to let you guys know about an awesome event I'm putting on with some of the guys from Barbell Shrugged – Doug Larson and Dr. Andy Galpin. Together, we'll be talking about competing in Olympic lifting. In fact, here's a snippet from Barbell Shrugged about it:

It goes down Saturday and Sunday, August 25 and 26 – right here at my gym in Lewisville, NC. I hope to see you there!
EVERYTHING YOU NEED TO COMPETE IN WEIGHTLIFTING
---
SEMINAR WITH DOUG LARSON, DR. ANDY GALPIN, AND TRAVIS MASH
Struggling to master the Olympic lifts?
Could one weekend change it all?
Get ready for Comp Camp!