Below is a blog that I constructed over a year ago. I use it for all of my athletes. It's a great learning tool for all of them to use. It also gives all of them a basic background for what I will be teaching them. Now I am releasing it to you all. Enjoy!
We are hosting a Holiday Meet December 20th at the Mash Mafia Compound. Come hangout with the Mash Mafia Crew, some MDUSA Stars, Coach Mash, slam some bars, and of course KILL Some PRs! Click on the link to find out more:
December 20th Meet at the Mash Mafia Compound
We are hosting a New Year Learn 2 Lift Seminar at the Compound as well! January 10th and 11th come out and hang with Coach Mash and the Mash Mafia. Weightlifting Day 1 and Powerlifting Day 2. Come to one or both days just click on the link to find out more:
New Year Learn 2 Lift at the Mash Mafia Compound
Right now we have a lot of beginning weightlifters on our team. We also have a growing number of online athletes that we are coaching, programming, and performing video analysis for. Recently I dug deep into the video library of the MashMafia Youtube files, and I found several videos for rookie weightlifters. Now these videos are great, but the way for online programming to be super successful ongoing analysis and feedback is required.
​Zach, one of my newest online athletes, is awesome in every category other than ankles. Now we will target ankles, and soon monster PRs will follow. I've also decided to add more mobility to my Learn 2 Lift Seminars because a lot of the issues that athletes are having, is directly related to positioning. Our goal for the Mash Mafia is to help all of you reach your goals sooner, safer, and exceed all of your expectations.
​Below is a collection of videos! Use what you need! Discard what you don't!
Rookie Videos to Study!
Ankle and Front Squat Rack


T-Spine and Shoulder Mobility

Hip Mobility

Shoulder Mobility:

Hit and Catch Drill

Angel Drops

MashMafia Bar Path


Jerk Position Jerks

Plate Flexion/Extension

New Exercises:



To give back, here are a few specials that we are running until the end of Monday December 1st:
Online Coaching by Coach Mash $75 off use Promo Code: MASHCOACHING
All Apparel is 20% off use Promo Code: MASHELITE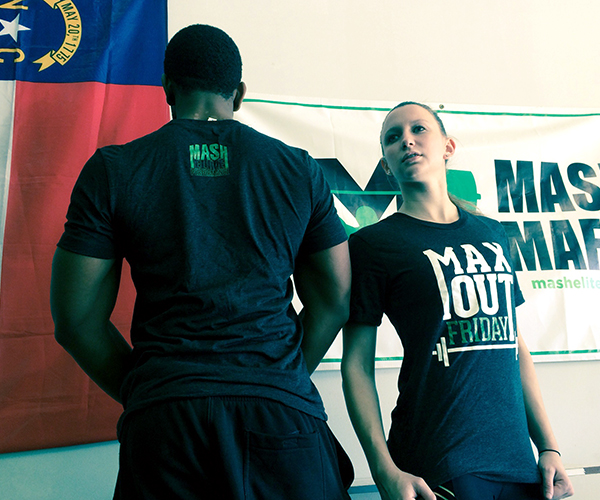 Learn 2 Lift Seminar at the Mash Compound $50 off code: MASHSEMINAR
Consultation with Coach Mash $15 off use code: MASHCONSULT
To check out one of the Online Teams, click on one of the following on links:
Eat What You Want! Lift What You Want!