==============================================
Check out one of the Online Teams:
• Mash Mafia Bronze
• Mash Mafia Silver
• Mash Mafia Gold
• Eat What You Want
• Eat and Lift What You Want
Check them out here: ⇒ Mash Mafia Online Teams
==============================================
Meet Joanne Greagen (Mash Mafia Online Team Member, Pro-Powerlifter, and Pro-Strongwoman)
If you guys don't know Joanne, you need to read this. She is a single mother of three children. Oh yeah did I mention that she can Squat 430 pounds raw, Deadlift 451 pounds raw, and she can walk with a 600 pound yoke on her back. She just competed at the Arnold Classic in Australia at the Pro-Powerlifting Competition, and two day later she competed in the Pro-Strongwoman as well. She's crazy, so that means she fits right in with my team.
As a business woman, entrepreneur, athlete, and mother, Joanne has lots to teach us all. Her time management must be unbelievable. I hope that you guys and gals enjoy her interview:
Joanne Greagen Interview:
1. What made you want to compete in powerlifting and strong woman in the same weekend?
Competing in both was actually a really big decision for me. Both the competitions were out of my weight class and top level invite only but I'm very passionate about the sport and love being amongst it all.
The Strongwoman was kind of a no brainer. I have been pushing to increase the number of women competing in Strongwoman in Australia for years. It's been something I've been focussing on outside of my daily work. I run the Strongwoman Australia Page as well as the 'Best In The West' competition – a showcase of the strongest women in Australia, and the only Australian competition with cash prizes.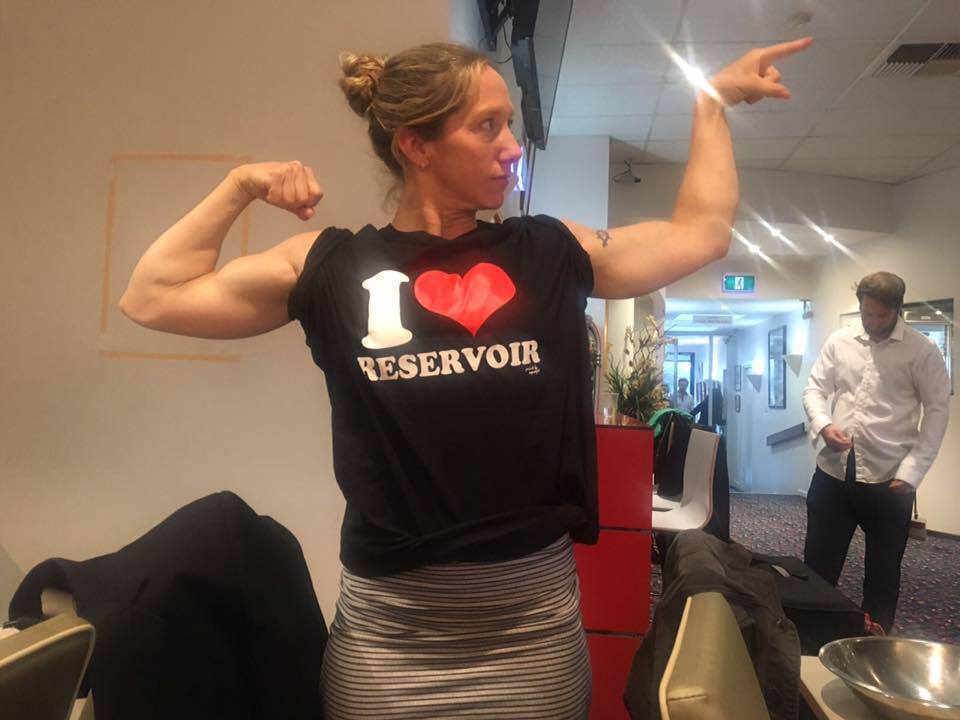 I had to consider Proraw9 Powerlifting more carefully. My first powerlifting comp was Proraw5 where I was invited as a wild card. Since that day I've been motivated to keep up with the Strongest women in the Country so that I would continue to always get an invite to this competition. I missed last year as I was so invested in the Strongwoman competition and was worried I wouldn't be able to handle both.
The thing that sealed the deal for me was the fact that there was a jump in weight classes for Strongwoman from 75kg to 82kg (I was 68kg when I decided to go for it). I really felt I didn't have a chance of placing in either competition so I thought why not challenge myself in a different capacity and be part of both. It was also going to be a massive learning curve for me and to push my body and mind to the extreme always excites me.
2. What was the experience like? Will you do it again? What did you learn?
It was tough. I went into this only 10 weeks out from the comp date. I had bi lateral quad tendonitis, a locked facet joint and during the prep had to deal with really bad SIJ pain. I found myself pretty beat up about 4-5 weeks out and really had to do some soul searching to get my head right and continue to push through every session.
I ended up purchasing Performance Zone by Travis Mash and Nathan Hansen. It really helped me get my head in the game again.
Both competitions were like nothing I've experienced before. I took what I knew would work best for me from Performance Zone and implemented it the best I could. Instead of feeling anxious throughout the Powerlifting lifts, I felt so focused. I visualised hitting my goals before I went out and while standing at the chalk bowl. I really tried to be in the moment. It was a very odd experience. Usually I can't remember a thing from my lifts but this time I could remember everything. For the first time ever I walked away from a powerlifting meet feeling content – not disappointed that I missed a couple of lifts. I didn't even know I was in third place until after my last deadlift (and I missed that one). I walked away from the ProRaw9 with a 15kg total PR and 3rd place by focussing on me, not what others were doing.
The Strongwoman was a completely different story. I was in pain and fatigued, I just didn't how I was going to handle it all.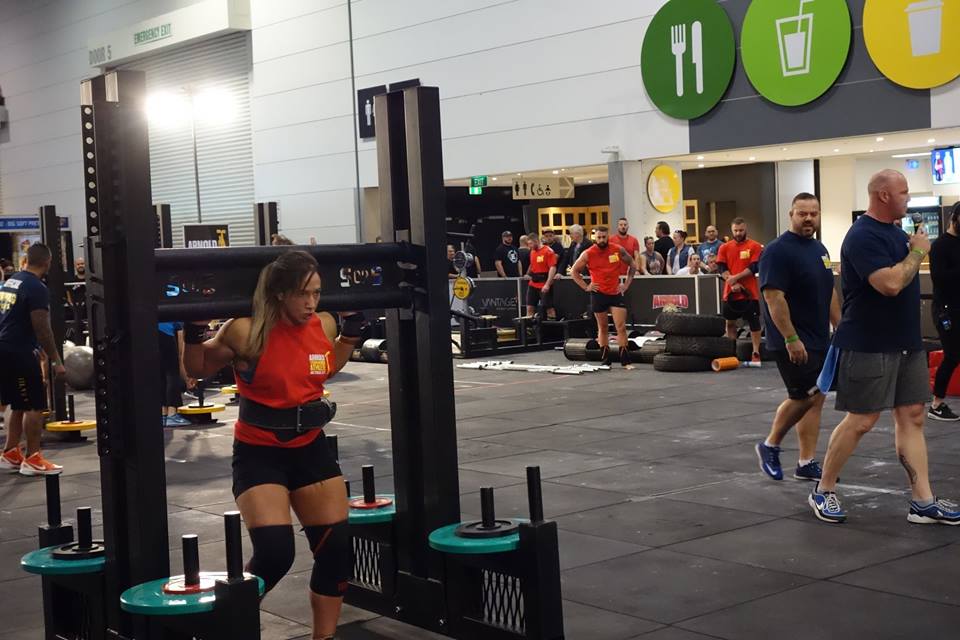 I completely surprized myself though. I got through most of the events with the exact plan I had put in place. I got a little thrown by some CNS fatigued that caused my grip and upper back/traps to just stop working and with the announcement of the mystery event being a 30m frame carry at just short of triple my body weight, followed by the deadlift event, I knew it was going to be tough. The completion of these events had me wanting to pull out of the comp. I lay on the ground with my entire body cramping and I was nearly falling asleep. I had to fight with myself to finish the comp but I stuck it out. I'm glad I did as I went on to place second in the next event, loading 5 stones one after the other and ending on a PB of 110kg.
Will I do it again? Yeah – 100%. I loved pushing my body to its limits and walking out the other side. That's what it's all about.
What did I learn? "She Believed She Could, So She Did." The motto of my Strongwoman Australia Page. Once again I feel like I learnt that this still applies very strongly to me. As long as you have a strong mind you can do anything.
I also learnt a little about the things I was lacking in throughout my training block. I took particular note of things, like the way lactic acid kicked in really quickly in the yoke and the frame carry, which is something I didn't really think of during the training block. So that's one thing I have to work on.
3. Tell us what it's like being a single mother, professional powerlifter, strong woman, and business owner all at the same time? What are the challenges that you face? Do you have a support system?
It's tough but rewarding. I feel like a lot of the time I have done what I had to do to put food on the table and to give my kids the best that I could. I built my business from nothing and it's a constant work in progress. When I first become a single mum I actually had nowhere to live so I moved in to a house-sitter.
I had three months to deal with emotional and confused kids, change of life circumstances for myself, and to find a house while somehow continuing to work, pay bills, etc
I was working in a commercial gym then as a Personal trainer and volunteering as a Fire Fighter. Unfortunately, with no other adult in the house I had to drop my volunteer work and drag my kids out of the house a lot at 6am for PT clients etc. During that time, I invested all my money into getting a deposit together for a house with a shed and gym equipment at the end of that time I set myself up with a small studio out the back of a house and managed to make it work. Eventually I outgrew the gym so I rented out a warehouse and that's where I am now running Be Strong Fitness Geelong. It's only been 18 months, but still going strong.
I find a big challenge is fitting everything in. It has always been a juggling act and sometimes I feel horrible. I find myself fighting a lot with emotions. Am I doing the right thing by the kids? Am I missing their childhood? Am I going to regret my decisions? These kind of things always creep in time to time. Fitting in training for two sports, children and my business is never going to be easy. I guess its lucky I like to be busy and that I strive off challenges.
Another big challenge is time to progress and learn within my business. Most people who are running a business have time allocated out to growing it and personal development. Learning more and more to make things work better. I just don't have time. I find myself having to allocate out time in small blocks just to get what needs to be done done. So where I would like to be able to achieve more in a week I actually just can't. It's a bit of a vicious cycle. Without hiring more staff I can't get more done but I can't hire more staff because the gym isn't busy enough. I've learnt to lower my expectation and alter my business timeline to relieve some of the pressure. I have been able to spend more quality time with the kids, train and creep along slowly, by being more realistic with my business goals. Creating a happier me! ☺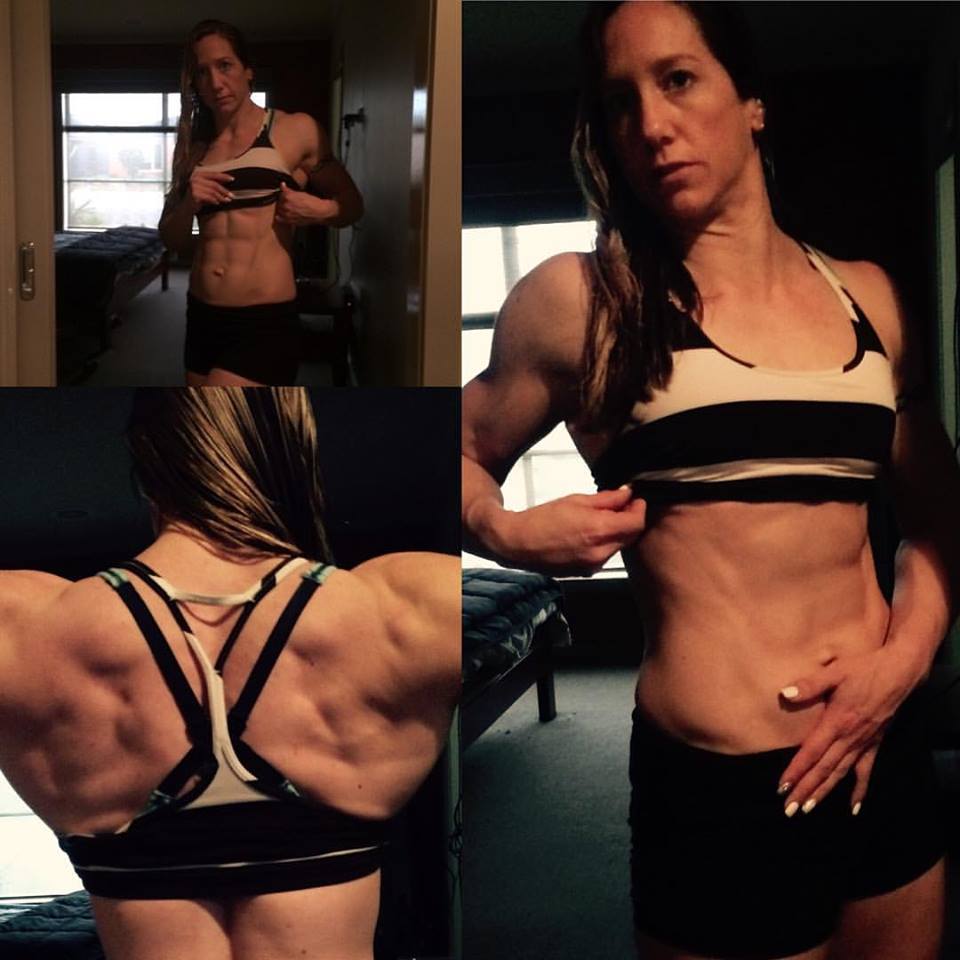 My support system is made up more of people who have my back I guess. I have an amazing family and a partner who I'm in business with. Unfortunately, my family are too far away from me to assist with things like child minding. My now 16 year old son has actually been the biggest support to me and without him there is no way I would be where I am. It's all the little things that he does around the house that are truly invaluable. Hanging out washing, putting kids to bed one night a week and also being home so I can duck out and open the gym at 6am. My gym is also more a community gym too. People can bring their kids and we all catch up at functions around our town and dinners regularly. So I know if I need to I could call on any of these people.
4. Give us an example of a day in the life of Joanne.
520am: Wake up
6am: Open gym
730-8am: Rush home, make school lunches, get kids ready
840am: Drop kids at school
915am: Re-open gym
1230pm: Free time (main training sessions)
230pm: Lunch and paper work
330pm: Pick kids up and take to sporting activity or home
5pm: Get dinner ready and kids sorted for bed etc
6pm-9pm: Back to gym Sometimes I get my GPP in after work and sometimes I manage to get it in about 8pm before I have to close.
That's a busy kid day. The boys go to their dads two nights through the middle of the week. The time I usually spend running around after them I spend writing programs/ chasing up interviews and blogs for Strongwoman Australia and doing things like this interview.
5. What are your all-time bests and the bodyweight at which performed?
I usually compete at 67.5kg but recently went up. My best lifts at 71kg BW are
-195kg Back Squat
-110kg Bench Press
-205kg Deadlift
-270kg yoke walk
-110kg stone to 1.2
-70kg 10inch log clean and Press
6. What is your athletic background?
I played netball and track and field when growing up. I'm from a very small country town so we were very limited with what was available.
7. How important is nutrition and recovery? What are your top recovery methods?
I think they are very important. Unfortunately, my time is very limited as discussed. I spend 30mins before every session on my mobility, stretching and muscle activation. I get massage and Chiro regularly but probably not as much as I should.
I think nutrition is really important. I know how I feel when I eat good and when I eat bad and I wouldn't get through a busy week eating bad. My body wouldn't handle it and neither would my mind. I've worked with Jacky Bigger leading into the Arnolds and I recovered so much better than I have in the past.
8. What's it like for a single mother to compete in two sports that have been traditionally male dominated?
I guess I have never limited myself or given myself an excuse by saying I'm a single mum. So I find that hard to answer in respects to that.
As a female going into a more male dominated sport it's taken some time to show the guys what us woman are truly capable of.
Four years ago I was laughed at when I suggested they have women in the Strongman Arena in Australia. I worked hard at proving we could do it and the following year we were given a chance but they still only allowed for one class – under 75kgs – and I believe we were included more as sex symbols then strength athletes. This is why I have worked so hard at promoting the sport and getting more women involved. It's really taking off now with more weight classes and competitors then in all of Australian History. It's amazing.
I also ran Best In The West last year. It was an extremely taxing women's only Strongwoman comp, where some amazing weights were lifted, but I still had people from the higher levels of Strongman calling me up to say that I should let guys run the comp, that I won't get enough competitors because girls are scared to go that heavy. Let's just say we proved them wrong and all comps since then, held all around Australia, have seen the number of competitors rise, and an increase in weights lifted.
Another thing I notice is that women's events are always on the weekdays. I guess the guys still bring a bigger crowd. But as a mum and a business owner it's a pain in the bum. Taking a weekday off and arranging people to get kids to school etc.
9. What advice do you have for a young girl out there wanting to get into strength sports?
Take the first step no matter where you are starting from. Keep things simple and do your time. Hiring an experienced coach is always a good idea if you can afford it. Someone that can keep you moving at the right pace for you.
I can promise you that building a foundation of base strength from the start will see you making waves and increasing the standards of women's lifting in the future. So don't be in a rush to take over the world. I think it's important to set your goals high but remember true strength and skill requires an investment of time so also set smaller, more achievable goals, and periodically set that bar higher.
I also think it's important to not limit yourself according to your circumstances. Life isn't always going to be easy. There will be days and weeks where everything is great and days and weeks where you want to give up but if you just keep chipping away and sticking with it you will always come out the other side.
Have you seen Finding Nemo ? I love that part where Dory is so confused and disorientated but instead of just stopping, she starts singing and moving on her way. "Just keep swimming, swimming, swimming. Just keep swimming." Haha! The amount of times I've had to sing that to myself can't be counted.
When your time comes and you are in the limelight remember you represent Women in Strength Sports. Hold you head high. Support all other women. Remember you're inspiring the next wave of women! #inspire
10. What are your plans for the future?
One of my early, long-term strength goals, was to start focusing on World Records when I was 35 Years old. I have been chipping away at it this entire time. I know this is achievable and that my lifts are there now. The only thing is with this increase of women competing there are also many other ladies who are all hitting numbers similar to mine.
This year I turn 35. I'm not 100% convinced I will have those records but I am 100% sure I will have done everything in my power to put myself in the best position to make it a possibility. And if other woman hit numbers higher than mine I will celebrate their achievement with them, knowing that they also have done all they can.
My life plan this year and into future years is to get stronger, continue to grow, learn and inspire. I want to work at continuing to grow my business and continue to work on that work/life balance.
Links recommended by Joanne:
Strongwoman Australia Page – https://www.facebook.com/StrongwomanAustralia/?ref=br_rs
Jacky Bigger – "Eat What You Want Nutrition" https://www.mashelite.com/eat-what-you-want-lift-what-you-want-program/
"Performance Zone" E-Book on Mental Performance: https://www.mashelite.com/ebooks/
Proraw Powerifting – https://www.facebook.com/ProRawPowerlifting/
Be Strong Fitness Geelong – https://www.facebook.com/bestrongfitnessgeelong/
She Believed She Could- So She Did – https://strongwomanaustralia.blog/2017/02/11/she-believed-she-could-so-she-did/
==============================================
Check out one of the Online Teams:
• Mash Mafia Bronze
• Mash Mafia Silver
• Mash Mafia Gold
• Eat What You Want
• Eat and Lift What You Want
Check them out here: ⇒ Mash Mafia Online Teams
==============================================