Check out The "Eat What You Want" E-Book to understand nutrition better. With a built-in Macro Calculator, you will have all the tools necessary to getting your nutrition in check.
Check them out here: ⇒ "Eat What You Want"
Meal Planning and Flexibility
One of the questions I get so often when talking about meal planning is: What if I don't want to eat what I planned when I get to Thursday night?
Well, I'm with you! I enjoy eating, and sometimes I want to eat a certain kind of food, or something spicy, or sometimes I crave a big salad. Sometimes I suck it up and eat what's planned and wait until the following week to incorporate my craving. Often, I try to turn the ingredients I have into something that I want to eat. So, here is how I meal plan and stay flexible.
Every household is unique and so each meal plan should be created to fit the needs, tastes, and goals of those in the house. The key to meal planning is to make it work for you and your family. Include ingredients that are in season or on sale. Plan meals that you enjoy. Make your meals something you look forward to eating during the week. On weeks that you are busy, plan meals for the crockpot. Make it work for you.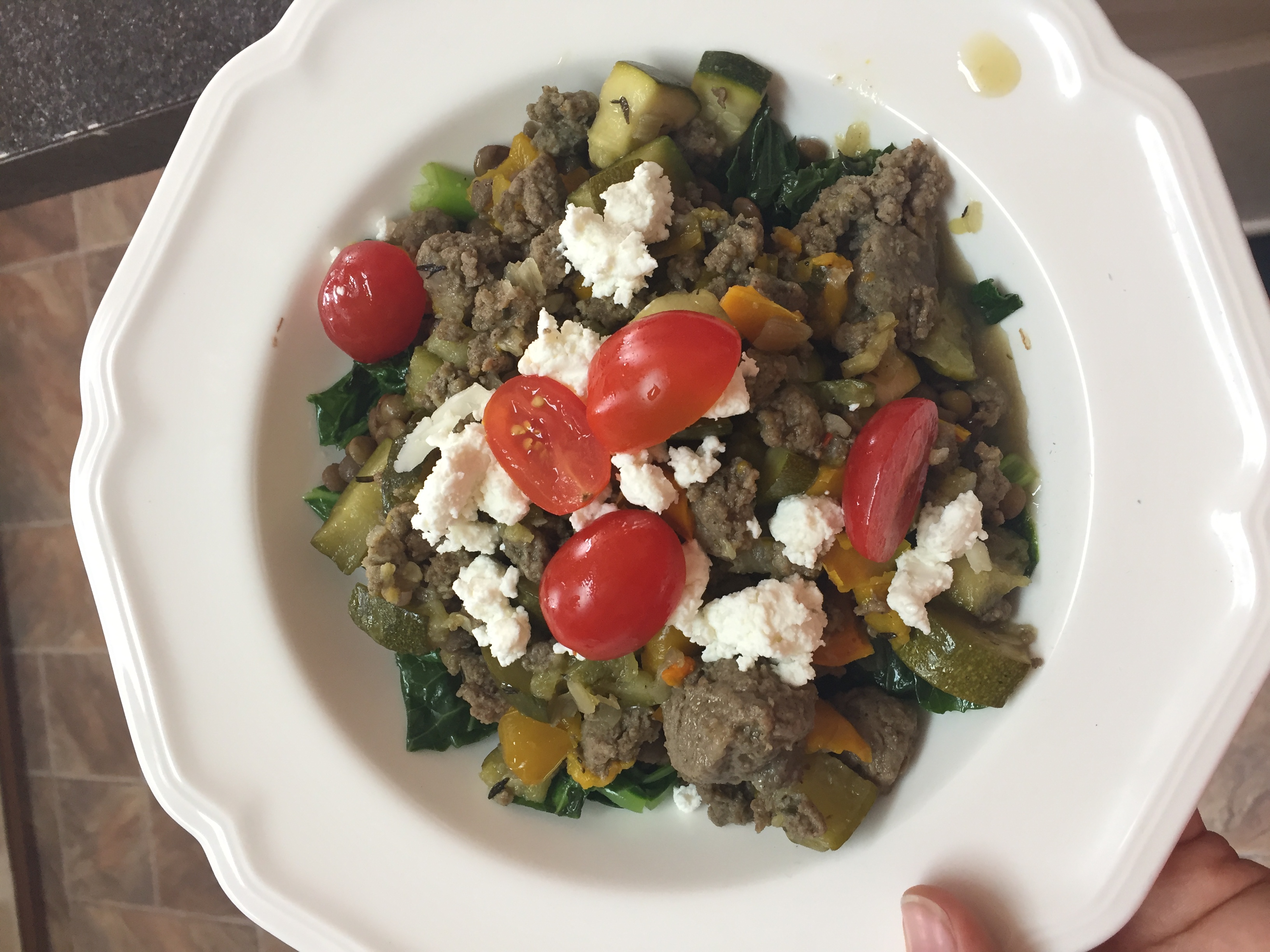 Our goals at the Mash house are simple: eat for health and support our training. None of us has any food allergies or aversions, so we eat a large variety of foods. When I plan our meals, I use a simple outline: protein source, a vegetable or two, and a complex carbohydrate. I usually don't plan the fat because I cook with olive oil (oo) or coconut oil. Sometimes this outline is just as simple as it sounds: Chicken breast, green beans, brown rice. Sometimes I turn this outline into a casserole: eggs + ground beef, peppers + mushrooms, potatoes. Travis is a meat-and-potato kind of guy, so we do eat red meat and potatoes often.
I keep our kitchen stocked with staples that I don't necessarily write into the meal plan. Then, when I'm hungry for a certain type of food, I use these ingredients to modify. Here's a list of the staples I use the most:
• Onions
• Garlic, fresh and powder
• Basic seasonings: cinnamon, cumin, basil, oregano, rosemary, etc.
• Coconut oil and olive oil
• Apples and bananas
• Frozen berries
• Dried beans and lentils
• Eggs
• Protein powder
• Peanut butter
• Honey
• Vinegar: white and balsamic
• Salsa
• Plain Greek yogurt
• Ketchup, mustard, and mayonnaise
• Chicken stock and vegetable stock
Here are some examples of how to make a basic meal plan and alter it to your tastes. Some of the basic meal plan ingredients we use are: Chicken, Brown rice, Green beans. You could really combine these ingredients so many ways, but I've given you our favorites.
Option 1: Curry Chicken
Toss the chicken in curry seasoning and drizzle with olive oil. Bake the chicken in the oven. Boil the rice on the stovetop and sauté the green beans.
Option 2: One pot chicken and rice
Using a Dutch oven, brown the chicken in a little olive oil. Set it aside. In the same pan, brown an onion in a little olive oil. Add garlic and the dry rice and cook until the rice is slightly brown. Add in liquid and chicken. Cover and bake in the oven. Steam the green beans and serve on the side
Option 3: Grill: Key West Chicken
Marinate the chicken and grill it. Make a green bean salad, which can get fancy, but the base is green beans with olive oil, white vinegar, salt and pepper. Add any other fresh vegies you have: onion, tomato, cucumber, black beans, corn…
Boil the rice on the stove top.
Option 4: Mexican
Cook the chicken with a jar of salsa. A crockpot works best for this with boneless, skinless breasts.
Add garlic powder, cumin, and tomato sauce to the rice for a Mexican flare.
Sautee the green beans with an onion and garlic. Season with cumin, salt and pepper.
Option 5: In the oven: Honey Mustard chicken strips
Cut the chicken into strips and marinate in mustard and olive oil. Bake in the oven until done. Mix mustard and honey for a dipping sauce.
Roast the green beans with olive oil, salt and pepper.
Cook the rice in the oven.
Hopefully this helps make meal planning work for you. It doesn't have to be plain and boring, or elaborate and fussy. Just be creative and do what works to help reach your fitness goals.
For more recipes, food, and lots of pictures of the Mash boys follow me on IG @emilydrewmash
==============================================
Check out one of the Eat What You Want Online Teams:
• Eat What You Want (Everything Needed to Perfect Your Nutrition)
• Eat and Lift What You Want (Get Your Nutrition and Your Workout Perfected)
Check them out here: ⇒ 'Team Eat and Lift What You Want'