Check out the "Mash Squat Every Day" E-Book with 4 twelve week programs for weightlifting, powerlifting, super total, and bodybuilding. Find out more below:
Join Team Mash Mafia for weightlifting, powerlifting, athletic performance, bodybuilding, running, or a hybrid approach. This team is already taking over weightlifting, and I plan on taking over all of the other disciplines one at a time. Check it out below:
The Squat Every Day Learn 2 Lift Clinic is coming to Orlando, Kentucky, and Canada. To find out more, check out the link below:
Mash Mafia Squat Every Day Learn 2 Lift Clinic
Lessons from Coach Zygmut Smalcerz
I have been at the Olympic Training Center for a week now coaching the Junior Pan Am Team in preparation for the 2016 Pan American Games in El Salvador. I have the honor of being the Men's Head Coach, which gave me the opportunity to coach alongside Coach Zygmut Smalcerz.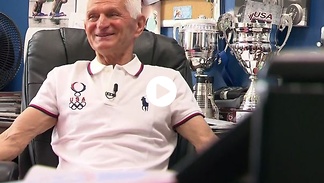 For all of you that don't know, Coach Smalcerz won the Gold Medal in the 52k weight class during the 1972 Olympics. He also coached many champions as the Polish Head Coach through 2008. I have learned so much from this amazing man, and I want to pass it on to all of you.
1. Let's start with Programming. On most days Coach Smalcerz likes to separate Snatch in the morning and Clean & Jerk in the evening. He likes to include exercises that dissect the lifts into individual movements. Example:
Snatch Push Press to OH Squat
Snatch
Snatch from Blocks
Snatch Pulls
This brings me to my second point.
2. He is a master of using exercises to correct movement issues. I love this for so many reasons. I have watched coaches from all over the United States coach with 15-minute longwinded cues. Do you really think these longwinded explanations are getting through to athletes? The movements of the snatch happen in fractions of a second. When you ask people to remember a book report of an explanation, they are probably not going to be able to apply it to the lifts.
Here are some examples of exercises rather than verbal explanations. If an athlete is having trouble getting into the right position in the jerk, you might want to have them to presses or jerk steps in the split position. If an athlete is having trouble staying in positions during the pull, include pauses during the pull in the places they are struggling.
I personally love making chalk lines on the floor for pretty much everything. If your feet aren't jumping out during the clean and snatch, put some lines where your feet should go. You'll be amazed how the body will respond subconsciously with those marks. You can do the same with jerks.
3. Instead of long verbal cues, Coach Smalcerz will use small gestures to get his point across. I have found that less is more when it comes to coaching weightlifting. If you can get your point across with one word or a gesture, the athlete is much more likely to apply the cue. For example, if the athlete is letting the bar drift forwards during the pull, simply look at the athlete, make a gesture with your arms to signify getting the weight in, and simply say back. If the athlete has soft elbows with a jerk catch, simply make a gesture with your own arms signifying a strong reach up.
3. I love the way that Coach Smalcerz uses manual manipulation to get athletes in proper positions. It is so much easier to get athletes to understand by using the sense of touch. If the athlete is having trouble setting their back before a pull, put them into the right position with your arms. The athlete can actually feel the muscles required to perform the position.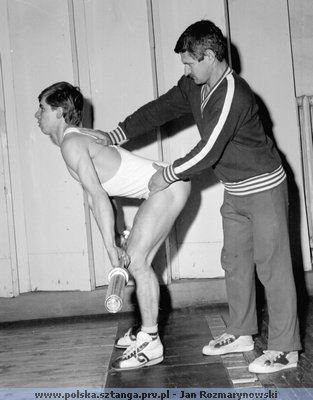 A lot of times you can tell an athlete to get into a position until you are blue in the face, but they simply can't grasp that position. When you put them into that position, they can feel what you are talking about. Don McCauley is also a master of manual manipulation. I have watched it work for hundreds of athletes; so don't be afraid to put your hands on your athletes. (Disclaimer: Don't be stupid. Be respectful of all athletes.)
4. Coach Smalcerz is a Gold Medalist, which allows him to think big. I love his ability to see capabilities in athletes, years before they are capable of perceiving the same things. It's a culture that is missing in America, and in my opinion this is a big problem holding us back from International success. I believe with the help of Coach Smalcerz, and the culture of the up and coming athletes that America will slowly start to change its culture within the next 8 years.
The Junior and Youth lifters simply refuse to put limits on their lifts. I encourage this mindset, and I would be furious if anyone ever tried to change to mindset of my lifters. Winning is a mindset. If you don't believe that, then you are not a winner. We have to stop setting limits in America, and I believe that Coach Smalcerz is slowly getting this point across.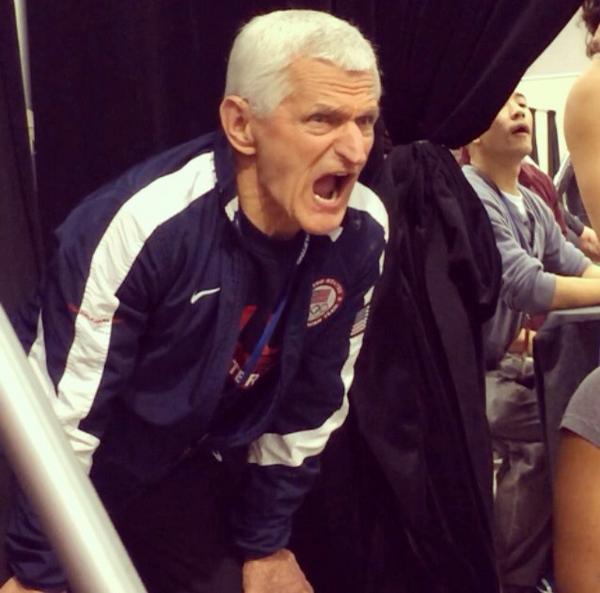 5. Coach Smalcerz brings an abundance of positive energy every day. He starts each day at 8am with an awesome warm up to get the athletes awake, mobile, and firing. Here is a clip that I recorded:
If you come to the gym each day tired, grumpy, and negative, your athletes are going to feel the same. If you are feeling crappy going into the gym, then you are either in the wrong business or you need to check yourself. I promise that if the coach is popping, so will the athletes. The coach sets the tone, and personally I want that tone excited, jacked, and ready to dominate weights. Every day I expect great things from my athletes, so they need me to bring the heat as a coach every single day.
I have enjoyed this time at the Olympic Training Center, and God willing I will someday be back. If any of you get the chance to visit, you should. Today we had Michael Phelps walking around, but that is just one example of world-class athletes at the training center. This place is so good for athletes that think they want to be the best to get the chance to see the attitude and habits of athletes that are already the best. Being great isn't easy. It takes daily repetition of the same movements, lots of recovery from that training, and everything else that goes into keeping the body primed.
Coaching side by side with Coach Smalcerz has given me an idea of what it takes to coach the best athletes in the world. I have already turned out some good athletes, but there is still work to do. There is still plenty of room to get better as a coach, and I am going to do it. I hope that you do too.
Don't forget about the Mash Elite Weightlifting Team Camp:
We are hosting a three-day camp July 8-10 at the Mash Compound. It's going to look like this:
• Day 1 Max Out Friday with the team and social afterwards
• Day 2 Clinic with Coach McCauley, Coach Wilkes, me and the team
• Day 3 Clinic about meet day prep and strategy, and then a sanctioned meet
We've decided to limit the camp to only 20 people, so don't wait if you're interested. Here's the link to find out more: