Training for CrossFit is a unique beast.
It's one thing to train for the snatch and clean and jerk. Or the squat, bench, and deadlift.
But to be good at, well… everything? That takes programming and training to a whole new level.
When I sat down and did the research for Do What You Want (my guide all about training for multiple disciplines at the same time), I was fascinated by the demands of functional fitness. It's an art form to create a program that perfectly balances it all.
COACH MASH'S GUIDE TO HYBRID TRAINING
Weightlifting - Powerlifting - Bodybuilding
Strongman - Functional Fitness - Endurance Cardio
Learn the art and science of how to train multiple disciplines simultaneously. Get stronger, faster, bigger...
and DO WHAT YOU WANT.
Well, training for CrossFit is what James Fitzgerald is known for. I mean, this guy won the CrossFit Games! As if that wasn't enough, he's trained countless athletes on how to be CrossFit beasts.
So listen to this podcast as we dive into his approach. Trust me. This guy is smart.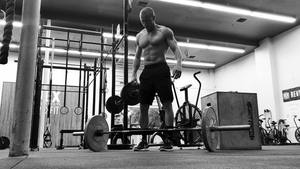 LISTEN IN TO TODAY'S PODCAST AS WE TALK ABOUT:
How Rich Froning got his start
The latest research on muscle fatigue
Training the different systems for individuals
The link between weightlifting and autism?
How training needs to change over time for CrossFitters
and more…