Check out one of the Online Teams:
• Mash Mafia Bronze
• Mash Mafia Silver
• Mash Mafia Gold
• Eat What You Want
• Eat and Lift What You Want
Check them out here: ⇒ Mash Mafia Online Teams
===============================================
Two Going to the World Championships and Why We are Aggressive
I am on my way home from the American Open Series 3 held in the beautiful city of Grand Rapids, MI. Before I give you guys and gals the report, I have to say a huge thank you to USA Weightlifting and our fearless leader/CEO Phil Andrews for putting on an amazing show. This was an amazing venue for the folks competing. The AO Series was a great idea to let the up and coming athletes get a chance to compete on a National Stage alongside Olympians. It was a thrill to a lot of my youngsters. I hear a lot of stories about USAW past, and all that I can say is that we are all blessed to a part of this growing organization in this era.
After Senior Nationals were over, I wrote an article taking full responsibility for a not so successful meet. Well I can say that we are on a roll now. Youth Nationals was the most successful meet of this organization's history until this past AO Series 3. Normally there is at least one athlete that doesn't have a great meet whether they bomb out or simply don't perform to their capability. I kept waiting for that performance this weekend, and it simply didn't happen. Thank God.
Every single athlete on our team hit personal records with performances full of positives. Kelly Thomas got us kicked off on Friday evening. This was her first National Meet as she is a great powerlifter. She put up a great total, and we walked away with lots of cool things to work on that will get her to the next level. Kelly is a master lifter, and the mother of one of my young guns, Kobe Thomas. They are both members of Mash Mafia Missouri, where we are packed with some amazing Remote Athletes. For some reason I feel like my Missouri Team is like family.
Michelle Beuthling is from our amazing Mash Mafia MN Team led by Coach Vinh Huynh. Most of you know that Vinh is crushing it with three International Team Members already this year. Well Michelle represented Mash Mafia MN with class going 6 for 6 and crushing her meet Total Personal Record. Michelle is a true competitor. She has been with our team from the very beginning making it a true honor to coach her on a National Stage. No athlete brings more positive energy to the room than Michelle. I can't wait until she meets our local girl Meg Palicka. I think that they will be besties.
Hunter Elam took to the stage next, and boy did she add some drama to the day. We wanted to be aggressive at this meet with her, as we need to start taking some major steps forward with her. She is capable of making International Teams without a doubt, so being a little aggressive is all part of the process. She only went 2 for 6, but she hit a Total PR of 204kg. Here's where the drama came into play. We opened her at 90kg in the Snatch, and for some reason she was off a bit and missed the first two. So what did we do? Coach McCauley took her to 94kg of course. Being a coach is literally the most stressful job sports. We watched on praying that she would get it together. Hunter walked out there and crushed it like the champion we all know that she can be. As soon as Hunter knows it, she will become that champion.
This brings me to a point that I want to make. I get a lot of negative feedback about my aggressive approach to competition. Sometimes that aggressive approach leads to a meet like Senior Nationals, and that's all a part of the game. However, let me be clear in saying that I am here to win and get my athletes on an International Stage or to the next step towards that. I am not here to necessarily go 6 for 6. If one of my athletes goes 2 for 6 and makes an International Team, I am ok with that. If they go 6 for 6 and don't come close to their goals, is that a good performance? Some might think so, but not me. If my athlete goes 6 for 6, they did everything that we came to do and then some.
A lot of you might not agree with me, and that's ok. However let me point out the following. I started coaching fulltime in this sport in 2013. In 2016 we had seven Team USA Members. This year we have the following:
• One Youth World Team Member from New Zealand Isaac Lawgun
• One Youth Pan Am Team Member
• One Oceania Team Member (Isaac again) and he won
• One Junior Pan Am Team Member
• One Junior World Team Member
• Two Senior Pan Am Team Members
• Two Senior World Team Members
• One University World Team Member
I am in no way taking full credit for this. Coach Don McCauley is the best coach in America, and he's my mentor. Coach Vinh Huynh is crushing it in Minnesota for Team Mash Mafia as three of those are his. We are blessed with an amazing coaching staff, and a team filled with great people. We are the newest team in America to be placing this amount of athletes on teams. I don't have a running count, but I don't think that there is another team putting out Team USA athletes like this. We made a lot mistakes at Senior Nationals, but our aggressive approach wasn't one of them.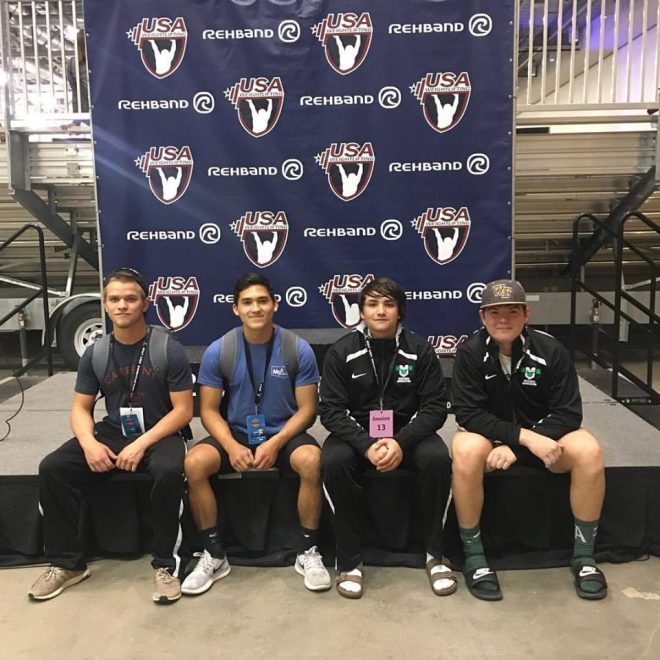 Next up to take the platform was 15-year-old Ryan Grimsland. Man did he perform. He went 5 for 6 hitting new competition Personal Records in everything with a 95kg/209lb Snatch and a massive 125kg/275lb Clean & Jerk in the 69kg weight class. This was a 20kg improvement from Youth Nationals, so yes he is on a PR tear. I look for him to make his first Team USA next year. The most heart-warming part of this session was watching the other teens gather round Ryan like a pack of wolves as they waited to take the stage in the session after his. This crew is so close, family.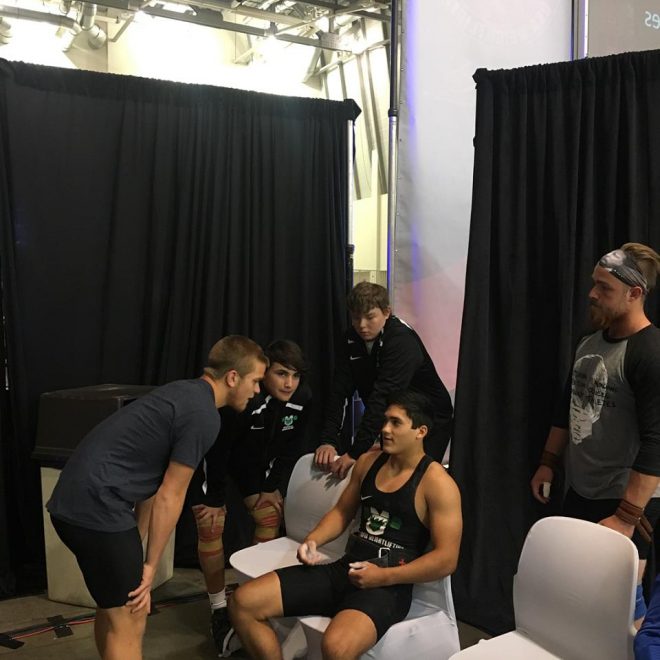 Jordan Cantrell savagely took to the stage at the same time as Ryan, and boy did he ever perform. He needed a 340kg Total to make Team USA for the World Championships, and that's exactly what he did. He went 4 for 6 with a competition PR Snatch of 155kg and a competition PR Clean & Jerk of 185kg. His 340kg Total was a 19kg improvement. The best part about that total improvement is that he didn't move up a weight class. We improved 19kg from last year while staying in the same class. That's not an easy thing to do especially at Jordan's level. I am so proud of this young man.
16-year-old Ameer Khan took the stage next hitting a PR total going 4 for 6 with a 75kg Snatch and a 95kg Clean and Jerk. Ameer is the newest member of our team, and he is coming fast. This was his first National Competition, and he earned a Silver Medal for his troubles. The smile that weightlifting puts on Ameer's face is exactly the reason that I coach.
14-year-old phenom Morgan McCullough took the stage in this session as well. Morgan is used to going 6 for 6, but for once he only hit 4 for 6. In case you are thinking that I am conservative with him, he still hit a PR total and Clean & Jerk. He snatched 105kg and just barely missed a big PR of 110kg. He Clean and Jerked 145kg/319lb, which was a competition PR. He actually Clean and Jerked 150kg/330lb, but was called for a small press out. Personally I am counting it as a training make. I already told him that percentages are now based off 150kg. Get ready to watch this young man competing for Team USA next year.
17-year-old Mash Mafia OG Matt Wininger crushed the stage going 4 for 6 and hitting a PR Total of 232kg and Clean & Jerk of 137kg/301lb. He earned a Gold Medal for his efforts and qualified for the American Open Finals. Matt has started working hard, and his potential that we've always known existed is starting to shine through.
Kobe Thomas was up to bat as well. Coach extraordinaire, Kevin Simons, handled Kobe as we were overloaded in this session. Not too bad to be handled by Team USA Coach and coach of the unbelievable World Champion Harrison Maurus. Kobe hit a personal record total and earned a Silver Medal for his efforts. I am so grateful to coach this young man and his mother remotely.
Nathan Damron closed things down for our team, and man did he add more drama to the show. He missed his first two Snatches of 155kg, so what did we do? We went up to 158kg, and he stuck it. We were there to make a World Team, and that's what we did. He smoked his opening Clean & Jerk of 188kg and then jumped to 196kg and smoked that as well. He actually stuck 200kg, but couldn't quite hold it until receiving the down command. He did what he came to do making his first Senior World Team, so I am totally happy.
Once again I will take this 3 for 6 performance over any 6 for 6 performance not going to the Worlds. Once again this is just my take on things. I am not telling all of you coaches how to coach. I am just making a case for the way that I choose to coach. The AO Series 3 is one of my best memories as a coach. It's meets like this that keeps fools like me addicted to the sport. USAW just sucked me in with this amazing competition. I am so grateful to our sponsors:
Intek Strength
Harbinger Fitness
Nike Weightlifting
BiPro USA
HAK Nutrition
MG12
We are blessed to be partnered with the best companies in our industry. I am also blessed to have the best coaches in America working with Team Mash Mafia. I am also grateful for my barbell family that encompasses all of the Mash Mafia Athletes, their families, and all of our fans. Lot of love for all of you right now.
Flying high right now,
Coach Travis Mash
================================================
Check out one of our Eleven E-Books:
• "Squat Every Day" (High Frequency Squat Programming)
• "Eat What You Want" (Nutrition, Macros, and a built-in Macro Calculator
• "Squat Every Day 2" (Part 2 of High Frequency Squat Programming)
• "No Weaknesses" (Defeat Muscular Imbalances crush the Recovery Game)
• "Mash Program Sampler" (Athletic Performance, Oly, Powerlifting, and Functional Programming)
• "Mash Program Sampler 2 (8 More 12-week Programs)
• "The Mash Blueprint for Program Design" (Learn all about Programming)
• "Performance Zone" (Defeat all Mental Roadblocks)
• "Train Stupid"(Programming and Philosophy of Nathan Damron)
• "MashJacked" (Hypertrophy for Performance and Aesthetics)
• "Conjugate: Westside Inspired Weightlifting"
Check them out here: ⇒ Mash Elite E-Books