Join Mash Mafia Weightlifting Team!
This past weekend a group of Team MDUSA athletes set out for the Gateway to the West, St. Louis, MO for the final Pan Am Games Qualifier. Our athlete's performed like the amazing athletes that they are demonstrating heart and determination. The main event was held within the brand new Regional Competition. The Regional Competition is a newly held meet that will allow lifters to compete on a National Level with slightly lower totals. It is a great experience for a lot of the newer lifters in the country.
Team MDUSA took two guys and two girls to battle for the four slots open on the Men's side, and the three open on the Women's. We had Travis Cooper and James Tatum competing for the men, and Ariel Stephens and Holley Mangold competing for the women. All four of them were totally capable of making the team. The part that made it so hard was the limited slots. The Pan Am Games is like the Olympics. It comes around every four years, and the slots are limited. Normally for the Pan Am Championships and the World Championships, staff a full team of 8 men and 7 women, so 4 and 3 is quite a bit harder.
Travis and James are both 77k lifters, and they happen to be the two top 77k lifters in the country. There was an added attraction at this event with the addition of Leo Hernandez. Leo now officially has his citizenship, so in the future he will shake things up quite a bit. However, he is not eligible for an international team just yet, but that didn't stop the battle for 77k.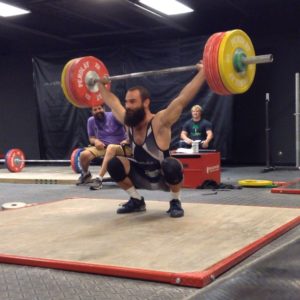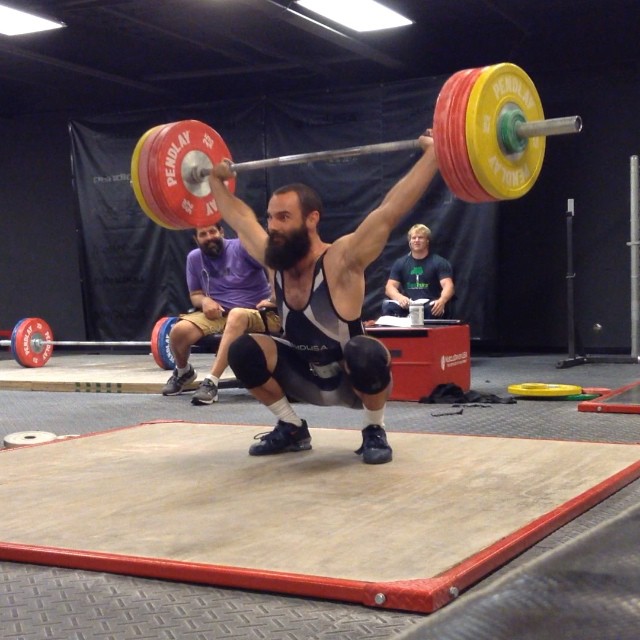 James Tatum was looking more like himself at this meet. James has had some big moments in his life lately especially the birth of his daughter, Clara. All of you fathers out there know that it takes a little away from training when you have a newborn around the house especially your first child. However, James acclimated to the new addition faster than anyone I have ever seen before, and now he is on his way to crushing his old PRs.
At this meet, he opened with 145k in the Snatch and made it with ease. Coach Pendlay said that it looked super easy and fast, and that he believed that James was on. I know that in training he was looking crisp, and I had high hopes. However, a jump to 150k wasn't to be. James said that he just needed to get 150k+ overhead a few more times in training. I believe that he is a couple of months away from battling 155k+. As one of his coaches, I am super excited to see him lifting big again. He ended with a solid 170k Clean & Jerk and a 315k total.
Travis Cooper had the meet of his life. He hit a 145k Snatch and an 182k Clean & Jerk. This left him with a 327k total and ranked #1 in the country. He probably could have totaled a lot more, but he jumped from 182k in the Clean & Jerk to take a crack at the American Record at the Clean & Jerk of 191k. Trav cleaned 191k very easily. It looked like he had a real chance at jerking it, but it was not to be. The strength was there no doubt, but the bar was just a little in front. I have no doubt that 191k will fall sometime soon.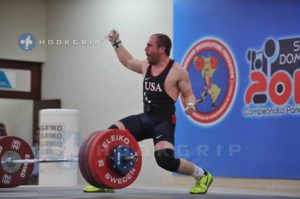 The battle with Leo was back and forth. Travis and Leo were tied after Travis hit the 182k Clean & Jerk. Travis could have taken 185k for the win, but with the Pan Am Games wrapped up, Travis saw it as a prime opportunity to take a crack at the record. A lot of people don't understand that the opportunity to go all out doesn't happen as often at the top levels. When Travis is competing at the Pan Ams, he will be more focused on the podium than taking a shot at a record.
Holley Mangold was on tap to compete. However, by the time that she was supposed to compete, no one had knocked her off the team. She had wrapped her spot up, so she opted to not compete. I believe that it was a great decision. Elite athletes like Holley have to be wise with their bodies. Everyone's body is like a car. If you put useless miles on that machine, you are going to wear it out sooner than need be. Holley opted to preserve her mileage for when it counts.
Ariel Stephens is probably the most focused athlete that I have ever met. This girl has made massive strides in the last year. She has done that by focused practice, but it is the little things that have made her one of the top lifters in the country. Her nutrition is perfect. Her recovery is perfect. She manages her muscular imbalances perfectly. These are the reasons that she will make her first international team soon.
At this meet, it just wasn't to be. The day before the meet, she sent me a text with a picture of her toe. It was broken. She had accidentally slammed it into her suitcase, and now she was dealing with a broken toe. I am not blaming her performance on the toe. I am just saying that it was a foreshadowing of her weekend.
Because of the limited spots on the team, she was forced to open near her competition PR Snatch. All of us realize that it is really hard to do something like that. She took solid shots at all of her attempts, but it just wasn't happening. I believe in Ariel as an athlete as much as anyone that I have ever coached. She is going to use this competition to fuel her fire unlike anything before. I believe that she is going to bring it like a vengeance at the Nationals this year.
After not making an attempt in the snatch, I was proud that she came out for the clean & jerk. I was even more proud when she stuck an 118k clean & jerk. The 118k was a meet PR. It also turned a negative day into something positive. Only a true champion could go back out there and do something like that. I am confident that we will see her on an International Team really soon.
I have never been more proud to be a part of Team MuscleDriver USA. Out of 7 total team members, we have two of them. That's almost 30% of the entire team. That is proof that our system and coaches is on point. Coach McCauley and Coach Pendlay have every intention of coaching the best team in America. That will continue to be our focus, and now we are going to be more aggressive than ever starting with the Youth and Juniors of America. We are all truly blessed to be a part of a company that is willing to invest in the sport that we all love and cherish so much.