Learn 2 Lift Seminars are coming to a gym near you Roxboro, NC, Roscoe, IL, Columbia, MD, and Livonia, MI! Find out more at: Mash Elite Learn 2 Lift Seminars!
Heart vs. Genetics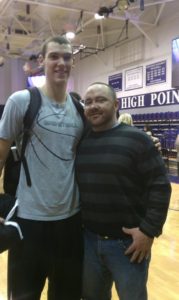 Last night I had the pleasure of meeting one of my former athletes for dinner. Landon Harris was a Division I Basketball Player at High Point University. I have written about him several times in the past because his story is one of heart, determination, and perseverance. It is a story that you would tell your own children. It is an American Tale!
Landon came to me around 2009/2010 in preparations for his Freshman Year tryout with HPU. I was basically focused on his conditioning, and someone else was working with his strength. However, the week of his tryout Landon became deathly sick. He still attempted to make the team, but he was out there with a 104-degree temperature. That doesn't work in Division I Basketball. Long story short, he didn't make the team.
Landon isn't a quitter by any means, so we began preparations for the next year. I was now in total control of his strength and conditioning program. Let me tell you, I have never trained anyone harder than Landon. Other athletes would stare in amazement at the difficulty of his workouts. I am not bragging about killing an athlete with conditioning. Anyone can beat someone to death. I am talking about a well thought out plan to prepare someone for the difficulties of NCAA Basketball. Those athletes are beasts! They are strong, fast, and athletic, and they are in unbelievable condition.
I wanted Landon to be a physical specimen. He could already shoot the rock. However, I wanted him strong enough to bang in the paint, and quick enough to D-Someone-Up. Landon became incredibly strong. He was a 6'5" basketball player that could power clean 315lbs. The added strength helped him jump higher and move quicker.
Come tryout time for his sophomore year, he was ready. Here is where the story gets a little crazy. One day I get a call, and it is Landon on the phone. Landon is 6'5" and roughly 210lbs, and here he is in tears on the phone. They were not going to give him a chance to tryout.
Last night, we were laughing about it because I told him the truth about what I was thinking. The truth is that I had no idea what to say to this young man, but God put some words in my mouth. I told him that he had two choices. One he could hang it up and just go to college. No one would fault him for this choice because 99.99% of all athletes would hang it up at this point. Or two, he could try one more year. I told him that we would not only make a plan to get him in even better shape, but we would make a plan to talk to the coach and convince him to give Landon a chance. I told him to hang up and think about what would honor God the most, and then call me back.
Looking back, I didn't give him much of a choice by phrasing things like that, and I am glad that I didn't. I devised a strength and conditioning plan that was better than ever. We also made highlight videos of Landon training and playing basketball. I emailed them to the Head Basketball Coach, Coach Scott Cherry. I then requested a 10-minute meeting with the coach, and he agreed to see me.
I was so nervous going into that meeting. I felt like Landon's destiny was in my hands. It was time for me to become the salesman of the year, and that is exactly what I did. I explained the work ethic and character of Landon to Coach Cherry. I told him all about the quantifiable athletic improvements that he had made training with me. Most of all, I told him about Landon's heart, determination, and perseverance. Any team could use a guy like Landon that displays such admirable traits. All I wanted was for Landon to get a fair chance, and then we could both live with the results after that.
Coach Cherry gave Landon that chance, and Landon seized the moment. He made the team, and excelled coming off the bench for the next two seasons. Coach Cherry actually emailed me a thank you note for convincing him to give Landon a chance. Going to Landon's first game was the most memorable moment of my coaching career. When he drained his first three point shot, my staff and I erupted with excitement.
This moment is one that strength and conditioning coaches dream of. It's a moment that a lot of athletes and coaches will never get because there aren't many athletes with the determination of Landon. I told him that he is one in a million, and I know that to be true.
Hundreds of athletes have expressed the desire to attain one big goal or another, but only a small select few have the tools necessary to reach those goals. Genetics is only a small piece of the puzzle. Heart, determination, and perseverance are traits that are a combination of genetics and environment. Landon was born with the tendency for each of these, but his parents drove them home. Here is a message to parents; athletic ability is only a small part of the picture. Athletic mind set is the big one to focus on.
I have no doubts that Landon will succeed at anything he sets his mind on in life. He is a guy that makes a plan, puts it to action, and finds a way to succeed. Sports are supposed to teach young men and women this exact lesson. Most parents get caught up on the athletic performance of their young athlete, and they forget the big picture. I want sports to teach my son about succeeding in life. That's exactly what sports taught Landon!
Learn 2 Lift Seminars are coming to a gym near you Roxboro, NC, Roscoe, IL, Columbia, MD, and Livonia, MI! Find out more at: Mash Elite Learn 2 Lift Seminars!