Learn 2 Lift Seminars are coming to: Roscoe, IL, Columbia, MD, and Livonia, MI! Get your tickets here!
The Mash Mafia Barbell Affiliate is growing! Programming, business support, branding, and Masterminds! Check it out!
Nourish the Tribe to Grow the Tribe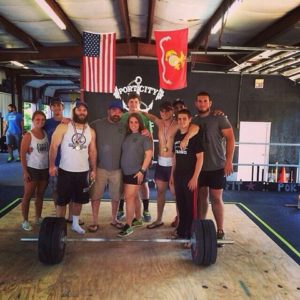 "Community" is the new buzzword in the gym world. CrossFit has expressed the importance of this principle, since the day CrossFit was conceived. Community refers to internal and external relationships formed by the members of individual boxes/gyms. I call it Barbell Life, which is where my podcast got its name. The unique family like atmosphere formed at these gyms is a real phenomenon that blows my mind.
I travel all over the world with my Learn 2 Lift Clinics. Every single successful box has that same community of people with the only common bond being the barbell and/or a love for fitness. When I walk into a facility, it is like walking into a family reunion. I never feel like a stranger that has traveled hundreds or thousands of miles to teach a clinic. Because of the barbell, I feel like I already know these people. It's a real iron miracle.
Growing a community is crucial for the success of any CrossFit, Studio, or Strength & Conditioning Gym. People want to feel a part of something special, and this community will allow owners and coaches the ability to coach countless hours without burnout. No one gets tired of hanging around family! Here are some ideas for growing the perfect community.
First, community should be the heartbeat of a predetermined culture. What kind of culture do you want at your facility? There are a few things that you need to figure out first. What are your values? What do you stand for? You are going to want to surround yourself with people that value the same things.
If you want a family oriented facility, then you might want to have outside hangout times at a local pool. You can encourage your members to bring the kids. If you want a gym full of people that love heavy lifting, then host a competition. If you are a Christian gym, hold a bible study.
Here's the hard part of this equation. When you have someone that obviously doesn't fit into that culture, then you might have to make some hard decisions. If this person is obviously causing disruption with the other members, then you either have to meet with the person to correct the behavior or have them leave. Odds are this person would be happier somewhere else. I have no doubts in that. I have made this mistake more than once, and it has bitten me every time.
Once you've established the culture, find unique ways to hang out and grow the community. If the only community activity within your facility is hanging out before and after class, then you need to use your creativity. When I first opened my Strength & Conditioning facility, we developed a relationship with a local restaurant called Chang Thai. The owner was actually one of my members, so his restaurant was the obvious choice.
We started hosting community events at his restaurant called "Chang Thai Friday Nights". It was the most fun ever! We would have 40-50 people there every week, and then afterwards we would go back to the gym and just hang out. Mash Elite Performance was built with Chang Thai Friday Nights. Not only would we get to hang out and fellowship together, but all the people at the restaurant would see the family like atmosphere. Remember, everybody wants to be a part of something special. Every Friday, I would speak to someone new that wanted to be a part of the tribe. Chang Thai Friday Nights ended up being my number one marketing tool.
Last encourage your members to help you grow the tribe. The key is to host free clinics, workouts, or other events every month, make it into a party/hangout, and get your members to invite their friends. Normally the friends of your members are for sure going to fit the culture. If I were you, I would spend a big chunk of my marketing dollars towards making these monthly events awesome. You have to make it into something that people want to be a part of, and something that they are actually excited about.
To summarize:
• Predetermine the Culture of your Community around your own personal values.
• Find unique ways to nourish that Community with unique experiences and ways of hanging out.
• Encourage your members to help grow the tribe!
• Set aside a chunk of marketing funds to aid in the effort.
Growing a thriving community is something that starts from the very beginning. These are plans that you should make within your initial business plan. If you didn't, then you need to write out a community strategy plan right now. Community is what will make or break your facility, and community is directly attributed to the amount of joy that you will experience from your facility. The people at Mash Elite Performance have brought me years of smiles and great memories. I wish the same for you all!