Below is another amazing recipe from my amazing wife Emily Drew! Be sure to follow her on Instagram @emilydrewmash for more recipes, ideas, and art.
Join Team Eat and Lift What You Want for more on Nutrition!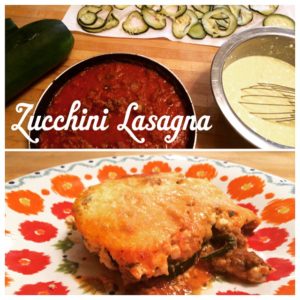 Nothing beats fresh garden vegetables in the summer. We are lucky enough to live on a farm with great neighbors who bring us loads of zucchini, squash, cucumbers, and tomatoes. We have a small orchard with apple trees, walnut trees, and blueberries. So we enjoy fresh fruit and vegetables daily in the summer.
Below is one of my favorite recipes to make with zucchini: lasagna! You don't even miss the real noodles, I promise. You can really use any mixture of vegetables that you have on hand, but thick sliced zucchini is a wonderful replacement for lasagna noodles. I use a mandolin to slice the zucchini. I've done it long way, into strips and rounds. I prefer the rounds as they make cutting the finished lasagna a little easier.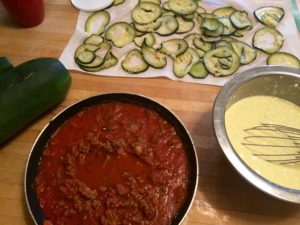 I use this recipe below as an outline usually. Depending on who's eating, I will use low fat or fat free ingredients, ground beef or turkey. Using ground turkey breast, fat free cottage cheese, and egg whites eliminates most of the fat while keeping the protein high.
Summer Zucchini Lasagna
o 1/2 onion diced and 15 baby carrots diced
o 1 tsp. olive oil
o about 1.5 lb. lean ground beef or turkey
o no salt Italian seasoning (Mrs.Dash is what I have)
o squash or zucchini (3-4 small or 2 large, thick sliced) TAKES THE PLACE OF NOODLES
o 16 oz. mushrooms, sliced
o 1 jar of marinara sauce (homemade if you can swing it)
o sprinkle of parmesan
o 1 16oz container of low fat or fat free cottage cheese
o 3 eggs, or the equivalent egg whites
o Sprinkle of garlic salt
1. Slice zucchini into thick slices. Place on baking sheet with mushrooms and roast at 350 for 15 minutes.
2. While vegetables are roasting, brown ground beef or turkey and place in a strainer to drain. Then in the same pan, sauté onion and carrots in oo and Italian seasoning, 5 minutes.
3. Add ground beef back into the pan with sautéed vegetables and mix together with marinara sauce.
4. When squash is tender, lay squash sliced between paper towels to drain water out of them. Do this several times until paper towels are not soaking. DO NOT MISS THIS STEP or you will have lasagna soup- I've done it plenty of times.
5. Mix cottage cheese and eggs and sprinkle with garlic salt.
6. Spray a 9×13 baking dish. Spread a layer of marinara sauce mixture on the bottom. Layer squash and mushrooms, then cottage cheese mixture until everything is gone. I usually get 2 layers out of everything.
7. Sprinkle with cheese and bake at 350 until bubbly- around 30 minutes.
8. Enjoy!