About the author: Eric Bowman is a Registered Physiotherapist and Strength Coach in Ontario, Canada who works in the areas of chronic musculoskeletal pain, sports rehab, and strength and conditioning. He's also intermittently involved with the University of Waterloo Kinesiology program and the Western University Physical Therapy program. He also competes as a powerlifter and has completed the CPU Coaching Workshop and Seminar.
During the time period between my performance in Coach Mash's Feats Of Strength meet and my previous meet in December 2017, I took time away from competing to work on rehabilitating some chronic patellofemoral pain. I wrote about the process of getting pain-free on my website.
After getting pain-free, the next step was to get stronger. Needless to say, my squat was in desperate need of improvement. So I needed a plan to get from Point A to Point B without rushing so aggressively that I re-aggravated my symptoms. This plan came from the use of a tool, originally intended for Olympic lifters, that I have used both for myself and for other clients recovering from weight-training injuries – Prilepin's Chart.
What is Prilepin's Chart?
Prilepin's Chart is a chart designed in the former Soviet Union to manage the training of Olympic weightlifters. It provides recommendations based off of the percentage of your one-rep max, for optimal repetitions per set, and optimal total repetitions per workout.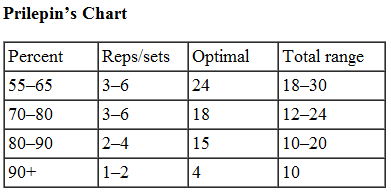 Who is it for?
It is for people who have no major orthopedic or medical pathology, can do everything in their work and activities of daily living pain-free, and only have pain (or form breakdown) past a certain weight.
If you still have pain with these other activities, and/or you have other orthopedic or medical issues, those need to get dealt with first. Just saying.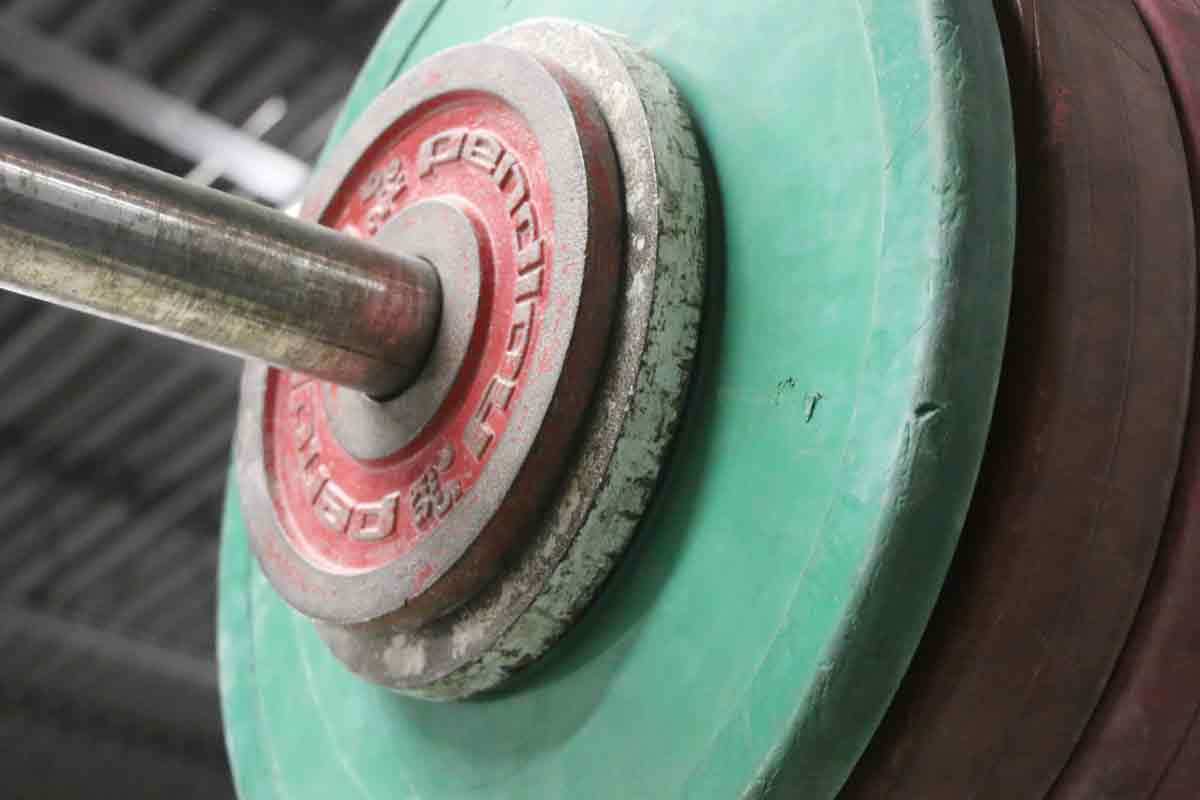 How do I apply it?
I use it for the big barbell lifts – squat, bench press, deadlift, and overhead press – as well as Olympic lifts on occasion.
The key is having a proper 1RM. This requires putting the ego in park and using a max you know you can hit properly and pain-free. Just because you squatted 700 pounds before the meet doesn't mean you can squat it now. Use a one-rep max (either taking it directly or from a calculator) from the best performance you can do properly and pain free in that exercise.
For instance, if you can squat 300 pain-free but 315 gives you trouble, 300 is your training max.
From there you use the percentages in the chart. A strength-based workout may be 80% of your max (240 pounds in this example) for 2-5 sets of 2-4 reps. A hypertrophy or accumulation-based workout may be 70% of your max (210 pounds in this example) for 3-6 sets of 3-6 reps.
What are the advantages of this approach?
1) Keeps the athlete in check
Most athletes, especially us studly powerlifters, like to push weights and push the envelope to get back to where we were before.
A flaw I see of people who do programs like 5/3/1, Conjugate, or 10/20/Life is that they become "PR happy" and want to break a PR week after week – eventually leading to stagnation or injury. This isn't a flaw of the programs themselves but rather how they're used.
A fixed max and percentages keeps us in check.
2) Flexibility with sets and reps
A flaw of fixed percentage based programs, particularly linear periodization models, is they don't allow for flexibility in sets and reps. This is a problem for two reasons:
Some lifters are more "fast twitch" than others and can't do as many reps at a given percentage of their 1RM compared to other "slower twitch" lifters. Bret Contreras and Brad Schoenfeld did an experiment where they had subjects perform an all out set at 75% of their 1RM. The top lifter did 21, the bottom lifter did 7. So telling an athlete they must do 3 sets of 10 at 75% of their 1RM might be impossible for the bottom lifter and too easy for the top lifter.
If you're having a bad day, 3 sets of 10 at 75% may be too hard … or if you're having a good day it's too easy.
Having a flexible range of sets and reps helps minimize these issues by enabling you to auto-adjust your sets and reps for the day.
Protocols for Aches and Pains, Muscular Imbalances & Recovery
Work Harder. Train Longer. Prevent Injury.
Prevent injury, reduce pain and maintain joint health with Travis's specific corrections for your individual muscular imbalances.
3) Emphasis on proper form
For technically complex lifts – such as the powerlifts and the Olympic lifts – it's hard to maintain good form past a few repetitions unless you're someone who is very technically sound. While singles are optimal for technique, doing lots of singles in a workout can get pretty time consuming and pretty monotonous. As such, I prefer the 1-6 rep ranges used in Prilepin's Chart.
How do I know when to bump the training max up?
If you can hit (or exceed) the top end of Prilepin's Chart on a consistent basis without pain or excessive fatigue, then you can recalibrate your training max and begin again. I usually use the following recommendations based on how many repetitions you're consistently (key word) hitting in your workouts compared to those recommended in the chart:

When in doubt – start light and increase more slowly. The big thing is to keep everything pain-free and use proper form.
What about lifters who are short on time and can't do that much volume?
The one downside, from a practical standpoint, is Prilepin's Chart can lead to a fair amount of volume in a workout.
For people who are short on time, I recommend Jim Wendler's 5/3/1 program – which should be used in a similar manner of using a training max that you can hit properly and pain-free.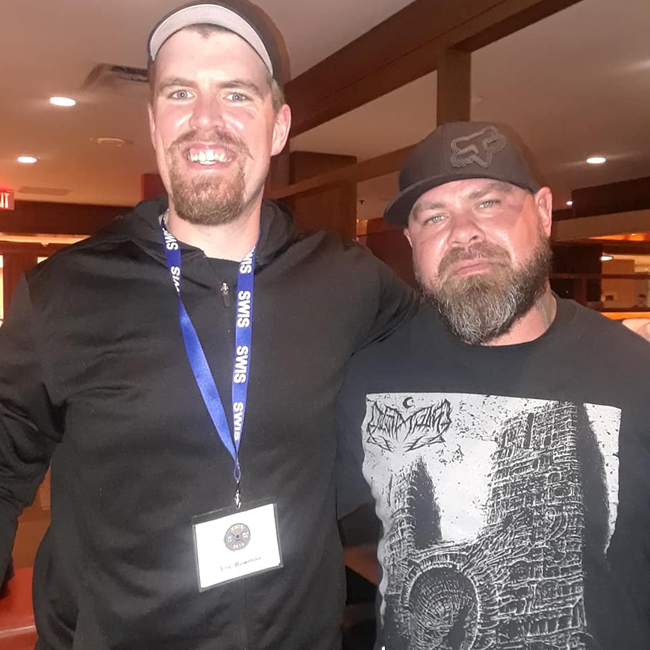 With Jim Wendler at SWIS 2018
Wendler's Variation
Wendler recommends sticking with your current training max and increasing it by 2.5-5 pounds for upper-body lifts or 5-10 poounds for lower-body lifts every four weeks until you stall and can't hit the prescribed sets and reps. Wendler is way smarter than I am, so I can't argue with him. My only suggestion is to start with a super conservative training max.
If you use a methodology that is not percentage-based but involves working to a top set on your main movements, such as the Max Effort component of Conjugate training, I still recommend you only increase your weights at a maximum of 5-10% per month (again – if in doubt, less is better). For some, increasing weights that slowly may not feel like a true "max effort" strain. Some ways to make a max effort exercise more difficult without adding weight:
Adding in some slow eccentrics and/or isometrics to the lift
Doing more warm-up/working-up volume prior to your top sets
Prilepin's Chart can be applied in many ways outside of Olympic lifting and can be a useful tool, when applied appropriately, in the late rehab stage and post rehab stages of an athlete.
As always – thanks for reading.