"Mash Program Sampler 2" has dropped! 2- Weightlifting Programs (1 directly from the MDUSA Days), 1- Powerlifting Program, 1- Super Total, 1 Athletic Performance (Tommy Bohanon's Program), 1 Athletic Speed, and 2 Cross Training workouts! All profits go to help support our non-profit Team, so thanks in advance!
www.mashelite.com/programsampler2/
Surviving the Storm
It's easy to walk around with your chest out when things are going well. With social media almost anyone can become a veteran athlete. Apparently it doesn't matter if an athlete has two years or ten years of experience. All that matters is their ability to get followers. I was just reading a post yesterday of an athlete laying out all of their struggles to reach their goals. I did a little digging and the athlete had only been in their chosen sport for two years. What struggles are they talking about?
I am not here to talk about the evils of social media. I am here to talk about the real struggles of an athlete. The biggest struggle for most athletes is overcoming a major injury. Getting injured is one of the most frustrating aspects of being an athlete. I have dealt with my fair share, but this article wasn't inspired by me. My best friend's son, Aidan Jones, inspired it.
Aidan has broken his ankle twice in the last few months. He's only ten-years-old, but he was set to take part in one of the best travel soccer programs in Texas. That's tough on anyone at any age, but something like that can be extra rough on a young child. Lucky for him he has a dad that won't let him quit. They've been doing pull-ups, pushups, and physical therapy from the best PT clinic in Texas. They've got his upper body looking jacked, but more importantly they are teaching Aidan one of the most valuable lessons in life. The lesson is quitting is never an option. Ever!
I was in seventh grade when Aidan's dad, Kevin Jones taught me the same lesson. We were at football camp together, and I was a wide receiver. I had just had the worst day of my young life at catching the football. It was like the balls were greased. I wanted to quit so badly. I literally wanted to go home, but Kevin wouldn't let me. He was literally fighting me to stay until I started catching again. To make a long story short it worked. I ended up receiving the best receiver trophy for the camp.
That moment was more than me being able to catch a football again. If I had quit at that point, I could have easily quit things for the rest of my life. Quitting is a habit, and it is a bad habit. At that point in my short life quitting came easy to me. If I didn't like something, I would just quit. Kevin's determination altered that path forever, and now he's teaching his son the same good trait.
All of you should learn from this lesson. Don't tell me what a champion you are until you've overcome a little adversity in your life, and believe me the adversity is coming. You are going to have injuries and setbacks, and it is how you deal with those struggles that will define you not only as an athlete but also as a person. Watching that ten-year-old deal with his injuries and overcome adversity inspired me to write this because I want all of you to learn this lesson. I don't want anyone reading this to ever quit anything. I want you all to see your dreams through right to the very end. If you do this, the results won't matter that much. Your heart will be at peace as long as you see things through.
Recently I watched my athlete Jacky Bigger rise to the top only to figure out that she was in need of a major surgery. Her ankle had been injured for years, and now it was broken and the cartilage damaged. She was just on the verge of making an International Team, and boom that dream was put on hold. She was crushed emotionally, but she never once quit. She has battled back, and I have no doubt that she will reach her goal.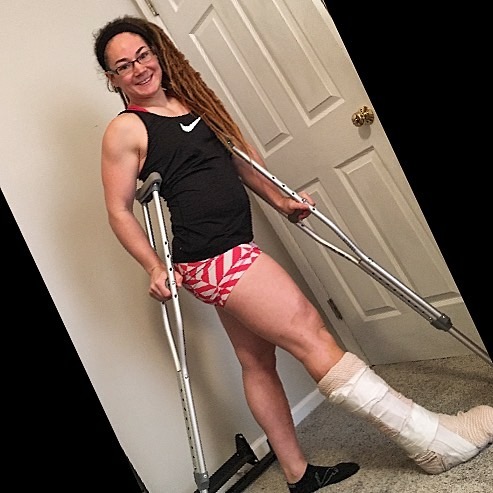 I want to teach you guys everything that possibly can. However there is nothing more important than what I am teaching you right now. If you quit, you will fail 100% of the time. That's the one guarantee in life. In my experience it is the people that persevere that end up on top in all aspects of life. Quitting is just too easy for most people. The funny thing is that they will disguise quitting in so many ways. You can call it whatever you want. You can hide behind any excuse that you want. Unfortunately no matter what you do, quitting will always be quitting.
Whether your goal is to be a great athlete, a great entrepreneur, or whatever, it's not the outcome that you will remember most. It will be the lessons along the path that will stay with you for a lifetime. If you persevere, commit, and attack your goals with every ounce of your abilities, you will have skills that will ensure a lifetime of success. This is what I want for my children, my athletes, and all of you. You can learn everything about programming and technique, but unless you learn the lessons that I have talked about today, none of that will matter. So Aidan and Jacky, I want you both to keep crushing it each and every day.
==============================================
Check out one of the Online Teams:
• Mash Mafia Bronze
• Mash Mafia Silver
• Mash Mafia Gold
• Eat What You Want
• Eat and Lift What You Want
Check them out here: ⇒ Mash Mafia Online Teams