I am excited to announce that in a couple of weeks we will be launching our new e-book "Conjugate: Westside Inspired Weightlifting". This will be my take on the applicability of the Westside System for Weightlifting. Until then, you can check out the "Mash Method" E-Book for Free at:
==> www.mashelite.com/mashmethod/
===================================================================================
A Parent's Perspective
by Coach Crystal McCullough
Many of you have basically watched Morgan grow up on Instagram posts the last couple of years and are wondering where did this kid come from? What is his background? And my favorite is what are you feeding this kid?
I thought I would take a few minutes to write about this phenomenal 13-year-old kid and share some insight into his background and family.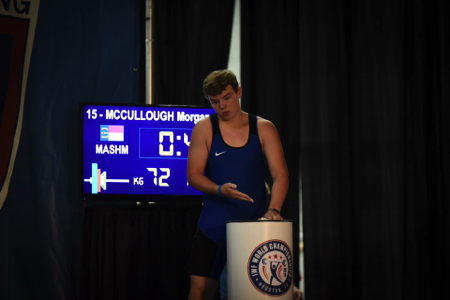 Morgan's entire life has been as a military kid. He has lived in 8 different cities and 10 different houses in his short 13 years. His dad, my husband, has been deployed 3 times for a year at a time and many short trips over the course of those 13 years. I won't lie and say the military is easy. It is never easy. What it does do is make a kid like Morgan resilient, a fighter, and independent. Morgan is more comfortable in a room of adults than a room of kids. He can hold a conversation with anyone. He wasn't born this way. He learned it through social situations. When he was younger, he was super shy and wouldn't speak even when spoken to with any amount of confidence. We, as a family, value the time we have together. We've learned quality over quantity. I believe with all my heart that every place we have been in the past 13 years has led Morgan to exactly where he is today.
Shockingly, Morgan was a normal sized baby. He quickly became taller than most of the other kids his age and had some feet that would rival Shaq. He has played several sports from the age of three until now. He has played soccer, basketball, baseball, and football throughout the years. We put him in some speed and agility classes when he was six to help him with coordination, balance, and agility. He also started CrossFit Kids around the same time and got in a good 2-3 years of general physical preparedness (GPP) during that time.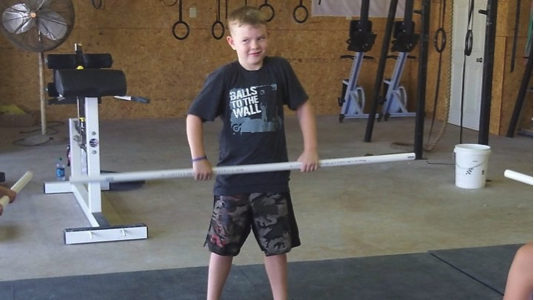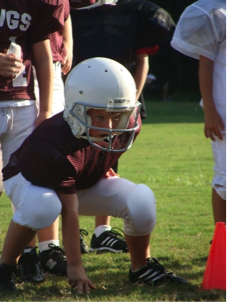 When we moved to Kansas, the CrossFit gym I coached at had an awesome weightlifting coach in Gregg Hadley. He took Morgan under his wing, taught him about the sport of weightlifting, and worked with him on his technique. We owe a lot of the love Morgan has for this sport to Gregg because he took the time to give attention and really teach an 8-year -old boy. This is also the time when Morgan competed in his first meet. He was 9 years old, weighed 50.3k, snatched 23k, clean and jerked 30k, and totaled 53k.
Morgan outgrew the CrossFit Kids class around the age of 10 and started participating in the adult classes at the gyms I either coached at or was a member of. The great thing about all of the programming in the gyms I have been a part of is it was well rounded and gave Morgan a great base in gymnastics, plyometrics, barbell work, and overall conditioning. At the age of 11, Morgan was doing muscle ups, butterfly pull-ups, and handstand pushups. He was also refining his barbell technique and smoothing out his pull, where he previously had a hitch in that second pull. He also competed in several scaled CrossFit competitions against grown men and held his own.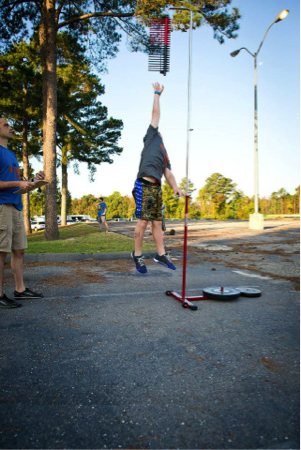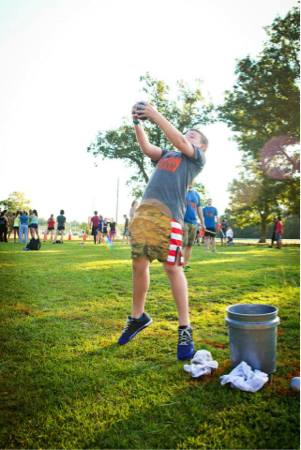 We were also blessed with another coach along the way in Ian McIntosh. He was a colleague of mine at the gym I coached at in North Carolina where he specialized in the Olympic lifts. He coached Morgan through a couple of local meets to include the first annual Strength Spectacular in 2015 on the Rolling Hills Farm, where he totaled 130k in the 77k weight class. At this point, weightlifting wasn't his main sport. He was still playing basketball for his middle school team trying to balance training with practice and games. At the end of his seventh grade year, he decided that he really loved weightlifting and wanted to focus solely on that.
We had seen Travis at a couple of local meets while he was coaching but never actually spoke to him. He posted a video of a youth athlete the end of 2015, which I believe was Matt Wininger, on his social media page where I made a comment that referenced his lifter and Morgan. Within minutes, I had a direct message from Travis and the rest is history….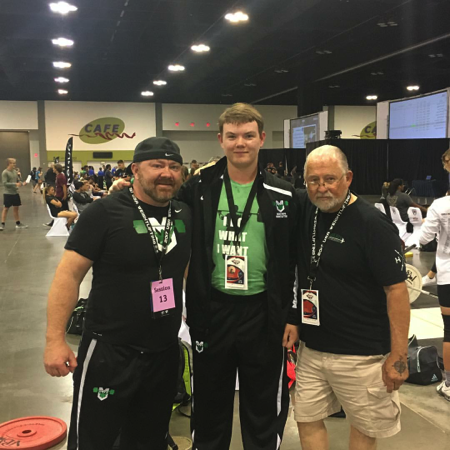 My husband and I decided to homeschool Morgan beginning his eighth grade year. Our thought process was it would allow Morgan to travel and train at Mash as well as compete at the National events without missing school. It has worked out very well and he has excelled in his schooling and has the flexibility to train and travel without additional stressors. We have decided to continue on into high school even with us living in Winston Salem now due to the possibility of him making International Teams in the near future.
Morgan has taken weightlifting by storm over the past year. Pardon me for a quick proud mom moment while I brag on his accomplishments. At his first Youth Nationals in 2016, he broke the American Record for 13u 69+ with a 109k clean and jerk. He came back that December to the American Open and broke the American Record for snatch at 92k, clean and jerk at 118k, and total at 210k. He barely missed qualifying for Junior Nationals as a 13 year old! Fast forward to this year's Youth Nationals, where he hit a 106k snatch and a 140k clean and jerk for a 246k total at 13! He barely missed being part of the Team USA Youth PanAm team, where he would have been the youngest in the history of the USAW to make an international team. Travis will tell you that Morgan switched gears during Youth Nationals this year. To quote Travis, "He became a man." Morgan came off the platform after hitting the 100k snatch second attempt and told Travis he wanted 106k. The look of determination and resolve on his face told me he was going to get it and he did. On his second clean and jerk attempt, he hit 135k and told Travis he would take 138k for his final attempt. Travis told him they needed 140k to have a chance for PanAms. No arguing, no doubting, Morgan simply said ok and went out there and smoked it.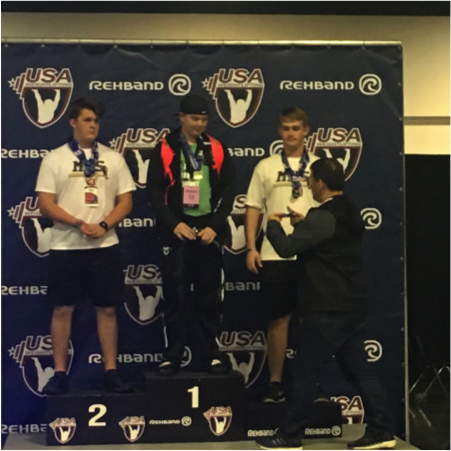 As you can see, we haven't forced Morgan to compete in this or any other sport. HE chose weightlifting as his sport. We have simply provided the environment for him to flourish in if he so chooses. If he chose tomorrow to quit weightlifting, we would be sad because he truly has a gift, but we would be just as proud of him as we were 10 years ago and as we are today.
Even at this young age, Morgan takes his recovery and training seriously. He gets a good 9-10 hours of sleep every night. He works on school throughout the morning after he has had a good breakfast. He also gets some down time after lunch before he goes in to train with the team. In the evenings, he is a typical kid and plays video games.
I say all of this to get to these few summary points:
1) Weightlifting DOES NOT stunt a child's growth.
2) General Physical Preparedness (GPP) and multiple sports are good for kids to participate in starting at a young age. It builds a base and keeps them from getting bored or overtraining. A key term when they are young is just let them play and do what kids do.
3) Put your child in the hands of a coach who knows what they are doing and who sees them as a person rather than just as an athlete. We trust Travis so much that he has become a Godparent to Morgan.
4) Be realistic about their abilities while supporting their goals at the same time.
5) If your child shows a real interest in a sport, be supportive and help cultivate that sport.
Morgan is definitely an exception. He is what many would call an anomaly. His brain doesn't work like most 13 year olds. He's set goals of making international teams and competing at the Olympics. Many 13 year olds aren't thinking that far ahead. He has a coach and parents that believe he can which makes HIM believe he can. And he loves what he does!!
We are very blessed to have crossed pathways with Travis, Don, and the whole Mash Mafia crew. Travis is smart with his programming and loves his athletes. He has a passion for making those in his care better athletes, but more importantly, better people.
Author Bio for Coach Crystal:
"41-year old Army wife and Mom to a genetic 13-year-old freak. Basketball player turned runner turned CrossFitter turned powerlifter. Crystal has podiumed over the years at 5k and 10k road races and local CrossFit competitions. She is currently a 72k USAPL National Level powerlifter. Her best competition lifts are 145k squat, 77.5k bench, and 170k deadlift. She is an RN with a Masters degree in Nursing Education, a CrossFit affiliate owner, and a Mash Elite Performance coach. She has several years of coaching experience in the CrossFit community and is a life long learner of the art and science of the vast strength and conditioning world. She is currently studying for her CSCS."