I've always had a love for gymnastics. I just love movement – it's the reason I find weightlifting so beautiful.
But gymnastics movements are more than just art. Gymnastics can lead to incredible strength, muscular balance, and all-around fitness.
Just ask today's podcast guest, Dusty Hyland of SkillWOD.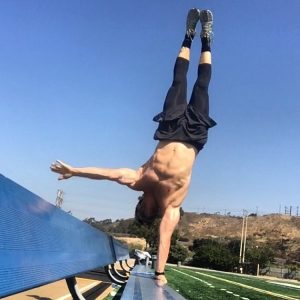 We get into the benefits of gymnastics on this podcast – and the problems he has seen in CrossFit related to gymnastics. And we end up talking a long time about getting kids into fitness… the right way instead of the wrong way.


THE BEST OF EVERY WORLD: MASH ELITE PROGRAM SAMPLERS
Proceeds Support Our Non-Profit Weightlifting Team
These samplers of programs cover weightlifting, powerlifting, functional fitness, athletic performance, and more. With all these programs at your hands, coaches can handle any athlete who comes their way - and athletes can explore a variety of approaches.
LISTEN IN TO TODAY'S PODCAST AS WE TALK ABOUT:
How to program and progress in gymnastics for CrossFit
How gymnasts get SWEET jobs after college
The simple way to change gymnastics programming for maximum results
Is CrossFit Kids a good idea?
Strategies for pushing athletes in the gym… but not too much
and more…