This young woman has risen to become one of (if not the) best female weightlifters in Great Britain and one of the top lifters in the World. She also happens to compete in beauty pageants too. Yes, that's right–she lifts and she's a beauty queen. But don't let that fool you. As you'll soon learn, it takes as just as much guts, hard work, and dedication to get out there and compete in a beauty pageant as it does at the Weightlifting World Championships.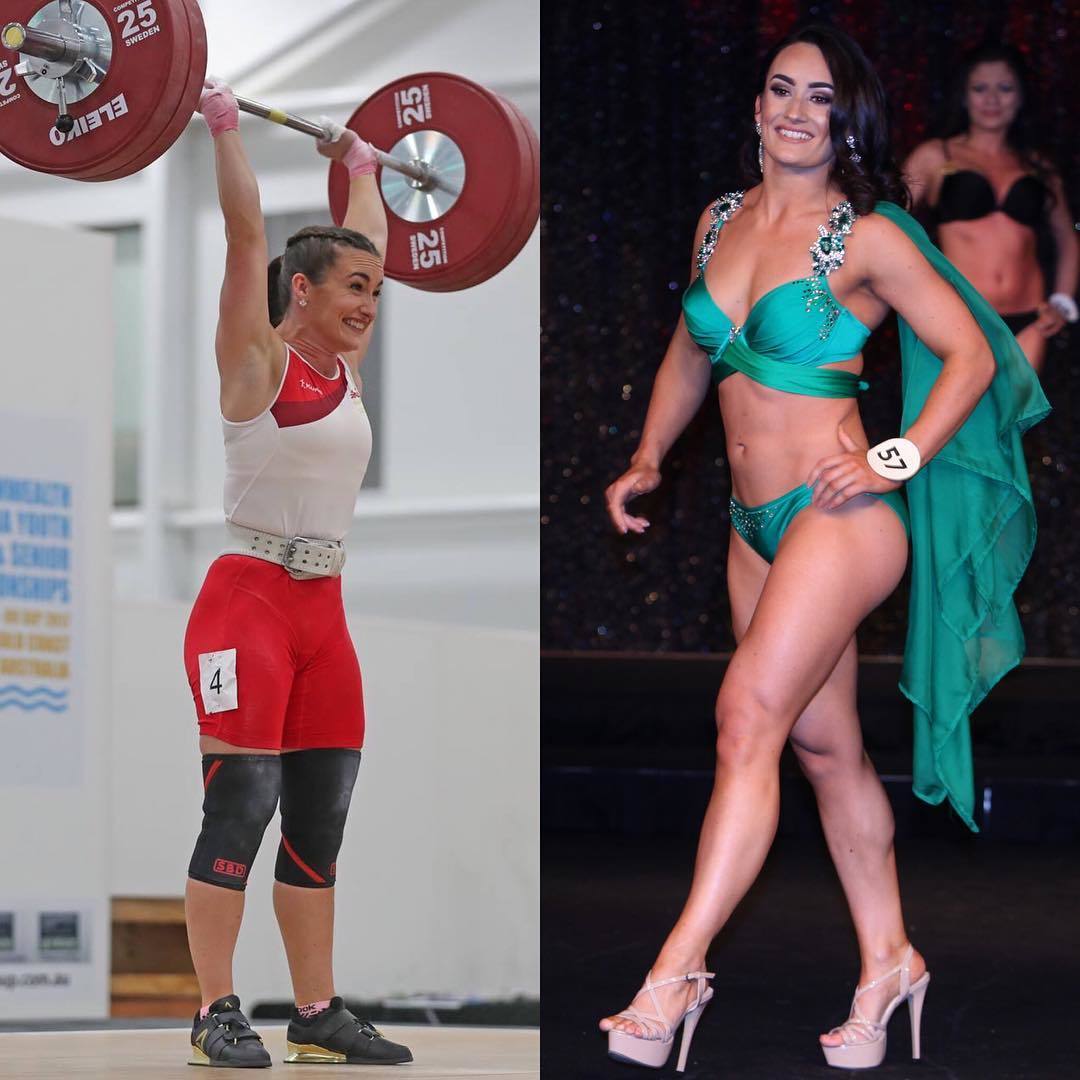 On today's episode, you'll get to meet this incredibly confident, intelligent and strong woman who's showing everyone that women can be smart, strong, athletic, beautiful, muscular, elegant, and brave all at the same time.  We'll chat with Sarah Davies (@sarahd_gb) about how she started her career as a weightlifter and competing at the international level, all while still doing beauty pageants.
You'll also find out how Sarah handles the criticism she gets about lifting weights and her body. It's unbelievable to say that as impressive an athlete and awesome person as Sarah is, she has still had to face senseless bullying her entire life. Well, my hat is off to Ms. Sarah Davies for doing it her way despite what some people would think. This episode is going to inspire you and make you feel so empowered. I even felt that way after talking to Ms. Davies and I know the crew did too so I can't wait for you guys to listen.
Thanks for being on our show Sarah and I look forward to more in the future.
Just one final note, the latest Mash Elite Program Sampler: Guest Coach Edition is still available at the special launch price, but not for long. In just a few days, the price will be increasing. So grab it now while it's still at the lower price.
There are 6 special programs from 6 of my friends who just happen to be some of the biggest experts in the fitness industry. There are programs from Layne Norton, Ph.D., Joe Kenn, Sean Waxman, Dr. Andy Galpin, Greg Nuckols and Zach Even-Esh. You'd be crazy not to do a program from these guys.
Check the Sampler out below.
Six of the Greatest Minds in Strength & Conditioning in One Book
PROGRAM SAMPLER, VOL III: GUEST COACH EDITION
Some of the greatest coaches in the industry have collaborated with the Mash Mafia to bring you a sampler of programs that packs a punch. Take a peek inside the minds of these experts so that you can take your knowledge and performance to a new level.
LISTEN IN TO TODAY'S PODCAST AS WE TALK ABOUT:
Sarah's history as an athlete
How she rose to become a World-class Weightlifter for Great Britain
Her current training and competition goals
Developing confidence on and off the platform
Bullying and the criticisms she's faced competing in both Olympic Weightlifting and beauty pageants
Why she got into beauty pageants and continues to do them
The differences between competing in Weightlifting meets versus beauty pageants
and more