I've been spending a bit more time in the kitchen lately, trying to learn how to cook some new macro friendly recipes that aren't just plain chicken breast, quinoa, and brussels sprouts.
I came across this delicious and simple recipe on Pinterest. I made a couple of changes – and it turned out so delicious I wanted to share it with you all. People also ask me all the time where they can fine recipes with pre-calculated macros, so I figured I'd start sharing some of my favorites, since I've already done the macro calculations for you.
Get the Mash Elite nutrition ebook and calculator for just $29
Get Leaner. Gain Muscle. Eat What You Want.
Mash Elite's resource will give you the nutrition tools you need to make fast results without guesswork, stalled progress, or unbearable restrictions.
Ground Turkey Sweet Potato Skillet
Serves 4 (46C/31P/15F per serving)
Ingredients:
3 cups of peeled and diced sweet potatoes
1 lb ground turkey
yellow bell pepper
1 cup of onion, diced
½ cup of shredded mozzarella cheese
½ cup of water
¼ cup cilantro (optional)
2 Tbsp olive oil
1.5 Tbsp ground cumin
1 Tbsp minced garlic
1 tsp chili powder
½ tsp salt
½ tsp pepper
Now that looks like a long list of ingredients, but I promise it's a simple recipe. If not, I wouldn't have been able to make it. I definitely still have lots to learn in the kitchen.
I started by peeling and dicing my sweet potatoes. I used Japanese sweet potatoes, because my fiancé and I prefer them to regular sweet potatoes. However, if you're watching your calorie intake and are low on carbs, regular sweet potatoes are probably the way to go since they contain fewer carbohydrates than the Japanese ones. If you're looking to try something new, you can find Japanese sweet potatoes at Whole Foods and Trader Joes.
Next, I minced my garlic and heated the oil up in the pan. I used a sunflower, avocado, and coconut oil blend, because that's what we had in the house. The recipe calls for olive oil, but you can likely use whatever oil you prefer. I cooked the garlic on medium heat for about one minute, then added in the ground turkey.
While the ground turkey was cooking, I chopped my onion and pepper and put together my mix of spices – that way I could just dump them all in at once when the turkey was ready. Once the ground turkey was fully cooked, I stirred in the spices and added in the onions and peppers. I used red onion instead of yellow. I let the onion and peppers cook for about three to four minutes before I added in the water and sweet potatoes – which then cooked covered for another eight to ten minutes or until the sweet potatoes were soft when stabbed with a fork.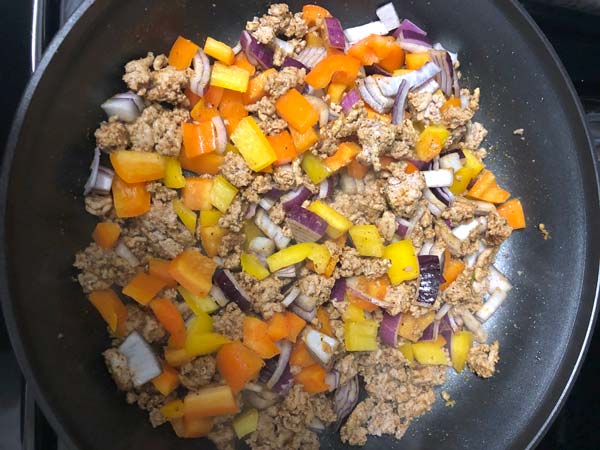 Once the potatoes are cooked, throw the cheese on top and let it melt, garnish with cilantro for a prettier dish – and boom… done. It's as simple as that.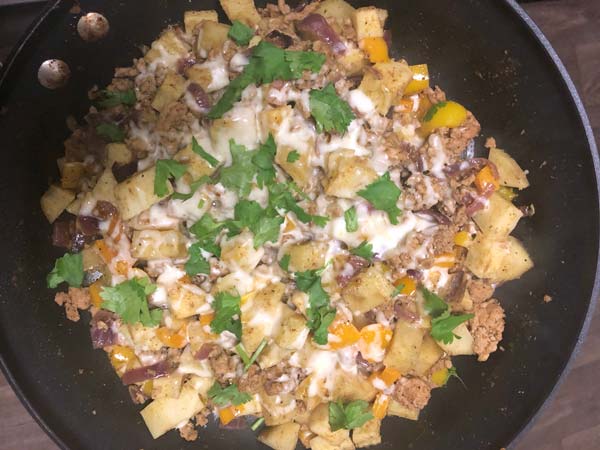 This recipe serves four. Each serving contains 46g of carbs, 31g of protein, and 15g of fat. It's a very well-balanced meal!
Here's the best way to reach your diet goals in 2020...
Get nutrition coaching from the Mash Mafia.
* Fully Customized Nutrition Plans
* Expert Coaches to Guide You
* Real-World Solutions for Real-World Issues
Need even less calories? Ditch the cheese and use squash instead of sweet potatoes. Need more calories? Try using a higher fat meat such as ground beef.
Eating on macros doesn't have to be boring and repetitive. Get creative! Who knows? You may find a meal like this one that you'll have no problem eating over and over again.