A Love Letter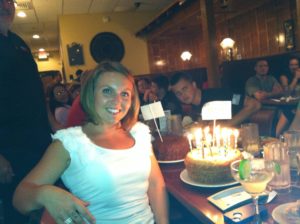 Today is my wife's 30th birthday. There is no better way to inspire and show God's love than the way one loves their wife. I hope that you all can find someone to love like the person that God has put in my life. I met Emily Drew 9 years ago. She was this young girl in Art School at Wake Forest that would make any room glow with her smile. When I met Emily Drew, I had never really loved a woman. Life was pretty much about me. All that I thought about was competing. However, God was about to throw me for a loop.
We started talking in 2007, and right away I could feel myself having feelings that I had never experienced. Well before we talked about being committed to one another, my heart belonged to her. I was 33-years-old at this point, and I had never cared about or been loyal to any female in my life. I attribute this newfound love and loyalty to two things. First, I was beginning my journey with Christ, so I feel that He was enabling these newfound feelings to take place. And yes, I feel that God had sent me the perfect woman for me.
Here eyes would literally electrify my soul. When she set her gaze upon me, I was literally helpless but to obey her every wish. Then when she would talk, the wisdom that came from that 21-year-old girl was like that of a brilliant woman 20 years older. She opened my eyes to the world of art. She helped me take glimpses through her eyes, so that I could see the beauty of the world through the eyes of an amazing artist. More importantly, she was answering all of my questions about God.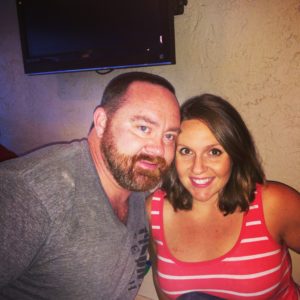 Shortly after our courtship began, I moved to Chicago. We continued these talks over the phone. We would talk the entire night sometimes. I was a thousand miles away from her, but somehow I knew that God would bring us back together. How many long distance relationships do you know that actually worked?
Yah I get it. From the outside looking it, I would have given our relationship 0% chance of lasting, but luckily God doesn't care about odds. When I wasn't working, I would lay around waiting for the phone to ring like a little schoolboy.
Anyways, I moved home, so that we could be closer. I didn't have much money or anything else at the time. It was the one rough time financially of my life, but I was determined to build a life for us. I worked three jobs while I was building Mash Elite Performance from the ground up. I still made time to train, and I still made time for Emily Drew.
I remember buying her engagement ring. I was so excited that I was able to save up the money for this ring that meant so much. For the first time in my life, I knew exactly what marriage meant. It meant a lifelong commitment with each other. It meant a covenant with God. I was ready for both.
I asked her to marry me at Carolina Beach. It was a full moon, and the bottom of the moon seemed to touch the ocean. It was a perfect night. I got down on my knee in the sand, and I asked her to be my wife. She said yes in case you were wondering! My heart raced with excitement. I was engaged to the most amazing woman on earth.
Two days before we were to marry, our lives were thrown for a loop. She was diagnosed with a rare form of Uterine Cancer. I remember her going through Chemo. It was terrible. She would be absolutely wiped out. At night I would hold her, and I would plead with God to save my love. I prayed every night until I would fall asleep.
I remember taking a trip to Polly's Island in South Carolina with my best friend Kevin Jones and his family. KJ and I were messing in the waves, and I caught myself staring onto the beach where my wife laid under an umberella. She looked exhausted from the Chemo treatment that she had taken right before making the trip. We had also been given the news that the first round of Chemo had stopped working. I erupted in tears as I gazed upon my wife, and I realized for the first time that I might actually lose her.
Well thank God that this story has a happy ending. She was able to beat cancer with the help of God and all the amazing Doctors. I know now that cancer was a blessing. It brought us together like nothing in this world could ever do. It made me realize right away how much this woman meant to me. I will never spend one day without appreciating the love that we share.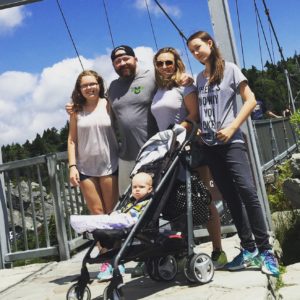 Here we are six years of marriage, and now my one true love is turning 30. I love her more today than I have ever loved her. I know that when she turns 40, I will love her even more. When I watch her with our children, I smile inside knowing that I have picked the perfect mother as well.
Nothing says that you love God more than the way you love your wife. I want to leave my son with the memory of the way his dad loved his mother. I want my daughter to know the way her future husband should love her. I want my athletes to see what true love looks like. My marriage and my love for my wife is the only legacy that I care about leaving on earth.
This morning, I pray that you all will oneday experience the same love in your lives.