I returned last night from one of the most incredible trips of my entire life.
Phil, the CEO of Stronger Experts, and I have been talking about a trip to Jamaica from the very moment I joined the platform. For all of you who don't know what Stronger Experts is, I will give you a brief explanation. Phil gathered some of the world's top experts in the areas of weightlifting, powerlifting, strength and conditioning, speed training, nutrition, injury prevention, and rehab. The platform is a one-stop shop for young and aspiring coaches to learn from the best in the business.
LEARN FROM THE BEST IN THE BUSINESS
BECOME A PART OF STRONGER EXPERTS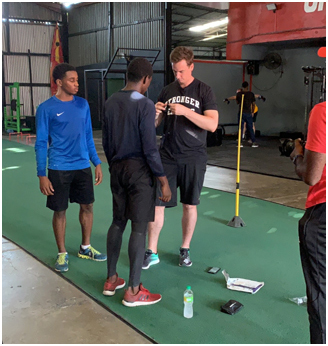 One of the coaches on the platform is Coach Jae Edwards. Jae is a big part of the reason why I joined this platform. He works with some of the top sprinters in Jamaica – including Yohan Blake. I've been fascinated by the Jamaican sprinters for quite some time now. I have been dying to understand their training and their mindset. Phil gave all of us that chance.
I was able to arrange for Doug Larson and Anders Varner, my friends from Barbell Shrugged, to come along to document the journey. This guaranteed we would come away with some moments that would encourage and inspire all of you. It also allowed me to co-host one of the most amazing podcasts of my life with Yohan Blake, which brings me to the point of this story.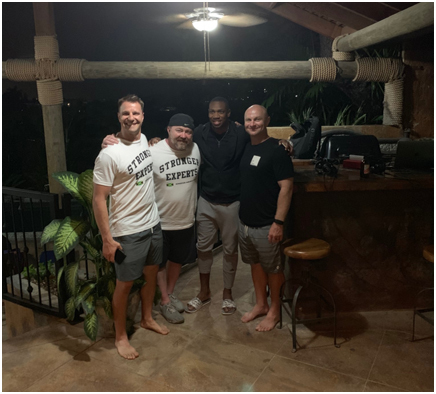 No Other Option
Yohan explained to us life growing up on the island. Yes, it is one of the most beautiful places in the world. However, life on the island for the locals can be one of the hardest existences in the world. Yohan grew up in a one-room house with seven siblings and his parents. Food was hard to come by, which made athletic endeavors much harder for him than the athletes here in the United States.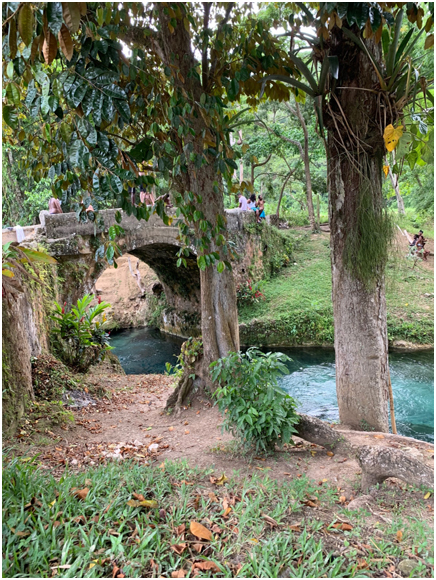 He didn't even start out as a sprinter. When he was 16 years old, he was playing cricket and decided to try his hand at sprinting. Luckily he was really good right out of the gate. It's actually hard to imagine how good he would be if he had started earlier like most of the children in Jamaica – talking to the other track coaches, they start them between four to six years old.
Once Yohan realized he had a gift, he knew he had found a way to change the lives of his entire family. He worked harder than everyone else on the island, to the point Usain Bolt gave him the nickname Beast. He still trains with the same tenacity, and is currently the world's fastest man after winning the world championships. Yohan also holds the second-fastest time ever recorded for the 100-meter dash – 9.69 seconds. After talking to him over the last few days, there is no way I would vote against him. If you want to hear the entire story, just wait for the episode of Barbell Shrugged to drop.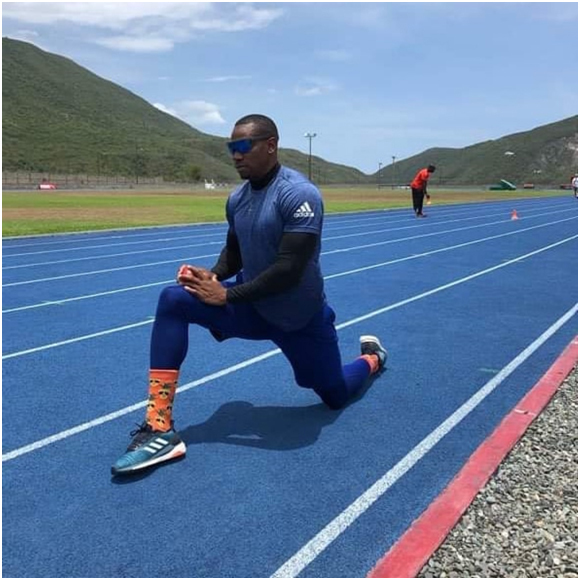 Here's my point in telling you this story. Yohan approached sprinting with no other alternative. There was no fall-back plan and no other options. Back at home there was only a one-room house and several disappointed family members awaiting him if he failed. He told us about praying multiple times God would grant him speed. He told us about his mother telling him he was their only hope.
As an athlete growing up in America, I can't imagine having that kind of pressure on me. He felt the weight of the entire world on his shoulders, and he didn't let the weight crush him. It's that pressure that made him unbeatable. Yes they have good coaching in Jamaica, but so do we in America. It's the fact they don't have any other option that drives them to succeed at such high levels.
The problem with options
In America, our athletes have so many options. If their sport doesn't work out, then they will go on with their lives. Heck, most of them realize they will be more financially stable when their sport is over. That really makes it tough for them when training gets hard, and training gets hard for everyone no matter the sport. 'Options' are the very reason why athletes fail more often than not in America. Let me explain a little more.
Every year, I have an athlete who reaches out to me about wanting to be an Olympian. I often wonder how they get to that goal. I mean did they watch some old Cal Strength videos, or did they stumble upon some old videos of Pyrros Dimas? Who knows? Yet here they are reaching out to me, saying the exact same things as so many before them. It used to be, if they had a little bit of talent, I would get all excited and have them visit the gym. After my trip to Jamaica, I have a new plan for all the people who reach out to me.
Now I am going to rant a bit, so get ready. Athletes tell me all the time they are willing to do anything to become the best, but their actions don't match their mouths. Don't tell me you want to be the best, and then proceed to go out drinking and partying every week. You're lying to me and to yourself. Don't tell me you will do whatever it takes, and then quit when training gets hard. If you really want to be the best, keep reading.
We are here for you during this Coronavirus crisis.
Let us help with customized programming and coaching when you have limited access to gym equipment.
If you are financially able to join our online team for customized programming at this time, we would appreciate your support.
If you are financially struggling during this time, we still want to help. Email us and we will try to help out in any way we can.
* Fully Customized Programming
* Unlimited Technique Analysis
* The Best Coaching in the World
What it takes
If you really want to be one of the best athletes in the world, you are going to have to give up all partying. You are going to have to take responsibility for your own nutrition. You are going to need ten hours of sleep every night. Recovery is your responsibility. You will need to find the best chiropractor, physical therapist, and massage therapist. You will need to buy Marc Pro for the inflammation. If you aren't getting something in practice, you will need to do whatever it takes to understand the deficiency. Maybe you need some extra practice. Maybe you need two-a-days until you get it. Maybe you need to do a little extra homework.
You will need to practice harder and smarter than every other person on this planet. Things are going to get hard, really hard. That's a promise. You are going to regress at times. You are going to plateau at times. Some of that is a planned response by your coach, and some is a dark place where all athletes will venture. It's in the darkness where you will experience pain and sadness. Your body will hurt like you are a 50-year-old crippled person. You will get depressed. You will think it's never going to happen. All of these things I promise are going to happen.
It's in this darkness you will come face to face with the true you. This can be the loneliest place in the world because you are going to be faced with questions some of you don't really want to answer:
Am I really good enough to be at the top of my chosen sport?
Am I really willing to do what it takes to make it in my chosen sport?
Is my sport worth pushing through this terrible pain?
Am I tough enough to push through this plateau?
Making that decision
For some of you, it's simply a reality check. You might not be cut out to be the best, and that's okay. Some of you will learn to simply enjoy the sport. However, for all of you who really have what it takes, you will be faced with the hardest decision of your life. If you quit now, you will probably quit when things get tough for the rest of your life. Nothing great in life ever comes easy, and that's why athletes who make it to the very top are so darn special. They are special in the same way amazing entrepreneurs are special or incredible inventors.
The rest of this article is especially to the athletes who are about to reach out to me in the future. I want you to contemplate this article and the question above. I know it seems sexy when you see my athletes wearing Team USA on their chests. I know it seems cool traveling around the world lifting weights against the best athletes in the world. However that's less than 1% of what really goes on. Are you ready for the work that's really required? Are you willing to stay at home while others go out partying? Are you willing to take control of your nutrition and recovery?
Here's the best way to reach your diet goals in 2020...
Get nutrition coaching from the Mash Mafia.
* Fully Customized Nutrition Plans
* Expert Coaches to Guide You
* Real-World Solutions for Real-World Issues
Here's the thing. I am no longer willing to coach someone who isn't willing to match their action with their goals and talents. I have too many great athletes who are willing to put in the work and time. I don't have the time for trouble cases who aren't willing to accept the help and coaching. The Jamaicans are willing to do whatever it takes. Are you? I mean are you really?
Yohan Blake didn't have a choice. That makes it a bit easier to stay focused. For the rest of us who have choices, we must be disciplined. You have to want to succeed more than anything else in the entire world. If there is something else you would rather be doing, then go do that and forget about sport.
I know this article isn't my normal science based 'how to' article, but it's the truth all of you need to hear. Don't tell me you were already thinking like this because I watch too many of you come and go. Be honest with yourself! It's okay to play a sport for fun. However, when you tell a coach like me you want to be the best in the world, then I expect the best work ethic and discipline in the world. If I don't get just that, you can find another coach.