Before you enjoy this article, we are looking for partners with the immediate need on sending our onsite athletes to the American Open. We are not looking for handouts. Here is what we are offering:
• Free Consultation with me that is Coach Mash for a Donation in any amount. We can cover any topic that you need help with: programming, business, technique, muscular balance, or any other topic
• Free "I Do What I Want" T-Shirt and a Consultation for a Donation above $50
• Free 12 Week Personalized Program along with the Consultation and T-Shirt with any donation above $175
Here is where you Donate:
Help Support Team Mash Mafia Weightlifting
Chapter 5 Wanderlust and the Four Week Taper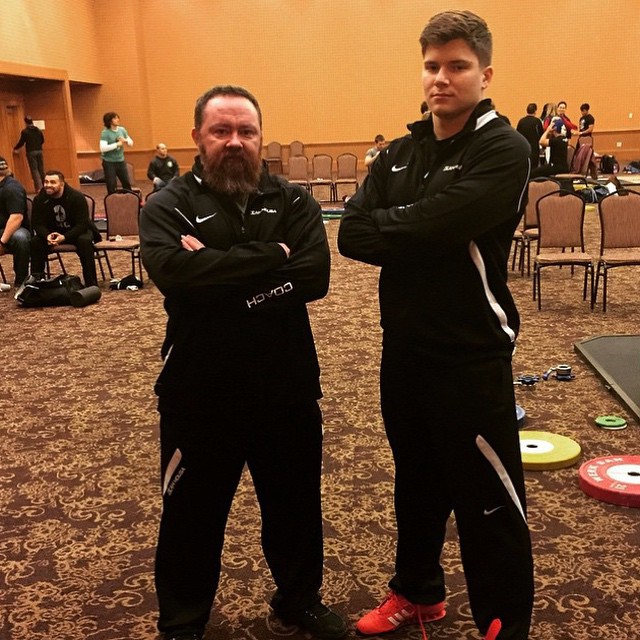 It was spring in the year of 1999, and I was traveling from Colorado Springs, CO back to my home in the Blue Ridge Mountains of North Carolina. I was going home for a visit after several months of non-stop training. Wanderlust is a strong desire to explore other regions, cultures, and societies. It is a longing to travel. Wanderlust has always and will always be a strong characterization of me. I want to experience every ounce of this life. When I read a book, I want to live the story. This trip home was no different.
The shortest route to North Carolina from Colorado is through Kansas on interstate 70. I grew up watching westerns, and Dodge City, Kansas was the mecca of gun fights and saloon brawls. Wyatt Earp had once roamed the streets of Dodge City, so I decided that it was time for me to walk the same streets. This exploration expedition would take me off the interstate onto State Road 54. When I travel to new places, my heart races with anticipation of what I might find. The trip to Dodge City was full of excitement, and in ways, I am transformed back into the young Mash on Christmas morning. Visiting a new town like Dodge City is like unwrapping that first gift. As you are pealing back the colorfully decorated wrapping, your mind zooms at a million miles per hour wondering what treasure awaits inside.
It was a warm spring day, and I can still smell the fresh air of newly blossomed flowers. Each small town that I passed on the way offered something different making its personality different from all the rest. I am from a small town, so I can appreciate a small town's desire to separate itself from all the rest. When I arrived at Dodge City, all I wanted to do was step through the doors of one of their saloons and have a drink. I can't remember the name of the establishment that I chose, but let's pretend it was the infamous Long Branch Saloon. As I was enjoying my refreshing pint of beer, I could sense the presence of Wyatt Earp right next to me. I could hear the laugh of Doc Holliday as he gracefully laid down another winning hand at the dismay of the other players. It was like being in all of those old movies that I had watched as a child.
After finishing my pint, I walked the streets admiring all of the Old West Artifacts. I was particularly taken back by the Boot Hill Museum. After I had my fill of Wild West fun, it was time to get back on the road. I noticed an odd color of green out in the eastern horizon, but I didn't really think much of it. I stopped for gas a few miles down the road, and it was there that I was find out the terrible news. The store attendant asked me if I had heard what happened to Oklahoma City. Of course, I had no idea what he was talking about. He went on to tell me that a massive F5 Tornado had just devastated the city, and the storm that produced the killer cyclone was on its way to Kansas. The attendant told me to either take shelter now, or try to beat the storm to Witchita and head north out of the storms way.
I have always been a risk taker. It is simply something that I was born with, so of course, I decided to beat the storm to Witchita. Let me warn you all, when a Kansas native warns you about a Tornado, Listen! I was driving with an intent on survival. However, the closer I got to Witchita, the worse the sky began to look. I arrived at Witchita at the same moment the storm hit. By this time, the sky was black, but lightning would light up the sky periodically just long enough to unveil the tornados in the distant prairie. My heart was racing at this point, and I actually called my friend in North Carolina to tell him what was happening. I wanted him to know, so that he could tell my family in the event that the tornados killed me. There was a point at which I was crossing a bridge, and a gust of wind hit my car so hard that I thought it was the tornado picking my car up off the ground. I simply shut my eyes, clinched the wheel, and began praying. Lucky for me, it was just a gust of wind, and I made it out of there.
Some people have heard this story in the past, and they have asked me if this cured me from my Wanderlust ways. I have told them all, no way! Adventure never comes without risk! That is what makes it an adventure. It's like deciding to do your first Olympic Weightlifting Meet. That decision is a Wanderlust move in my book. Deciding to compete in your first meet is deciding to enter a new arena. You don't know all the rules, and you don't know the people. It is an adventure. Sure my story about going to Dodge City has a scary twist, but I survived. Now I have a memory that will last a lifetime, and one day I will tell my grandchildren the story.
I am telling you this story, so that you will find the courage to compete in your first meet. Maybe things won't go as planned, but no matter what, you will learn new things and meet new people. You will come away with ideas to add to your melting pot, and that alone makes it all worth it. I can honestly say that I have regretted the risks not taken much more than the risks that I did take. So grab your weightlifting shoes, singlet, and your belt, and go get in that first competition. I promise that you will never regret it.
Before you enjoy this article about the reality of Weightlifting, we are looking for partners with the immediate need on sending our onsite athletes to the American Open. We are not looking for handouts. Here is what we are offering:
• Free Consultation with me that is Coach Mash for a Donation in any amount. We can cover any topic that you need help with: programming, business, technique, muscular balance, or any other topic
• Free "I Do What I Want" T-Shirt and a Consultation for a Donation above $50
• Free 12 Week Personalized Program along with the Consultation and T-Shirt with any donation above $175
Here is where you Donate:
Help Support Team Mash Mafia Weightlifting