Here is to a new week and working on posting daily 🙂
Let Week 4 Commence!
There is always something nostalgic after coming off a weekend up in Winston. The energy with the team is electric and having my coach encourage and push me is something I don't get every day. So, it is definitely a treat. The Monday coming off of one of these weekends sometimes has me questioning whether I can hit the numbers I've hit up at the Compound. Can I push myself to that place and grind out reps without my coach yelling in my ear? In these moments, how I respond, tells me what type of athlete I am and what I am truly capable of. This is just as true for all of you as well.
I train in the garage by myself most days and sometimes, I will train at the gym I manage between coaching classes. I do have one go to that most don't. I have a 13 year old son who shares my passion and drive for this sport (weightlifting/powerlifting) who is 100% in my corner AND is easily accessible while I'm training (he is homeschooled). I also trust his judgment. If he says I can lift it, I can.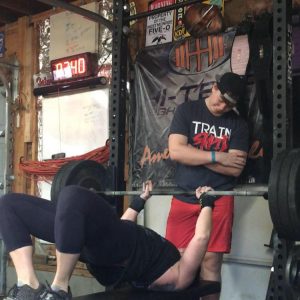 I say all of this due to my training yesterday. I had worked up to a new 3rm PR using Mash Method on Friday at the compound. Yesterday, I had a 5m squat where I had no idea where I was going to go. My legs were smoked and my head was not completely there. I hit 255#/116k fairly easy (if you believe the video) and sent the video to Morgan. His response was simply "Go Up!" I responded with 275 or 280? And, of course, he says "280". 280 is my all time 5rm I hit at the Mash Compound toward the end of last cycle. My first thought was that I didn't think I could do it. I then put my big girl panties on and loaded the bar! Here is the 280#/127k:
Following this, program called for -10% for 5+. Managed 10 reps at 250#/114k, which either ties or breaks my 10rm.
Pause Deadlifts (pausing 2 seconds 2″ off the floor) came next. 6×1 starting at 70% (250#/114k) and ending at or less than 90%. My reps went 250#/114k – 265#/120.5k – 280#/127k – 295#/134k – 305#/138k – 320#/145.5k. I'm trying to rely less on a belt with this lift. Even in my squats, I only go to the belt when % are high. I apologize for the not so high quality video. Started to look more like a rave with the flickering lights. I definitely could have pulled back on the bar more, which would have kept my butt from shooting up.
Accessory work:
BB elevated hip thrusts 3×8 with 115#
BB lunges (RPE8) 3×8 each leg with 73#