I have always been involved in physical activity and trained with some type of purpose. In high school, I played varsity sports. In college, I played intramural sports. At 25, I joined the Army and trained in order to be in shape for my job and score the highest I could on my PT test. Once I got pregnant and got out of the Army, there was a year or so I didn't do anything and felt like I had to start over completely. My easy go-to with a small child was running, so I could put him in a stroller and go. This was the first time in my life I needed to find a new goal completely on my own; someone or something else no longer defined my goals. It was up to me to set my own.
I set goals to run 5ks, then 10ks, then to run a half marathon. I kept logs of my runs so that I knew where I was in my training. I set goals for each race that I ran to be better than the previous one. Does this sound familiar?
COACH MASH'S GUIDE TO HYBRID TRAINING
Weightlifting - Powerlifting - Bodybuilding
Strongman - Functional Fitness - Endurance Cardio
Learn the art and science of how to train multiple disciplines simultaneously. Get stronger, faster, bigger...
and DO WHAT YOU WANT.
In 2010, a friend introduced me to CrossFit. The gym I started at was very big on tracking workouts. I am so thankful they felt that way because it put me in the right mindset from the very beginning. From my first workout, I kept a training log and still do until this day. I still have all those journals and will pull them out on a rainy day. Sometimes, when I ran or did CrossFit, I filled the whole journal before I would start a new one. Now, depending on the meet I'm training for, I sometimes start a new journal after each meet so I can look at the difference between the cycles.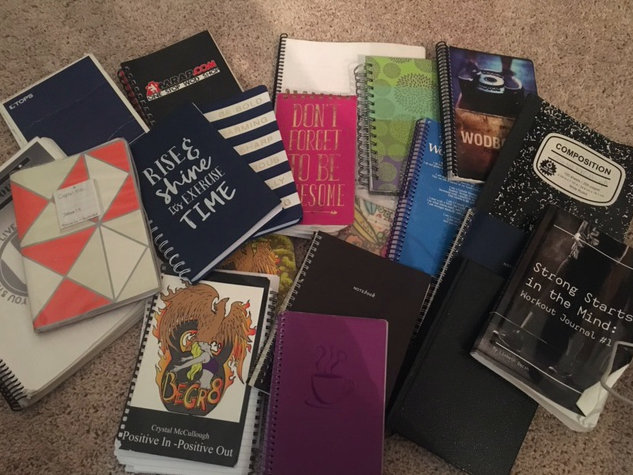 Five Reasons To Keep A Training Journal
It shows you where you've been. Sometimes, we feel like we aren't making any progress. It helps to go back and look at old journals and remind ourselves of how far we've come. Writing down workout times and maxes gives you a visual way to track your progress.
It allows you to take control of your fitness. In all likelihood, the coach isn't going to remember the numbers you hit the previous week. Keeping a record allows accuracy in percentage work.
It provides you with your own accountability. Writing your daily workouts shows you how many days you trained or didn't train. It keeps you motivated to workout.
It allows you to write down sleep and nutrition habits as well as how you were feeling while you were training.
It helps you to track you goals and set new ones. If you never write anything down, how do you know when you've met a goal?
Here's the key to unlocking even more gains in 2019...
Become a member of the Mash Mafia.
* Fully Customized Programming
* Unlimited Technique Analysis
* The Best Coaching in the World
I realize that it is an extra step, but it is a crucial step to achieving optimal success. Regardless of what sport you are involved in, keeping a training journal can be just as important as the recovery process to keep you motivated and your eyes on the prize. Whether a soccer mom or an elite athlete (see Lisa and Hunter below!), we all have goals, and visually tracking them ultimately leads to greater success.