Learn 2 Lift Seminars are coming to Columbia, MD, Livonia, MI, and Zach Even-Esh and I are teaming up for two big combo Certs. in September and October. Click here to check them out!
Don't miss The September 5th Labor Day Mash Strength Spectacular! Powerlifting, Weightlifting, Strongman, and GridStyle all together on our 10 acre farm. Hurry because Early Bird Specials End July 15th!
Passion, not to be confused with Obsession
The Barbell Life Explained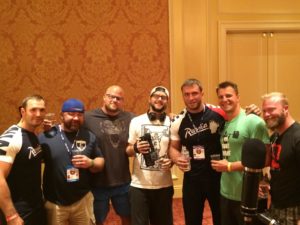 December 2103 I was at the American Open with Mike Bledsoe of Barbell Shrugged. He asked me the question, "If you had 30 minutes in a room filled with the most influential people in your industry, what would you say to them?"
It took me about 5 minutes to come up with "The Barbell Life". Nothing in the barbell world is more special than the connection people make centered around a piece of metal. I am not talking about weightlifting or powerlifting. I am talking about all the sports where people love and use the barbell. Whether you are a bodybuilder, CrossFitter, or strongman, we are all on the pursuit of pushing the limits of our bodies.
Bodybuilders are trying to make their bodies the most muscular and beautiful as possible. Powerlifters and weightlifters are trying to defy gravity. Highland Games athletes are trying to be as explosive and precise as possible. We are all on a pursuit to maximize the genetics that God gave us.
I have worked with thousands of athletes during the last 20 years of being a coach. I have worked with athletes that were there jus to appease their parents. Those athletes were not added to The Barbell Life Family List. It's not that I didn't love those athletes too. It's just different. I try to make an impact on all the athletes that come through my doors. It's just that some of them share that same love.
It's the people that have used that love of the barbell to inspire the world that end up becoming life members of The Barbell Life. Take my man Cory Gregory; this guy is the Co-Founder of Muscle Pharm. This man is one of the owners of a multi-million dollar company. Yet he is constantly putting out free workouts and information for the rest of us to enjoy. He is constantly answering the questions of his followers on Instagram and Twitter. Most people in his position become recluses, but he is still living the barbell code. He is passing off his information to the next generation just like Arnold and Franco did.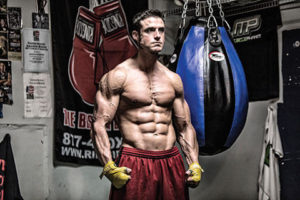 My man Gunnar Anderson also known as The One Pec Wonder on Social Media is an inspiration to me. He started out as one of my athletes over seven years ago. Gunnar was born without a right pec major. That would cause most of us to simply hide away our physiques from the world. Gunnar did the opposite. He took what God gave him and chiseled one of the most fantastic natural physiques that I have ever seen. Now he spends his time writing for MashElite.com and posting inspiring and informational articles on his social media pages.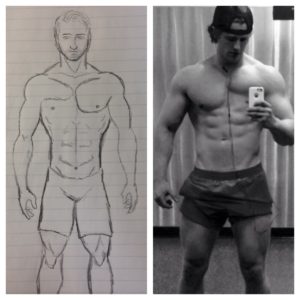 It's guys like this that make me love my industry. Most of you know Eze from my videos and article. I have watched this young man grow up into a very knowledgeable and motivated trainer and coach. I have watched him take all the workouts that I have put him through over the years, and compile his own program. We call it the Eze Get Jacked. It's a program that will get you jacked and strong. You could easily call it Powerbuilding. Now he uses that knowledge and passion to help others reach their goals, and he is growing a huge little following. And guess what? They are all seeing major Gainzzz! Eze is in love with strength and physique, and now he is sharing that love with others. Guys that is The Barbell Life!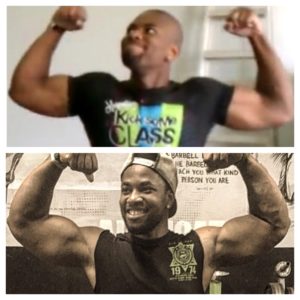 Yes I love watching my weightlifters and powerlifters breaking records, winning championships, and making international teams. No doubt! However, if all they are doing is winning for them, they are simply wasting their lives in my opinion. If you are not inspiring others, helping others, or educating others, what are you doing? Who cares that you won the National Championships? To be a part of The Barbell Life, you better be doing something awesome with that victory.
I have seen athletes come and go, but there are those athletes that are forever edged into my Barbell Family. Most of you know that I am not with MuscleDriver USA full-time anymore. I am still one of their meet coaches, but I was simply getting pulled in to many directions. I opted to focus on my own team that's a lot closer to my farm, and that has allowed me several hours per week of more time with my family. The point is that I still love the team and the company.
When I walked into the gym at MuscleDriver this past weekend, I was given so many hugs. It reminded me just how much that I love that team. That whole team and company are living The Barbell Life. The company took the risk to fund the first professional weightlifting team in America. The athletes are using social media to inspire and inform the next generation of lifters. That is what it's all about!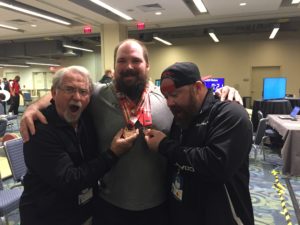 In the last year, I have watched my athletes Adee Zukier and Hayden Bowe become my business partners with our Eat and Lift What You Want Team. They have used their love for strength sports and health inspire a whole new group of athletes. They have taught the world that health and physique go well with strength, and that is a message that a lot of weightlifters and powerlifters needed to hear.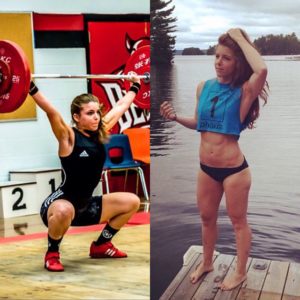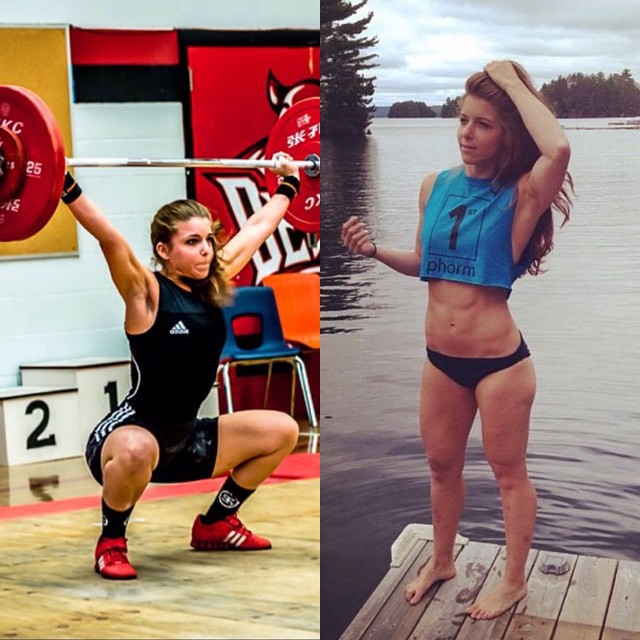 Zach Even-Esh and I are now partners in a lot of ventures. We met when we were both on staff with Elite FTS back in the day. I did a couple of seminars at his place in New Jersey, and then we crushed one together. We both have a burning passion to help others. It is a passion that leaks from the very pores of our skin. We help each other! We respect and love each other, and that is why we are partners. We know that we will both work as hard as necessary to succeed.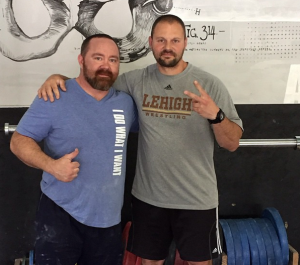 An example that will inspire you all is my man Chuck Hendo! He literally picked up everything and moved to work with me. Now he is my co-host on The Barbell Life. He works his butt off to make sure that my life is just a little easier, and for that my loyalty is his. Drew and I couldn't perform our daily tasks without Chuck and Loren helping us to make The Barbell Life more successful.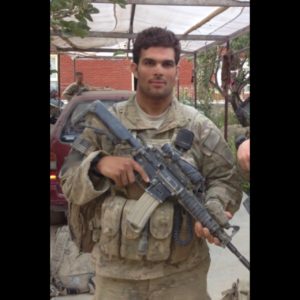 My point in giving you all of these examples is to inspire all of you to take what you are doing and inspire. There are several ways to use the barbell to inspire others. Find out the one that matches your passion, and then take it out there and change the world one person at a time. Don't just lift for personal glory. That is a long and sad road leading nowhere. I know because that is what I did for the longest time. I can honestly say that I would trade all of my world records and championships for the chance to inspire others.
I have one last thought, and it is an important one. I have a tight group of people that I include in my Barbell Family. You all know who you are. I have become successful in the Barbell world by being "real" with each and every person that I have met. If I formed a relationship with someone, it was because I admired and generally liked him or her as a person. I am loyal to a fault with these people.
Mike Bledsoe and I became friends way before we did any podcasts or business together. Jon North and I became friends way before I coached him. I have been careful to give as much as I have gotten from these friends because I value them as friends. If you want to kill it in the fitness industry, treat people the way you want to be treated. I am successful in this industry because I have made loyal friends in this industry. If you are someone trying to meet people to get something from them, you will fail. I promise!
I recommend spending some time under the bar, going to school, and making yourself valuable. You need to go out there and compete and/or coach. If you don't have anything to offer, then don't expect to succeed. Then find the people that you connect with, and they will be the people that you will partner with.
Gosh my list goes on and on of the people that I would literally die for in this industry. Danny Lopez-Calleja, owner of CrossFit Soul comes to mind right away. I can honestly say that I love that guy. He knows it, and I know that he loves me. We have built our relationship with loyalty to one another, and a genuine love for the barbell. That's it guys! If I need his help, I know that I will get it. If he needs my help, he knows that he will get it. Too many people just want to see how much they can get from other people. Don't be that guy!
Well I guess my rant is over. I just wanted to clarify what The Barbell Life is all about. It's about inspiring others. It's about loyalty! It's about real friends! It's about the Barbell! There are no easy ways in, and there is no way out! You can never go wrong by trying to give more than you get. That should be the goal for all of us. The Barbell Life!
On September 5th during Labor Day Weekend, I am hosting the inaugural Mash Strength Spectacular on my Farm here in Advance, NC. We are having Olympic weightlifting, powerlifting, strongman, and GridStyle. The whole point is to hang out together. Do what we do with the Barbell! And let's get to know each other. To sign up, click on the link below: