Check out The "Eat What You Want" E-Book to understand nutrition better. With a built-in Macro Calculator, you will have all the tools necessary to getting your nutrition in check.
Check them out here: ⇒ "Eat What You Want"
Sweet Treats to fit any nutrition plan
I enjoy a sweet "treat" almost daily, but, like most of you I'm sure, I eat for fuel, performance, health, AND enjoyment. I do try to limit refined sugar, artificial coloring, and saturated fats which make up most of the convenient treats out there. So, in my never-ending search for foods that are good for the body and satisfying to the taste buds, I've been trying out a couple new recipes.
These two recipes are made with protein powder. Travis and I each usually have a protein smoothie per day, but sometimes that does get boring. I would eat either of these recipes in place of a smoothie for an afternoon boost, or after dinner treat. After several experiments with each recipe, I've listed below my favorites. Hope you enjoy!
Protein Yogurt Pops
I followed the recipe almost exactly from the BiPro Strawberry recipe book, then experimented with some other flavors on my own, using their protein powder with different flavors. Here's the basic recipe for Strawberry Chocolate Chip. I encourage you to take this base recipe and create your favorite mixture!
1 cup of greek yogurt (I used nonfat vanilla, plain works too)
¼ cup strawberry protein
½ cup strawberries, frozen
1-2 Tbsp. of milk if needed
Sprinkle of chocolate chips – adjust this ingredient as needed to fit your macros or leave out altogether and add more diced strawberries
In a food processor, mix the yogurt, protein, strawberries, and additional liquid if needed. Pour into popsicle molds. Sprinkle chocolate chips into mold. Using a popsicle stick, stir in the chocolate chips. Freeze at least 4 hours or overnight.
Protein Cookie Dough Bites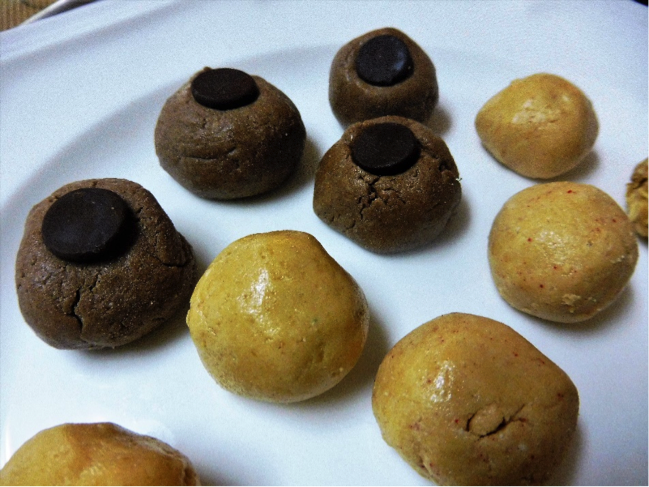 This sweet treat literally takes 5 minutes from start to finish and can easily be adjusted to fit your macros. Try adding additional toppings or mix ins like coconut flakes, raisins, cinnamon, dried fruit, or anything else you like! This recipe makes 3-4 balls or 1 serving. I usually triple or quadruple the recipe when I make these because they don't stay around!
1 Tbsp honey
1 Tbsp nut butter at room temperature
1 scant scoop of protein powder, most any flavor will work (chocolate and strawberry flavors shown in picture)
Sprinkle of salt
Stir all ingredients together with a spoon until mixture holds together. Add any mix ins and roll into small balls. In the picture shown, I added the large chocolate morsels into the chocolate protein balls after I rolled them out.
These cookie dough bites can be stored on the counter if the nut butter can be, but I prefer them from the fridge.
For these (and other) recipes, I use BiPro protein powder. I have found that it is by far the best protein for cooking. It mixes seamlessly and does not have a strong protein flavor or texture.
For more meal ideas and recipes find me on Instagram @emilydrewmash
==============================================
Check out one of the Eat What You Want Online Teams:
• Eat What You Want (Everything Needed to Perfect Your Nutrition)
• Eat and Lift What You Want (Get Your Nutrition and Your Workout Perfected)
Check them out here: ⇒ 'Team Eat and Lift What You Want'