Find Out More at: ==> Mash Strength Spectacuar!
Strength Spectacular Festivities
Guys, the 3rd annual Mash Mafia Strength Spectacular is going to be the best one yet! We've got a list of special guests coming in to hang out, talk shop, and sling some weights. If you are wondering what you should be doing on Saturday, September 2nd, you should be at The Rolling Hills Farm with us! The list of those who are confirmed to be in attendance are: Jujimufu, Clarence Kennedy, AJ Roberts, Danny Lehr, Alex Maclin, Denise Greenway, Ryan Grady, Jani Moore, our very own Don McCauley and Travis Mash, the Mash Mafia Team, and the list keeps growing! You never know who might show up!
First of all, thank you to all of those who have signed up to compete and a huge thank you to our sponsors!! We couldn't pull this off without you!!
Platinum Sponsors:
Caffeine and Kilos
Ferrovia Athletic Apparel
MG12
Intek Strength
Silver Sponsors:
PowerDot
Complete Nutrition
Bronze Sponsors:
Lift Genie
Snatchin Snacks
The festivities will kick off on Friday evening around 3pm out at the farm where the Mash Mafia Weightlifting team and Powerlifting team will be smashing weights for Max Out Friday. Many of our athletes will be competing at the American Open Series III in Grand Rapids, Michigan, so this is their last heavy day, so it will be lit! You are welcome to come hang out with us and dust off the cobwebs from traveling if you get to town early!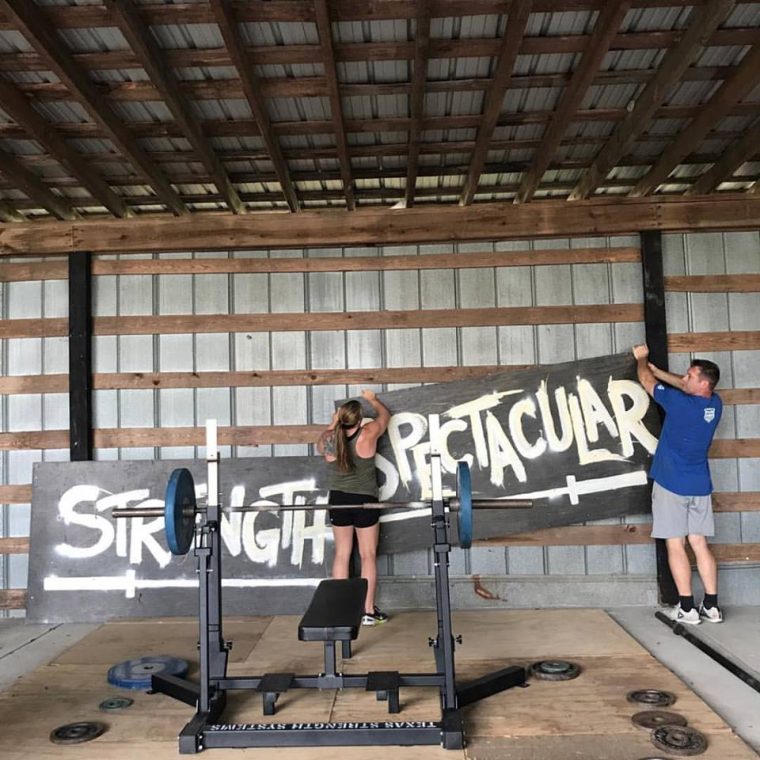 The main event begins at 930am on Saturday morning. Please don't roll up into the area and start milling around before 7am. It is private property, so please respect that. Weigh-ins for weightlifting and strongman begin at 730am. Throughout the day, you will be able to watch weightlifting, powerlifting, and strongman events. We've got some guest lifters from our weightlifting team that might be lifting with you too!! Jujimufu and Clarence Kennedy will be milling around all day with Tom Boyden capturing it all on video!
Overall winners determined by a formula for each of the main events will receive a sweet prize pack courtesy of our above sponsors PLUS contributions from some our team sponsors: Intek Strength, BiPro USA, and Harbinger Fitness, as well as 2Pood, FatGripz, and Spud Inc. So come ready to lift heavy!!
We will list those prizes tomorrow. Get ready they are huge!
Admission is only $5 for access to all of the events! There will be a kid friendly area and you are welcome to bring your shady tents and set them up in our field for rest and relaxation throughout the day. Please be aware there is a tobacco free and no dog policy in effect.
Food and drinks will be available on site for a nominal donation and vendors will be around all day for you to get in some shopping! We will also have the dessert food truck Emergensweets on site for you to indulge your sweet tooth! All of our sponsors will be on site except for Lift Genie. We will also have some words of wisdom throughout the day from our team physical therapist, John Davidson of CalsoPT and GSO CrossFit . WODbody Sports Massage will be on site for some recovery and maintenance!
When the last barbell drops and the event is over, don't leave just yet! We've got a special treat for you! All of those special guests I mentioned were coming will be hanging around for a mini mentorship session whilst sitting around a bonfire. If you have a question you know you would like to be answered, shoot an email to support@mashelite.com with the subject of Strength Spectacular Mentorship and we will make sure to answer those questions. This is going to be a sit back, relax, chill, and get to know one another. No script and no subject is off limits. Our goal is to learn from each other.
Remember this event is for our non-profit Mash Mafia Team and will go towards developing our "Youth at-risk program". We are helping athletes reach their Olympic Dreams, and hopefully teaching some quality life lessons along the way.
Thanks in Advance for supporting this team that I love so much!