If you know CrossFit, you know Ben Smith. He's been to the Games nine times, he won in 2015, and he recently qualified for the games this year. That will be his tenth time in a row going to the Games… talk about an amazing accomplishment in CrossFit.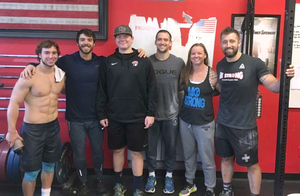 So how does he do it? How does he stay competitive year after year? That's what we get the chance to talk about on today's podcast.
Ben's philosophy on training is so simple… yet so smart. He intuitively understands how to balance everything you need to be excellent at CrossFit, and he certainly knows how to train hard without beating yourself down and getting hurt.
You don't get to the Games ten times unless you're doing something right. He knows how to get stronger while maintaining his energy systems. He knows how to combine weightlifting with gymnastics and everything else he has to excel at.


COACH MASH'S GUIDE TO HYBRID TRAINING
Weightlifting - Powerlifting - Bodybuilding
Strongman - Functional Fitness - Endurance Cardio
Learn the art and science of how to train multiple disciplines simultaneously. Get stronger, faster, bigger...
and DO WHAT YOU WANT.
LISTEN IN TO TODAY'S PODCAST AS WE TALK ABOUT:
How he trains for CrossFit
The changes he's seen in CrossFit over the years
How to stay competitive in CrossFit for the long term
Advice for those wanting to dominate CrossFit
Getting better at weightlifting by… not weightlifting?
and more…