Join the Eat & Lift What You Want Team!
Join the Mash Mafia Weightlifting Team!
One Year of The Barbell Life with a Lifetime of Lessons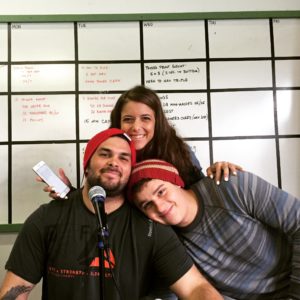 Today May 9th, 2015 marks one year of "The Barbell Life" Podcast. I can honestly say that I have learned more in this past year than all my other years combined. This show has introduced me to people that are truly amazing, and it allowed me to dig deeper into their thoughts, hopes, and dreams. Only down deep will you find what really makes one tick.
"The Barbell Life" is a constant reminder to me that mindset is just whatever I have programmed. If you believe that you are stuck in a place, then you are. If you believe that you can dominate a sport, then possible you can. If you believe that you can travel the world without having millions of dollars, you most certainly can. I have met people from each of these categories that are doing it, and it all started with their mindset and attitude.
Having the amazing guests on our show has probably helped me as much or more than our listeners. I take notes from all these awesome people. If it sounds like something that I want to do, I start to apply the steps that they talk about. Application or actually doing the things that you learn is where most people fail miserably. I know of so many people that have gone to so many awesome seminars and listened to countless hours of great podcasts, but they simply won't apply the information.
Yesterday, I spent my whole day traveling to Boone, NC, then to Fort Mill, SC, and then back home. Normally I have my man Chuck that does all the driving while I work, but he was off at a graduation. Instead of wasting all that driving time staring at the road, I listened to two episodes of "Barbell Business" and two episodes of Tim Ferriss's podcast. I learned so much! I actually took notes with dictation on my phone. Last night, when I arrived back home, I looked them over and decided how to apply. Today I am putting them to action.
Putting what you learn to action is my biggest secret to success. If I teach any of you just one thing that is the one thing I want you to learn. Listening to great podcasts or reading amazing books is wastes of time if you don't apply the information to your own life. Why leave all the amazing stuff to others? I am not telling you all these stories for you to think that my life is so cool. I want you guys to be able to do the same or preferably better.
"The Barbell Life" has plans of going on the road in this upcoming year. We want to reach more people. I would like to venture out to some guests that are a little different than our norm. We are looking to start filming the podcast as well, so you guys can put a face to the voice. I just want to improve the experience for all of the loyal listeners that have been with us from the beginning.
All in all this will lead us to meeting new people and traveling to new places. To me, that is "The Barbell Life"! Thanks to the show, I feel like I have family all over the world. We have Mash Mafia Team Members in England, Canada, Australia, New Zealand, and Columbia just to name a few. I teach our Learn 2 Lift Seminars all over the country, and this year ventured to Canada. I love meeting new people and traveling to different places. However, the aspect that excites me the most is that we are all bonded because of a unique love of the Barbell. It's a phenomenon that I can't explain, but it is very real.
Lisa G is a dear friend of mine that past away over a year ago. Her death rocked the world of the Mash Family. When she got sick, I would literally break down weekly while having dinner with my wife. I loved Lisa G just like a sister, and the entire bond centered on our mutual love for the Barbell. Lisa would travel with Drew and me to competitions, and we would have so much fun hanging out and competing.
As a coach, when you take a 40 year-old mother of two from an air squat to a 250lb back squat, it's like watching a child begin to walk for the first time. You can't help yourself from loving that person. I have watched that happen thousands of times over my career as a strength coach, and I have loved each and every one of those people.
The Barbell Life allows me to spread that love to all of you. This can be tough emotionally at times. I win when you guys win. I lose when you lose. When you get married, I am so happy for you. When you get sick, I am sad. It's tough, but I wouldn't change it for the world. God has opened a door for me to affect as many lives as possible, and I am going to do just that.
I am taking massive steps to free more of my time up because communicating with all of you is one of my primary goals. Responding and communicating is the way that I have found really affects people. My goal in life is to touch lives in a positive way, and to show them all the amazing ways that God has changed my life. All of this combined is "The Barbell Life"!
Coach Mash