Muscular Imbalance Testing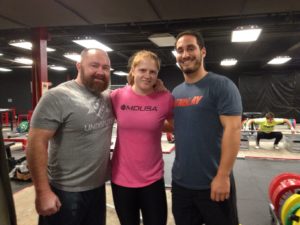 Yesterday I had the privilege of being tested by man Zach Greenwald for muscular imbalances. As expected, there were some significant imbalances. A lot of these imbalances are there because of injuring my cervical spine. The others are there because I have specialized so long in strength training that I have neglected bodyweight and unilateral exercises. I am super excited to bring the imbalances back to an optimal level. Here is what I am looking to get out of this new element of training:
· Nerve impingement to be freed on the left side with my radial nerve
· Overhead stabilization
· Hip mobility
· Injury prevention
· Overall movement improvement
· Overall strength improvement
· Improved bodyweight strength
Zach is convinced that there is even more to gain, so the more the merrier. So far he has tested me in the following ways:
· Deadlift Conventional
· Sumo Deadlift
· Back Squat
· Front Squat
· Unilateral RDLs
· Chest to bar pull-ups
· Dips
· Unilateral Farmers Carry
· Unilateral Fat Grip OH Squats
· Unilateral OH DB Carries
I failed miserably in the following departments:
· Sumo Deadlift
· Unilateral RDLS (weak and asymmetrical)
· Chest to Bar Pull-ups
· All things OH
· Unilateral Farmer's Carry (asymmetrical)
The OH weakness is obviously key in improving my Olympic weightlifting movements again. I have managed a 290lb Snatch and 360lb Clean & Jerk with terrible OH Stability, so I am excited to see what happens. I am also excited to improve my hip range of motion and stabilization. I will obviously keep you all posted.
Also when I say failed miserably, that is actually a good thing because that means I have a lot of room for improvement. The cool thing is that the results will come quickly because I have neglected certain areas so long. It's like just starting out in the training process in a lot of ways. I have wanted to do something like this for a long time. Actually ever since I met Charles Poliquin 18 years ago, I have wanted to assess and measure my structural imbalances. The only problem was being able to put concrete numbers to the measurement process. Zach has done it all for me. Zach wanted me to mention his mentor Corey Duvall and the Stay Active Clinic for the mentoring that he has received at that amazing facility in Asheville, NC.
Zach has written a blog that I will post hopefully tomorrow that will explain this process more in depth. I am excited to partner with Zach and Rebecca in what I believe will be a revolutionary strength program. I have said for years that America needed a secret weapon. I believe that this is it!
To check out our current Online Teams, click on the links below:
Eat What You Want! Lift What You Want!
Online Coaching with Coach Travis Mash
Don't miss the Mash Mafia Dec. 20th Weightlifting Competition! Come celebrate the holidays at the Mash Compound with some bar slams and coffee! Click on the link below for information:
Jingle Bars Weightlifting Meet at the Mash Compound!
Also check out the first Learn 2 Lift of the Year right here at the Mash Compound January 10th and 11th. Weightlifting and Powerlifting taught by Coach Mash and the Mash Crew! Click below for more information: