During the daily grind of training there's a lot more going on than what meets the eye. Sure, there's a lot of physical work that goes into it, but the thought process behind these seemingly mundane workouts is what really gets you prepared to peak on the big stage. In other words, programming matters.
There's so many ways to train for this sport that it's very difficult to decipher which methods are legit and which ones won't take you anywhere fast. While making our way to elite level strength, Hunter and I have realized the best programs are the ones that are open minded, include feedback from the athlete, and use the best parts of the vast information available today.
HOW NATHAN DAMRON BREAKS RECORDS AGAIN AND AGAIN
The Training and Philosophy of Nathan Damron
World champion and world-class coach Travis Mash outlines the programs and principles behind the training of his stellar athlete, Nathan Damron.
The State of Our Current Programming
Currently, Hunter and I are both coming up on about 10-12 weeks out from our next competition so it's about time for us to start changing gears into a bit more intensity than we've been doing so far this year. After doing high amounts of volume through January and most of February, last week was refreshing to finally get back into PR range on our heavy Friday.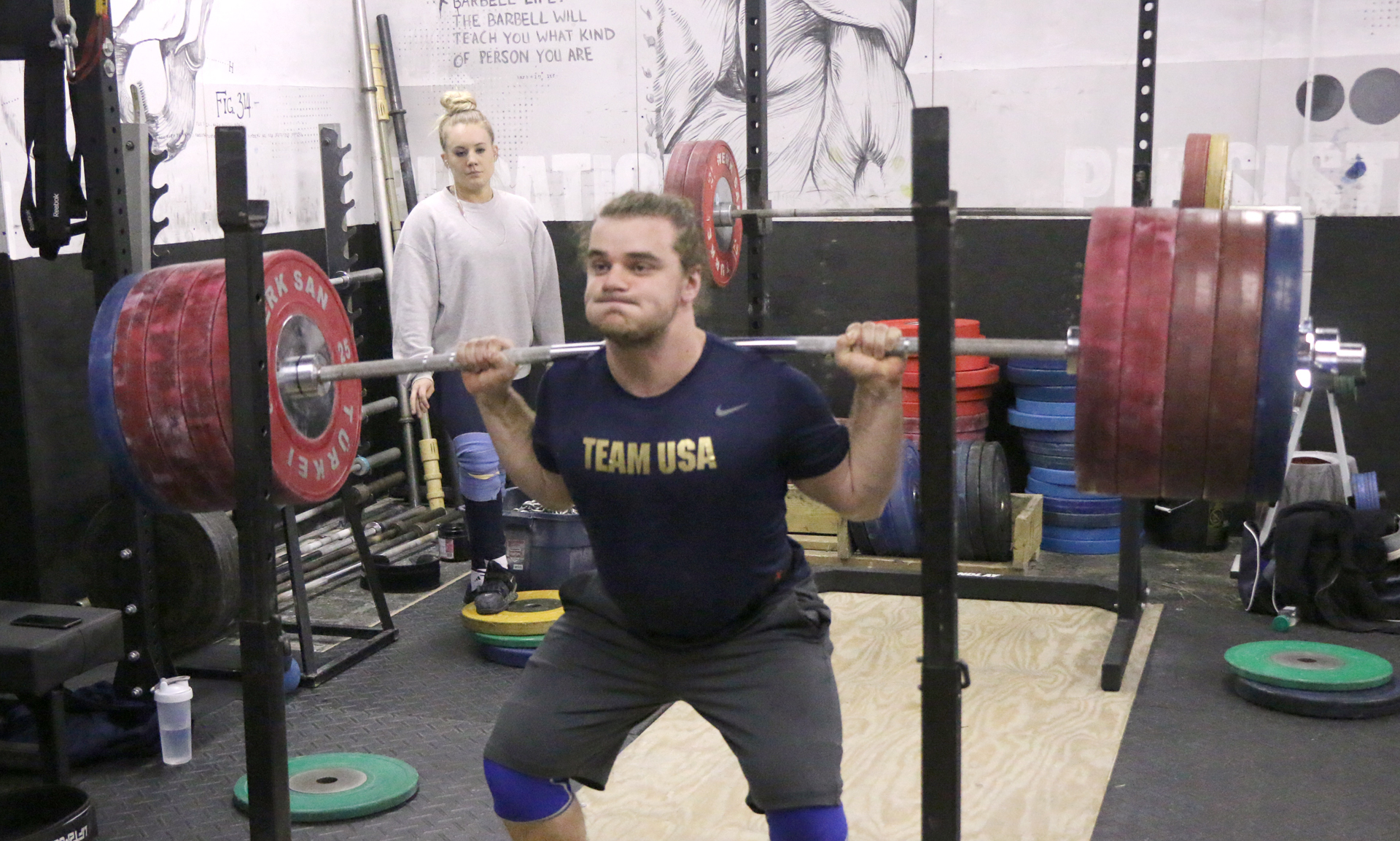 Hunter smoked some easy hang snatches at 90kg with close attempts at doubles, and then she tied her all time PR clean and jerk at 120kg! Getting back to a 120kg clean and jerk this early in her program is a great sign for how her training for nationals and the rest of this year are going to go. I worked up to a 160kg snatch with a close attempt at 165kg, and then I clean and jerked 195kg for my highest total so far this year.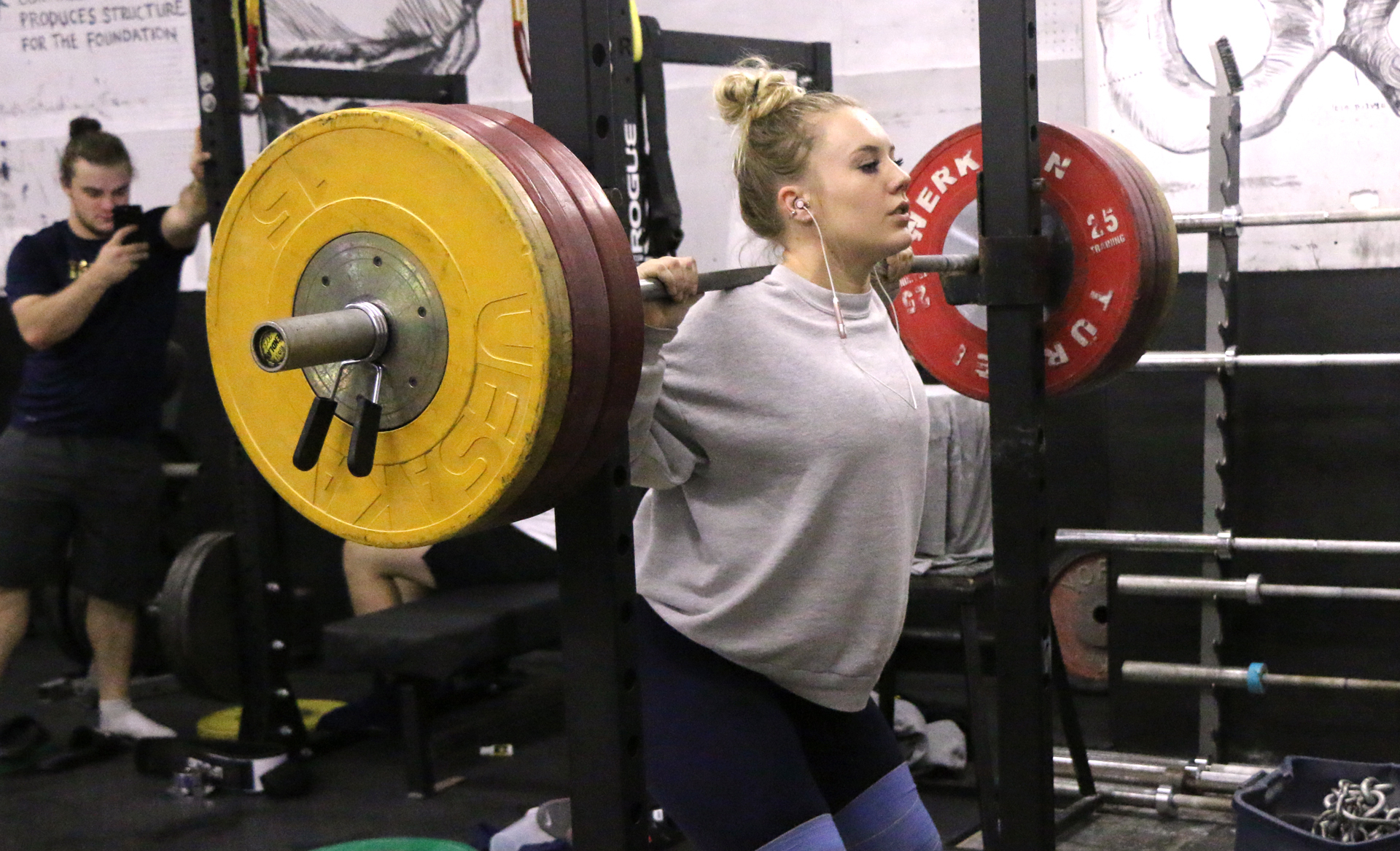 Programming Lessons from the Beginning
During my nine years of Olympic weightlifting I've trained under many knowledgeable coaches and even coached myself for over 2 years. I've had a different upbringing in the sport of weightlifting, and it has helped me take a look at programming from many different and credible perspectives. When making a program, I plan to incorporate parts from everything I've been taught or used myself while taking into consideration the athlete's feedback. After all, it's the lifter's career – and they need to believe in the program they are doing in order for it to work.
When I got into weightlifting, I started with my first coach, Boris Urman. My goal was never to compete in weightlifting but to become as explosive and powerful as possible to compete in school sports (football and wrestling). Boris always preached that specific skills are very important for all sports – but FIRST you need to be strong. He is a very old school coach from the Soviet Union who many coaches wouldn't agree with. They wouldn't understand the way he programs and teaches the lifts. However, he's produced many solid lifters over the years. The main thing these lifters have had in common is they're all super strong. I always go back to the style of strength block he would use when I need a way to guarantee quick strength results.
The Next Step
Unfortunately, Boris and I went our separate ways after a few years, and I began coaching myself. That led to me hooking up with Travis Mash, Dylan Cooper, and Tom Summa. During this time I began to take a simpler and heavier approach to training. I began experimenting with many different programming styles while bouncing ideas off of Dylan, Tom, and Travis. I came to the conclusion that there is definitely some merit to a lot of the things I tried while coaching myself – but in hindsight, I made some mistakes at some points where I could have gone about them much better. In short, it's great to learn to think for yourself during your weightlifting career but always take advice and learn from your mistakes.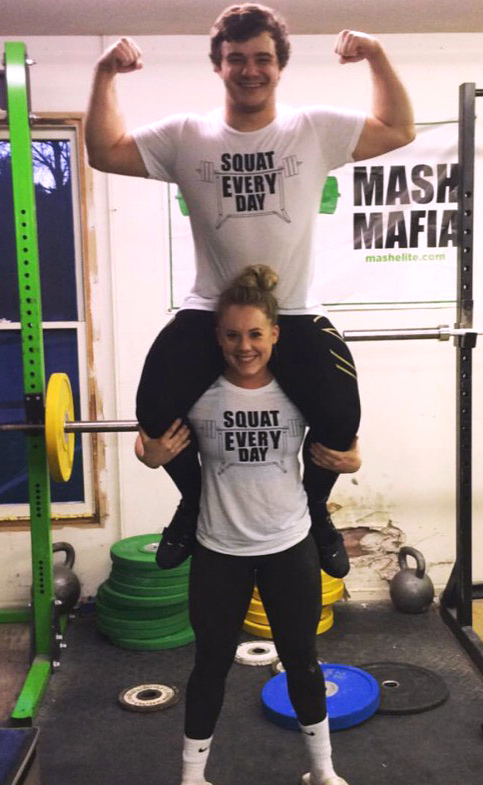 Hunter is definitely the smart one of the two of us. She's always been great about having a plan, sticking to it, and trusting it. While following Don McCauley's programming for over a year and training under his great eye for technique, she increased her total by over 25kg. While she was soaking up knowledge from Don and learning everything she can from him, I realized I needed to stop being stubborn and let a coach heavily influence my training again. Last September, after spinning my wheels for about a year without much progress to show for it, I asked Don to come up with a plan for me. I stuck to it and ended up with a PR competition total on the world stage three months later!
Change
Recently Hunter has started on one of Travis Mash's programs, and she's seen great results from it already. There was nothing wrong with Don's coaching or programming. It had worked for her before, but she was hitting a bit of a plateau and needed a bit of a change. This goes to show that even if something works great, that doesn't mean it's going to continue forever. It's very important to realize when to make changes in your game plan for continued success. This is a big reason why a program needs to be customized to the needs of an individual with lots of feedback to create the best plan of action for any obstacle a lifter may run into.
Exciting Announcement!
So today we wanted to let the world know we're working with Mash Elite to bring you programming from Hunter and myself. We've learned so much about what works and what doesn't, and we're eager to provide the best coaching possible to others. I truly believe we can provide great programming and coaching advice for any lifter looking to get stronger and better at this sport. We're going through our own weightlifting careers right now, giving us a fresh take on knowledge about training and what it takes to get to the top in modern weightlifting as it becomes more and more competitive every year. We really hope you will join us on this crazy journey of Olympic Weightlifting!
HOW NATHAN DAMRON BREAKS RECORDS AGAIN AND AGAIN
The Training and Philosophy of Nathan Damron
World champion and world-class coach Travis Mash outlines the programs and principles behind the training of his stellar athlete, Nathan Damron.