This is an article from last year that I wrote after the 2014 USA Weightlifting Nationals. With a lot of you gunning for and trying to make the 2015 Nationals, I thought that this would be a great time to repost it. You'll see that a lot has changed since this article. The article is filled with lessons that can benefit you all.
Learn 2 Lift Seminars are coming to a gym near you Roxboro, NC, Roscoe, IL, Columbia, MD, and Livonia, MI! Find out more at: Mash Elite Learn 2 Lift Seminars!
Enjoy the article!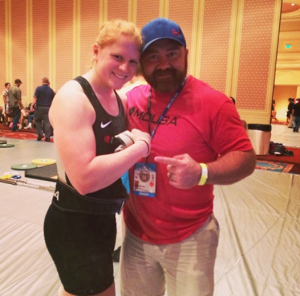 This past weekend was another incredible experience at the USAW Senior National Championships. Records were shattered, and history was made. Probably the three coolest moments were:
• 14 Year Old CJ Cummings Clean & Jerking 153k/336lbs at 142lbs bodyweight
• The Snatch Battle in the 94k Class between Norik Vardanian and Colin Burns with Norik ending up with the American Record of 168k/370lbs
• Caine Wilkes snatching 182k/400lbs as a heavyweight
The moment that was closest to my heart was watching Mash Mafia OG lifter, Rebecca Gerdon earn a Bronze Medal. I started her from day one, and to have the privilege to coach her on the day that she made her first podium experience was one of the most rewarding moments of my coaching career. This is a lesson in perseverance. Each year she has gotten better, stronger, and more confident. Here are the reasons for her success:
• She listens to her coaches.
• She trusts the program and never varies.
• She never misses practice
• She is a master of the mundane with her nutrition, recovery, and soft tissue work.
• She has learned to have fun in training and at a meet.
• She has always had great coaching: started with me and now with Team MuscleDriver USA.
• Surrounds herself with a great team: Mash Mafia and Team Muscle Driver USA
There are so many lessons to learn, but these are the ones that we all can take responsibility for. It was also an honor to coach one of my newer team members, Kristin Pope. She set a five kilo meet PR in the Snatch with 70k/154lbs, but didn't fear so well in the Clean & Jerk. Nerves simply got the best of her, but I am still very proud of her. I know that Kristin is going to be a medal contender by next year.
One mistake that she made was worrying about her body weight. If your body weight is less than a kilo over the night before, I plead with you not to worry at all especially if you weigh-in in the afternoon or later. You will lose at least a half kilo over-night. If you are still slightly over in the morning, refer to my article "Preparing for Competition". A kilo or less of body weight isn't a problem at all! Here are some lessons from Kristin:
• Compete as often as possible to get used to the nerves of competition
• Learn 2 have fun while competing.
• Don't sweat a kilo or less of extra bodyweight.
I also had the honor of coaching Team MuscleDriver USA on Sunday. As you all know, they are the top team in the country right now, and they are some of the coolest people on earth. The morning started off with Sean Rigsby having the meet of his life with 136k Snatch, 185k Clean & Jerk, and a 321k Total. All PRs!!! We had a lot of fun in the warm ups, and I told him that something awesome was about to happen. The biggest lesson that I learned was to stay chill in the warm up area, and turn the volume WAY up on the platform.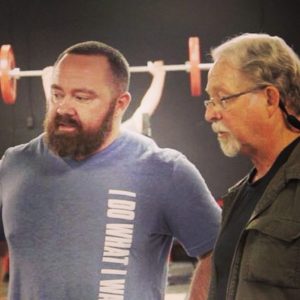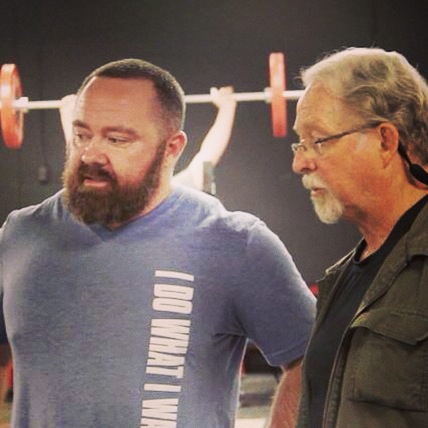 The whole team killed it especially Morgan King and James Tatum winning gold in their perspective classes. I look forward to working with them closer in the future, and I thank Don McCauley for trusting me to help with the team. MuscleDriver USA is doing so much for the sport of Weightlifting.
It was an honor to coach, Jared Enderton in the 85k class. It wasn't the day that he was hoping, but there was a lot to learn from this session. He didn't make a snatch on this day, but took silver in the Clean & Jerk. Jared was upset as to be expected. He was down on himself. Now he's a year away from making an international team, and to an athlete a year is a long way away.
I gave him advice that I used to help me through some major adversity during my career. When I would have a bad meet, I would immediately analyze the variables. There are some many small variables to analyze that all add up: weight cut, nutrition during the meet, lifestyle, recovery, mindset, programming, meet preparation and more. I would write down all the variables that I needed to improve, and then I would make a plan to address the issues. Without a doubt, this one piece of advice mad me a world champion!
• After each meet, analyze all the variables.
• Then make a plan to address any deficiencies.
I had a great time this weekend. I love these National meet because I get to see all my weightlifting friends from around the US and the Globe: Barbell Shrugged Crew, Christmas Abbott, Kevin Doughtery, Don McCauley and MDUSA, Klokov and all the rest. It's also cool to meet some of the Mash Mafia from around the US, and it's especially cool when a young man thanks you for putting out free programming that got him to the Nationals while training in his garage. I even hung out and coached three of our Mash Mafia Online Team Members. Talk about an honor!
To join our online Mash Mafia Weightlifting Team, go to: https://www.mashelite.com/join-the-online-team/. For a consultation from me about anything that you want to talk about, go to: https://www.mashelite.com/online-programming/.
Learn 2 Lift Seminars are coming to a gym near you Roxboro, NC, Roscoe, IL, Columbia, MD, and Livonia, MI! Find out more at: Mash Elite Learn 2 Lift Seminars!
Message me for information regarding hosting a seminar!