Not many people have benched over 900 pounds. And not many people have been my good friend for over 20 years. Jason Coker's done both, so he's a pretty amazing guy.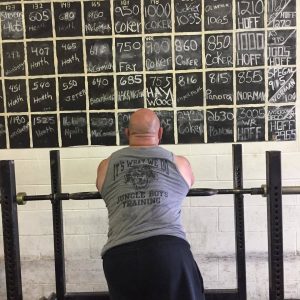 He's my go-to expert on cutting weight – and as a longtime lifter at Westside Barbell, Jason knows better than anyone what Westside is really like. This podcast has a lot of knowledge in it and a lot of perspective… and it's also got a lot of great stories.
We are here for you during this Coronavirus crisis.
Let us help with customized programming and coaching when you have limited access to gym equipment.
If you are financially able to join our online team for customized programming at this time, we would appreciate your support.
If you are financially struggling during this time, we still want to help. Email us and we will try to help out in any way we can.
* Fully Customized Programming
* Unlimited Technique Analysis
* The Best Coaching in the World
LISTEN IN TO TODAY'S PODCAST AS WE TALK ABOUT:
Getting a job with me after prison and other wild stories from the past
Dynamic days, max effort, and what Westside really does
Passing out naked at a powerlifting meet… and how you can cut weight in a better way
Truly great powerlifters and what so many get wrong
Dealing with sciatica and still setting records
and more…