For an awesome tool to quantify weaknesses, fix those weaknesses, control common aches and pains, and all things recovery, check out our new book "No Weaknesses. Check it out here:
The Brand New Mash Elite E-Book: "No Weaknesses"
Check out the "Mash Squat Every Day" E-Book with 4 twelve-week programs for weightlifting, powerlifting, super total, and bodybuilding. Find out more below: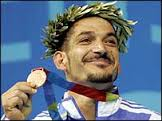 Can USA Weightlifters Medal in the Olympics?
The answer is: Yes! This topic has been beaten into the ground over the last three decades. My goal in this article is not just to give my answer of "yes or no", but to give a plan of how. My friend Greg Everett was the first one to talk about the answer. Greg is successful in this industry because he is a thinker. He looks at a problem, thinks about it, and develops a solution. Too many people within USA Weightlifting surrender to "how things are". I say to them, "Let's change it right here, right now!"
The road to a Gold Medal in America is a 6 step process. It will require all coaches working together for once. All the smack talking needs to end once and for all. Let's work together on what we all want to see with the sport we love so much. Unity brings about change!!!!
Step 1 a shift in Mind Set has to take place! Right now our paradigm, view of reality, in America is that one day we or one of our athletes will qualify for the Olympics. It's the culture man! Don't lie to yourself! That's all anyone talks about, and that has to change. We have to start believing that we can compete. I hear a lot of excuses like our best athletes go to football, basketball, or baseball, so we are left with the rest. What about swimming, track, and gymnastics? How do they medal?
Weightlifters are normally not the tallest athletes in the world. Most NBA Athletes have super long femurs, so they are not the most prototypical weightlifters. There are a few NFL players that could do well, but it's not as many as you might think. When I played football at Appalachian State University, most of the great football players were not the strongest. They were great football players. Great weightlifters are normally the athletes that are going to get overlooked for college sports because of height, so the athletes are there.
I work with some of the greatest weightlifters in America, and I believe that these very athletes can compete on a world level. It's a "paradigm shift" that needs to take place, and my goal is to lead the charge. I talk every week about medals at world and Olympic competitions. It will take some time, but these athletes are going to start to buy in.
Step 2 we have to recruit! We need individuals that have one job, and that is to find the best talent in America. We need to develop a list of traits and tests that we are looking for with a scoring system. We could look at:
• Height
• Weight
• Age
• Femur length
• Arm length
• Vertical leap
• Ankle mobility
• Hip mobility
• Thoracic spine mobility
• Shoulder mobility
• Back Squat
• Overhead Squat
• Front Squat
• Push Press
• Deadlift
• 10m Sprint
These tests are just a few that we might use. We could go to high schools and colleges, present the opportunities, and talk to coaches and athletes. We could look for the athletes that are slightly under sized. There are so many athletes that simply slide under the radar of college scouts. We just need to get proactive in this sport. We like to wait on the athletes to come to us. Let's go after them!
The best prototypical weightlifters are not football players. If you've ever been to an NFL practice, then you know what I am talking about. Wide receivers are too tall and lanky. The linebackers, tight ends, and linemen would be good heavyweights, but that's only one weight class. Maybe some of the running backs and corner backs would be alright, but they are mainly heavy weights as well or too tall and lanky.
We need to go after the exceptional athletes that fit the bill of a great weightlifter. The best weightlifter in America is arguable CJ Cummings. There in no NFL team looking at him anytime soon. He's 5'4″ and 152lb. That won't work in the NFL, but that's a rock star in the sport of weightlifting. Those are the athletes that we need to find.
The problem is that all of the coaches are too busy coaching. We need coaching staffs, so that we can recruit. Each of us needs one guy designated for this position of recruiting. We need a recruiting strategy that involves education as well. By education I mean that we need to educate America about our sport. If the moms and dads understand it, we have a better chance of getting them involved.
Step 3 let's make this wonderful sport a high school and college sport. This step will take a lot of work, but we have the numbers to back it up. Look at the growth of weightlifting over the last two years! National Meets in America are the biggest weightlifting competitions in the world, and it's not just the senior competitions. The Youth Nationals was the biggest event of the year.
The state of Florida has done it. Why can't the rest of us? This will take the most unity, but will yield the most fruit for the future. We have a sport with so many awesome traits like:
• Low risk of injury
• Less politics because whoever lifts the most weight, wins
• Great for athletes of all sizes, so short guys don't get left out
• Complimentary to other sports! Weightlifting makes you a better overall athlete!
Everyone can compete so no one is left on the bench!
• Olympic Sport!!!!
• Great for confidence
Colleges have already started embracing the sport like: Northern Michigan, ETSU, Lindenwood, and LSU to name a few. If we can offer scholarships, we can change the game. If athletes and parents see a future, they will embrace the sport with all their heart. As a kid, I loved the sport of football, and the dream of a scholarship caused me to buy in with everything that I had. If the parents are on board, the kids will dig in and take this sport to the next level.
Step 4 we need more corporate involvement! MuscleDriver USA already tried to step up to the plate. They fielded a professional Olympic Weightlifting Team. Those athletes were paid stipends based on their performance, and more importantly MDUSA used media to introduce these athletes to the world. This exposure opened them up for sponsorships, online coaching, and many other opportunities. These athletes were given a chance to make a living while focusing on the sport that they love. This is the environment required for athletes to flourish.
Obviously we all know that MDUSA didn't make it. That doesn't mean that it won't work for other companies. It wasn't the team that ended MDUSA. It was just a turn in the market. We need to find ways to use teams for marketing and branding, so that companies feel good about supporting the sport. Right now there are two teams that are semi-professional: Mash Elite and Juggernaut. Neither company is a "Nike" by no means, but we are trying.
A lot of coaches and people don't like the corporate movement. They are crazy, and they are not seeing the big picture. This is America! We have a much better chance of getting companies to back our sport than our government. Personally I would rather have a successful company back the sport that I love versus a government that can't balance a budget. At the end of the day, if we can find ways for corporations to benefit like through advertising and marketing, we have a chance to help each other succeed. That is the way things are done in America.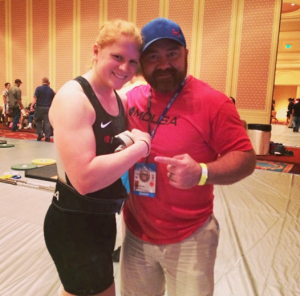 Step 5 we need better Research and Development. Everyone wants to talk about Bulgarian, Chinese, or Russian programming. Let's for once, get ahead of the game and develop our own system that is better than the competition's. If we are always trying to find out what China is doing, we will always be two steps behind. That makes no sense!
It's ok to learn from Russia, but let's spend some time developing better protocols. Let's research the absolute best nutrition practices for weightlifters. Let's take recovery to the next level. There are so many large and small areas that go in to making a great weightlifter. We need to break all those variables down, and have the brains of our industry maximize each.
There are amazing Exercise Scientists right here in America that would love the opportunity to perform the research. They simply need the funding to get to work. I am convinced that our scientists are better than most other countries. The last I checked, we dominated the Olympics in total Medal count, so our strength and conditioning coaches are pretty awesome. We just need to study Olympic weightlifting more specifically.
Finally Step 6, let's use Social Media to bring our glorious sport to the public. Let them see the amazing acts of athleticism that some of us get to witness on a daily basis. Let them get to know the determined athletes of this sport, so they can see the desire and drive that these athletes possess.
Some teams and individuals are already doing this like the Mash Mafia, Cal Strength, Catalyst Athletics, and the Attitude Nation. This is the way to the public's heart. Once they totally embrace Weightlifting in America, then the whole sport and this movement will succeed. Then we get those Medals!
This is my goal for the next decade. I know that a lot of my colleagues have the same goal. My dream is that we all work together to make this dream a reality! The last two years has shown us that we are capable. Now let's take the bull by the horn while things are hot, and stamp a place in history for our current and future athletes!
We would love to have you on our Team! Check out the following Online Options, and see which one fits your needs:
Mash Mafia Online Weightlifting Team
Eat What You Want, Lift What You Want!