The Mash Mafia just had an incredible weekend at Junior Nationals. I wanted to take the chance to brag on my team – but also to show how we handled attempt selection. There are a lot of factors to take into consideration, so here's a glimpse into our thought processes and strategies.
We were at the Junior Nationals in Chicago, which also hosted the last chance qualifier for the Junior Pan American Championships. I rolled into the weekend with six amazing athletes – all of whom are currently on Team USA, have been on Team USA, or have the potential to make Team USA.
That's pretty wild considering in 2013 I only had two national-caliber athletes. I remember looking around at coaches, such as Dave Spitz and Sean Waxman, and wanting to have incredible athletes like they did. At that point in my life, I was mainly known for producing incredible athletic performance athletes, but I had fallen back in love with the sport of Olympic weightlifting. There was nothing I could do about it, so I decided to dominate. Fast-forward six years and my entire squad is amazing. Any one of them would have been my top athlete in 2013.
We had high hopes going into this meet with such an all-star cast, and they exceeded my expectations. Almost every meet I have at least one athlete who doesn't quite hit their potential or maybe they bomb out – not this meet, baby! All six hit personal record totals. That's a record! Of course some of them wanted to do even better, but that's simply weightlifting.
CHOOSING ATTEMPTS
Most of you reading this know we are an aggressive team. People come to me because they want to be great. No one comes to me saying, "Hey will you make me a 6:6 weightlifter?" We are shooting for world teams, American records, and now world records. We are not going to celebrate after the competition because we went 6:6 unless that 6:6 got us to our goal.
Here's my thoughts about people bragging about going 6:6. If you open with something you can power snatch and power clean and end with a number 5 kilograms under your best – none of that is cool unless that's what it took to win the Olympics. Now this is just my opinion, and I am not one of those coaches who believes everyone should think like me. I just want all of you to know what my thought process was.
So how do we choose attempts? It really depends on the athlete. Typically, it looks like this:
First Attempt: 93-95%
Second Attempt: 96-98%
Third Attempt: PR Attempt
For athletes who are good in competition, such as Ryan and Morgan:
First Attempt: 5 kilograms under their best
Second Attempt: match their training PR
Third Attempt: 2-5 kilograms more
Now for the case studies from Junior Nationals!
Meredith Alwine
Choosing attempts is also meet-specific. For example, this time for Meredith Alwine, we were trying to make the Senior Pan American Team. She was competing against Kate Nye and Mattie Rogers. All three girls are ranked in the top eight in the world – meaning all three could potentially medal at the Olympics, yet they're battling each other in America. (That says a lot for weightlifting in America and how far it has come since Phil Andrews took the reins. We are blessed with an amazing staff all-around at USA Weightlifting.)
Back to the contest! This was not the typical competition. Our only goal was to make the Senior Pan American Team. We had determined that a 239kg total would make Meredith a lock for the 76kg class no matter what happened at this slugfest. We needed 238kg anyway since Kate already had a 237kg total. Bottom line, the goal was first to total 239kg and second to beat the other two girls.
I will explain our thought process for the attempt selection. We know, in normal conditions, we can out-clean and jerk the other two girls, but we have to stay close in the snatch. Right now, Meredith is a full-time student with a really heavy load, so I don't get to see her lift as much as I would like. She's capable of over 105kg, but she had only hit 101kg in competition as of the meet. We knew we needed about 102kg to have a chance, so we opened at 98kg and smoked it. We jumped to 102kg to either have two chances at the minimum we needed, or to hopefully smash it and then get 2-3kg more.
She missed her first attempt at 102kg, but she came back and crushed it for a meet PR. She was in the meet.
Mattie hit 105kg and Kate hit a huge 108kg. However, 5kg is definitely doable for Meredith to catch Kate in the clean and jerk. This is where it gets a little crazy. Our number one goal was 239kg, so we had to open at 132kg in the clean and jerk, so we could take a reasonable 5kg jump to 137kg on the second attempt. Did I mention 132kg is only 1kg below her best competition clean and jerk? Remember, we were at the meet to make the Senior Pan American Team, not to go 6:6.
She smashed 132kg, but then things got really crazy. Both Mattie and Kate missed their second attempts in the clean and jerk, so then we were in a holding pattern. They both missed their third attempts, leaving the door open for Meredith to beat both of the girls and to overtake Kate's 137kg with a 138kg total. Instead of going 137kg, we went for 136kg. Guys, it was so close. She was over halfway up, when she got stuck and went back down. Then she almost bounced out of the hole again. It was heartbreaking for us. Meredith can jerk 145kg, so all she had to do is stand up.
We had a third attempt, but she was spent from that grind of a second attempt. Here are the positives. It was Meredith's personal record in the snatch and total, and victory was easily within our grasp. We ended up in a tie with Kate, and Mattie winning by 2kg. Meredith once again out-clean and jerked both girls. It was incredibly exciting, and I look forward to battling for many years to come.
So do you see the attempt selection isn't as simple as saying I am always going to do xyz?
Hannah Dunn
Let's look at one of our other boss ladies, Hannah Dunn. Hannah was our youngest athlete at this competition. Hannah is still getting used to the mental component of this crazy sport. Our goal was to hit personal records, move up the youth ranking list, and to have fun. I really wanted to go 6:6 in this case to build confidence, but I also wanted to total 160kg in the 59kg class to move her up the charts to make the Youth Pan American Team later in the year.
Here's what her attempts looked like:
Snatch
65kg Opener: 93%
68kg Second Attempt: 97%
70kg Third Attempt: 100%
Clean and Jerk
85kg Opener: 93%
88kg Second Attempt: 97%
90kg Third Attempt: 99%
I was being as conservative as I was going to get in this instance. As soon as she gets confident in what she's doing, we will slowly get a bit more aggressive in her attempt selection. The funny thing is she missed both of her second attempts, so this is where I pushed a little to test her mental progress. We needed 160kg to get in the game. 155-157kg was simply not going to cut it anymore, so we jumped up on each third attempt to where we needed to be. We didn't attempt a PR clean and jerk this time because there was no point. We needed 160kg and more importantly we needed her walking away confident. That's exactly what happened. Now we will go to Youth Nationals with all the confidence to crush it.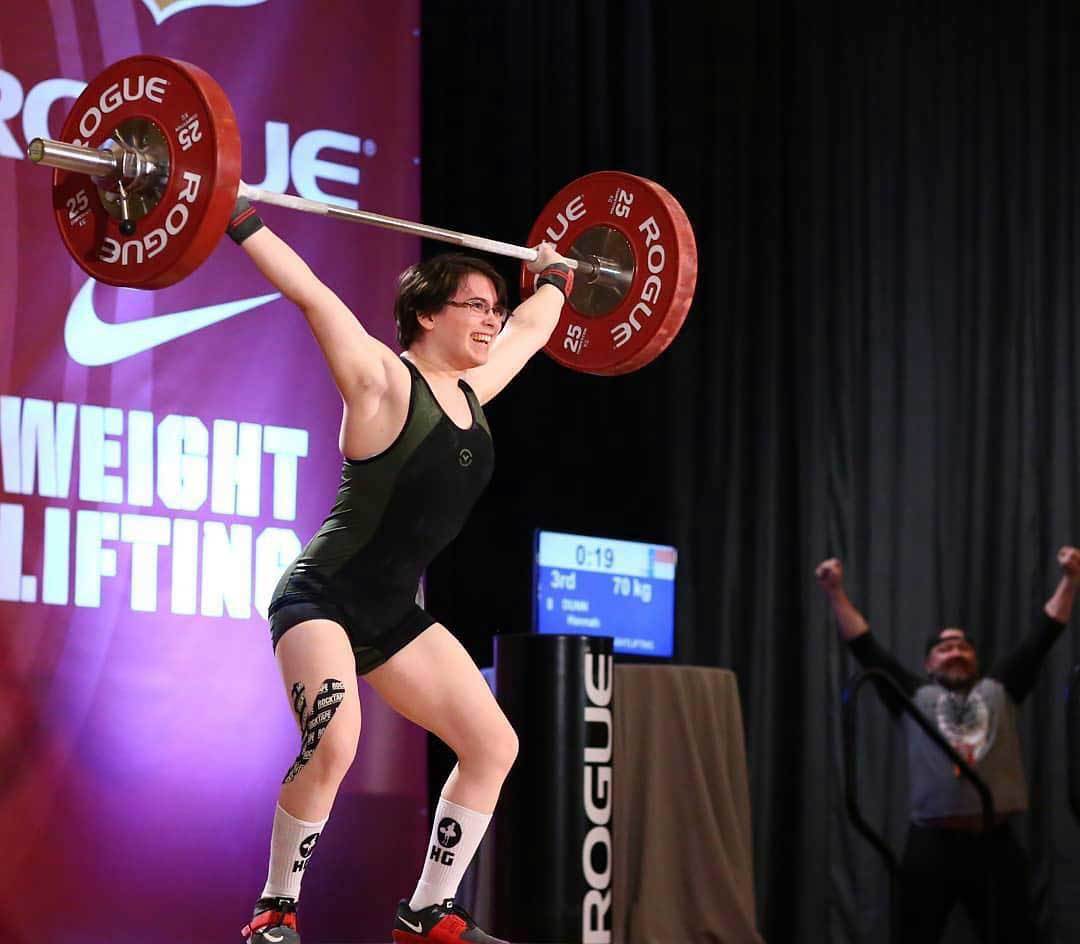 I was so proud of this girl. We worked through so much this training cycle to have this breakthrough meet. It was one of my most satisfying moments as a coach. Overcoming challenges makes things exciting. (This is why I love coaching Hunter Elam because there is a different challenge each day…. I am sort of kidding.)
World-Class Powerlifting & Weightlifting Meet Preparation
Get Travis Mash's Guide to Meet Prep & Strategy
World champion and world-class coach Travis Mash boils down decades of experience to give you the tools and knowledge you need to crush your next meet.
Ryan Grimsland
Ryan Grimsland, on the other hand, has all the confidence and then some. I am never worried about bombing or doing poorly with this kid because he will simply find a way to make the lift. We were originally going to be conservative at this one since he has Youth Worlds in three weeks, but he called me a few days before the competition with an idea. He wanted to go big at this meet because all of his friends would be there. He knew he could feed off of the energy. He was also going head to head with the top 67kg senior athletes, since they were battling for the Senior Pan Am Team. He thought he would kill it and therefore boost his confidence for Youth Worlds. I told him if his warm ups looked great, then we would go big.
Here's what his attempts looked like:
Snatch
First Attempt 120kg: 96%
Second Attempt 125kg: 100%
Third Attempt 130kg: 104%
Clean and Jerk
First Attempt 145kg: 97%
Second Attempt 152kg: 101%
Third Attempt 155kg: 103%
He smoked his first two snatches, and darn near got the 130kg. I have no doubts he will crush it at Worlds. On his opener clean and jerk, he totaled 270kg, which was a 17kg PR total. But then we jumped big. We wanted 286kg to have a small chance of making the Senior Pan Am Team. He missed his second and third attempts – but now we know a 275kg total is easily within his reach, which is predicted to medal at Youth Worlds. However, I think we can easily total 280kg with a slightly more conservative approach – hitting a 128kg snatch and a 152kg clean and jerk. This meet left us with several options. It also landed Ryan as the third best junior, while still a youth athlete, right behind CJ Cummings and Harrison Maurus.
Fantastic day for Ryan!
Reagan Henry
Reagan Henry crushed it with the breakout meet of the weekend. Reagan is a CrossFit Games teenage athlete who has made the switch to weightlifting. I knew she could be a Team USA athlete, and she proved it this weekend. One thing I have to mention is she bombed out at the American Open, and she was totally panicking two weeks prior to the meet because her snatch was inconsistent. It forced us to be a bit conservative, so here's what her attempts looked like:
Snatch
First Attempt 70kg: 91%
Second Attempt 74kg: 96%
Third Attempt 77kg: 100%
Clean and Jerk
First Attempt 90kg: 94%
Second Attempt 93kg: 97%
Third Attempt 100kg: 104%
Since she was struggling mentally with snatches, we were forced to open up a bit more conservatively. The goal was to get near or to tie her training personal record on her third attempt. She went 3:3 in the snatch, equaling her best in training. Then we turned her a little loose on the clean and jerk. We only went up to 93kg on the second because we were battling another young lady.
After we solidified her silver medal, we jumped big to 100kg. We knew she could clean it with a PR of 110kg, but her best jerk was only 96kg coming into this meet. We had hammered her jerk technique during this training cycle, so we knew we had a chance. She went out there and stuck it for a massive meet PR of 177kg. Right now she is sitting on the Youth Pan American Team pretty solidly, and she darn near made the Junior Squad in her first ever Junior Nationals. Now the sky is the limit for this girl. She's going to be very hard to beat from here on out.
Nathan Clifton
If you want to hear a story about overcoming adversity, listen to Nathan Clifton's story. First, I want you guys to know Nathan is also a CrossFit Games teenage athlete and he placed fourth in the world last year. The year before, he didn't make it at all. Yes, he went from staying at home and watching to fourth in the world in one year. I am telling you guys this to let you know the tenacity of this young man.
A few months ago, Nathan was well on his way to making a Junior Team USA Squad. Then about three weeks before the Junior Nationals, he had a full-blown gall bladder attack lasting nine days. He was uncertain he would even be able to go. Now here we have a totally different deal.
He decided to compete for the experience, but he was obviously not going to be himself. The first thing I did was look at his declared total. He declared 240kg, which meant we had to open with numbers totaling at least 220kg because of the 20kg rule. (You have to open up within 20kg of your declared total.) We made the following attempts:
Snatch
First Attempt 98kg: 93%
Second Attempt 102kg; 97% missed
Third Attempt 102kg: 97% missed
Clean and Jerk
First Attempt 128kg: 88%
Second Attempt 135kg: 93%
Third Attempt 140kg: 97% missed
As you can see, we were way more conservative in the clean and jerk. Getting sick like Nathan did takes away the leg strength. However, at the end of the day he was around 93% of his best, and that's about as good a result as we could have hoped for. I was expecting over a 260kg total, but that was before his body attacked itself. I am very proud of his performance. The funny thing is he hit a 1kg total PR, and we all know he's capable of so much more. By the end of the year, I am confident Nathan will be right where he should be.
Here's the key to unlocking even more gains in 2019...
Become a member of the Mash Mafia.
* Fully Customized Programming
* Unlimited Technique Analysis
* The Best Coaching in the World
Morgan McCullough
I saved the big boy for last, 15-year-old Morgan McCullough. Our goal here was to hit over 300kg total for a PR number one, and number two to total between 317kg and 320kg to lock a spot on the Junior World or Junior Pan Am Team. Morgan is just like Ryan. If he is confident, I am confident. I wanted to open at a 130kg snatch and a 175kg clean and jerk, but I needed him to feel confident. His warm ups were money, so here's what we did:
Snatch
First Attempt 130kg: 96%
Second Attempt 135kg: 100%
Third Attempt 137kg: 101% miss
Clean and Jerk
First Attempt 175kg
Second Attempt 181kg miss
Third Attempt 182kg miss
Morgan is a game-day snatcher because he has been struggling for the last few weeks. Then he starts warming up, and he turns into a superhero. It was a beautiful thing. His 135kg snatch and his 175kg clean and jerk led to a 15kg PR total. He was definitely capable of more in the clean and jerk. But with a few tweaks, I am confident in 140kg and 185kg during Worlds in three weeks. Like Ryan, we are looking to medal and preferably to take gold. Here's the beautiful thing – he made the Junior Pan Am Team going to Cuba at 15-years-old. This kid has endless potential.
ONWARD FOR 2019
Well that's the story. I just told you about six different athletes with six different strategies. I hope you can learn from these case studies.
We are going to have a lot of these updates this year. As of right now, we have two youth going to Youth Worlds, we have two juniors going to Junior Pan Ams, one junior going to Junior Worlds, and one senior go to Senior Pan Ams. We have several qualified for the various bronze and silver international meets. Right now we have four looking to go to Youth Pan Ams later in the year, and three more Seniors looking to go to Senior Worlds. I am excited for 2019. I hope this article helped you all a little bit.