Check out the "Mash Squat Every Day" E-Book with 4 twelve week programs for weightlifting, powerlifting, super total, and bodybuilding. Find out more below:
Join Team Mash Mafia for weightlifting, powerlifting, athletic performance, bodybuilding, running, or a hybrid approach. This team is already taking over weightlifting, and I plan on taking over all of the other disciplines one at a time. Check it out below:
This weekend we will be hosting the first "Mash Squat Every Day Learn 2 Lift Clinic" being held at the Mash Compound March 12th! There is still room to Sign up for this seminar, and check out all the rest at the link below-
Mash Squat Every Day Learn 2 Lift Series
Arnold Classic 2016 and Some Advice for New Coaches
The Arnold Classic 2016 could very well go down as the best meet that I have ever been a part of. Going into every meet, I have certain goals and expectations for my team. Believe it or not, my number one goal is for no one to bomb out. Bombing out simply crushes an athlete's heart, so I do everything in my power to avoid that. This can be a daunting task when you have a big team. Normally at any given major meet, I have between 15-30 athletes competing, so no bomb outs is quite the task. I am happy to report zero bomb outs at the 2016 Arnold Classic.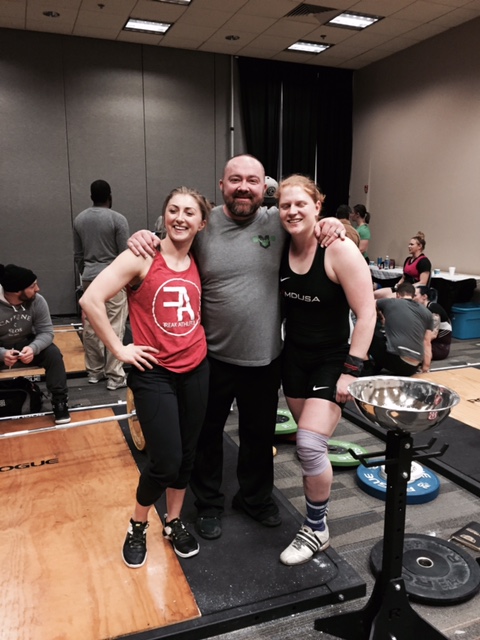 I also like to find something positive about everyone's performance. That was the easiest task of the weekend. My team was simply on fire all weekend. The majority hit competition PRs. Some of the team hit dramatic last attempts to either win or get into the top 5 to win the Arnold cash prizes. We had four teammates win money this year.
The Arnold Classic Weightlifting event is scored by the Sinclair formula. That's a fancy way of saying pound for pound. Ashleigh Hubbard won the first place overall Junior taking home $750. She stuck a fearless jerk of 89k on her final attempt to seal the win. In case you don't speak in kilos that is a 196lb Clean & Jerk weighing 130lb at 19-years-old. Ashleigh has a bright future in the sport.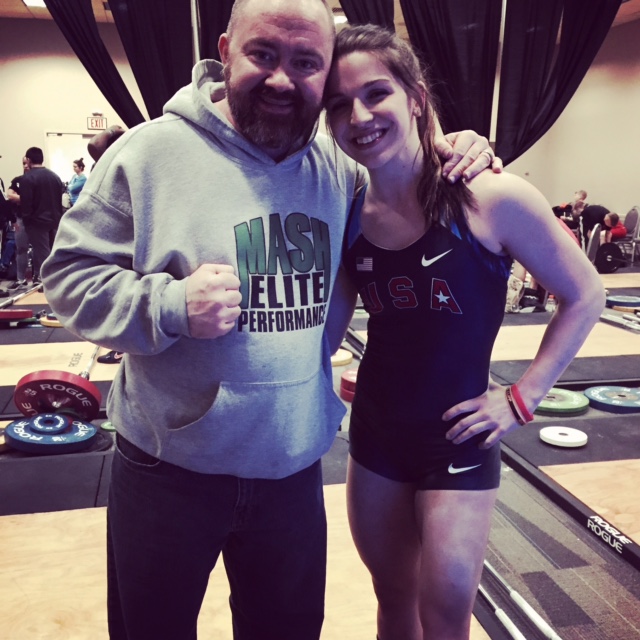 Lindsey Stroker had a breakout meet at the Arnold. I coached her when I was with MuscleDriver. I have always known that she was capable of big weights, and last weekend she proved me right. This was her first meet competing on Team Mash Mafia, so as usual we went big. She Snatched 76k/167lb, and she Clean & Jerked 97k/213lb. Both of those were competition PRs, and her performance earned her 5th place overall and $500.
Rebecca Gerdon was going to be conservative at this meet, but I talked her out of it. It's the Arnold! You gotta go big and have fun. She did just that with a competition PR Snatch of 92k/202lb, and a Clean & Jerk of 114k/251lb also a PR. Rebecca won 4th place overall and $800. It's so cool to watch an athlete go from learning form with an empty bar right to the top of the sport. Every coach should have that experience at least once.
Ethan Harak earned 4th overall with a performance that isn't close to his best. It's pretty cool when you can earn $800 on an off day. I will say that his third attempt Clean & Jerk was one of the bravest lifts that I have ever witnessed. He missed his first two Clean & Jerks at 195k. We were left with the decision to stay or go up to 200k to win the money. Ethan is a competitor! Of course he went up to 200k. The Clean was easy. However the jerk was a little out in front, so he had to walk to the edge of the platform to save it. My heart stopped during that recover, but he pulled it off.
Just to summarize the last two meets:
• Three Junior National Champions
• Three Junior Pan American Team Members
• Two going to the Russian Grand Prix
• That's five International competitors
• I earned the Team USA Coaching position for Pan Americans
• Four finalists at the Arnold
• Countless competition PRs
Isn't that crazy? I can't believe it myself. Is it because I am that good of a coach? I mean I would love to take credit, but really I just have amazing athletes. We have a super positive environment, and we have lots of fun.
I will say that working the back room at a meet is probably my best asset as a coach. My goal is to know each and everyone of my athletes. I want to know what makes them tick the day of the meet. I know that Rebecca and Lindsey like to keep it fun right until time to go on the stage. Dylan Cooper stays super serious and focused. You have to know your athletes. If you are treating each of them the same in the back, then you need to reevaluate your strategy.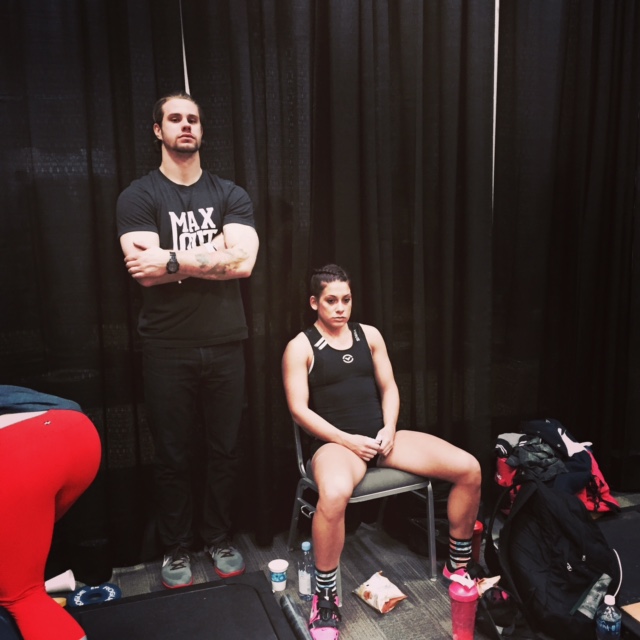 One of the biggest mistakes that I see a lot of coaches making is over-coaching in the back room during warm ups. If you haven't dialed in your athlete's technique by competition day, you aren't going to do it during warm ups. I've watched coaches literally try and change their athlete's technique during warm-ups. Don't do that! That's a rookie coach mistake, and I want to save you from doing this injustice to your athlete.
Keep any coaching cues simple like "finish your pull". My favorite for the clean and snatch is "patient pull and aggressive catch". For the jerk, I like "heels and drive vertical", or "head through". If an athlete is having trouble stabilizing the jerk overhead, I will say, "drive the back foot down" (thanks to Don McCauley). Basically I just keep it simple.
Another key is to have a strategy for the meet. Here are the things to consider:
• Warm-up strategy
• Can you qualify for a bigger meet?
• If so, what's that number?
• Who's your competition?
• Are they lighter or is your athlete? This is important if contest ends in a tie.
• What are your athlete's competition PRs?
• What are your athlete's lifetime PRs?
This information is invaluable during the competition. You don't want to be the reason that you athlete doesn't do as well as possible. A prepared coach is a sign of a mature coach. My goal is to be over prepared. My athletes work hard day in and day out, and the only time that they get to show their hard work is during competition. I am not going to be the reason that they fail.
I am so excited about 2016. My team is off to a bigger start than I could have ever dreamed. Not only are they killing their numbers, but they are becoming the most loving team that I have been a part of. They really have each other's back, and it shows at competition and during practice. I just thank God for such an awesome environment.
Our next meet will be in two weeks at the Camel City Open right here in Winston-Salem on March 19th. All proceeds will go to supporting my team. You can still sign up and come lift with the team at the link below:
The next big meet is the Pan American Junior Championships. My boys are training harder than ever, and I expect massive numbers, lots of medals, and a victory for Team USA. This will be my first time as Team USA Coach, so I am more excited than ever.
All in all I am proud of my whole team. Rabbit found his grove. Frank PRed his snatched and total. I figured Meg out, and she discovered that she is fearless. Dan went 2 for 6, and still crushed what he would have done last year. Renae went 6 for 6 with all PRs. Rick killed it in his first meet. Eric sorry I missed you. Lauren Rutan won the powerlifting at 57k. Allison did great, but knows she needs to make a move. Brian and I became immediate friend, and I look forward to training with him in Colorado. I love this team!
I have to give my boy Cory Gregory a big shout out. Not only did he open his doors to Drew and me, but a lot of my team got to train at his sick facility "The Old School Gym". Cory you are the real deal, and I am blessed to call you my friend.