A Weekend of Knowledge Bombs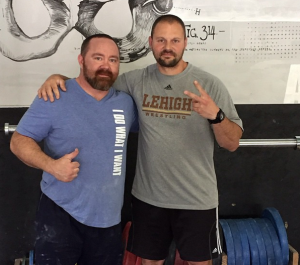 One thing that separates great coaches and athletes from mediocre ones is there desire for knowledge. I am 42-years-old, and I have been training for 31 years. I competed when I was 12-years-old. So I have been competing in the Iron World for over 30 years. I am more excited about training and coaching now than ever before.
Why? That's the real question! Isn't it? How does someone stay in the game this long, and still gets up on Max Out Friday like it is Christmas morning? It is because I surround myself with people that love it, and as Zach Even-Esh says, "people that live the code".
I mean just look at what I have accomplished over the last three weeks. I met my man Cory Gregory, Co-Founder of Muscle Pharm, and decided to try his "Squat Every Day" Program. I have been hearing about such programs for the last five years, but only Cory convinced me to try it. Why did it take Cory? Because he lives it man! He runs a $200 million dollar business, and he still gets up every morning to squat and train. That inspired me. I also trust the advice of people that are living the code.
Now I am the strongest that I have been in over ten years. At 42-years-old I was willing to try something new, and it paid off. Never stop learning! That is the secret to success in this industry and life. I just keep turning over rocks until I strike gold! Here is a video of some of my training lately:
I am pumped about hooking up with my Zach Even-Esh again this year. We are doing a dual certification September up in New Jersey, and again October on my farm in North Carolina. I am just as excited to learn, as I am to teach. Zach's energy and passion for success in life is contagious. He simply refuses to let people fail.
Last time, we did a certification here in North Carolina, and I learned so much about Zach's unorthodox ways of training. He loves Kettlebells, Dumbbells, Sand Bags, Ropes, Tires, Sleds, and Stones. These are all things that I love, but I admittedly am not an expert in these areas. I was like a kid in a candy store learning about all the different movements. Zach is a wizard of the old school movements.
I left the certification with a whole list of movements that I have added to the workouts of my own athletes including my own workout. I can jerk 400lbs, but a one handed Clean & Press is incredibly hard for me. I just spend way too much time with a Barbell. My body has adapted very well to a barbell, but when you add one of these others exercises; my body has no idea what is going on.
Kettlebells, Dumbbells, and Strongman movements are great to expose weaknesses and muscular imbalances. Anything unilateral is hard for me: carries, pulls, or presses. My body has adapted to using the barbell to hide my weaknesses. Zach's style of training will expose any and all weaknesses.
Zach's philosophy on life and business have inspired me for years to stay true to who I am. Zach preaches to find your passion and stick to it. I love coaching. If I am not coaching athletes, then I will become depressed quickly. God has given me a passion for helping athletes reach their goals, and all the while avoiding the many mistakes that I made along the way. Anything else in life that I try that isn't related to my passion is a distraction.
When you put Zach and I in the same room, it is simply magic. You get two coaches that are famous for producing some of the best athletes in the country. You also get two different strategies that have both produced tremendous success. If you are smart, you will listen to both of us and use all the information to formulate a masterpiece-training program. That's what I did! I implemented a ton of Zach's dynamic warm-ups and training exercises.
Here is what I learned from the dual Underground Strength Coach and Learn 2 Lift Cert.:
• Unilateral movements will expose the bodies' weaknesses from right to left
• Heavy Carries will expose weaknesses overall core weaknesses.
• Training is about overcoming mental obstacles as much as it is adaptation
• Know your passions and principles
• Don't let money or power sway you from the path.
I am excited to hit these next two certifications. I want our dual certifications to be the best on the planet. Between the two of us, you have just about every discipline covered. You also have two people that have succeeded both athletically and in the fitness world. You will see that we used the same strategy to be successful in both.
If you want to get better as a coach or athlete, you need to check this thing out. We will train together, learn about business together, eat together, and the best part is the Q&A. During the Q&A you get to ask whatever it is that you want to know. I normally learn the most during this time as well.
You get:
• Programming from both of us (I will give you all some insight on my squat every day)
• Barbell Movement: Snatch, Clean & Jerk, Squat, Bench, and Deadlift
• Kettlebell Craziness
• Sandbag, Stones, Tires, Sleds, and Rope Training
• Q&A
• How to Build a Solid Business in the Fitness World
Sign up for the Dual Certification here: USC & L2L Dual Certifications
This year we are also giving you guys the option to stay an extra day and take part in one-day Mastermind with Zach and me. Here is the link on Zach's page to read all about that:
Zach Even-Esh and Travis Mash One-Day Mastermind
Learn 2 Lift Seminars are coming to Livonia, MI, and Zach Even-Esh and I are teaming up for two big combo Certs. in September and October. Click here to check them out!
Don't miss The September 5th Labor Day Mash Strength Spectacular! Powerlifting, Weightlifting, Strongman, and GridStyle all together on our 10 acre farm. Hurry because Early Bird Specials End July 15th!