Guys today I want you to meet someone that's sure to be super inspiring. Her name is Denise Greenway. I found out that we had a cancer survivor on the Mash Mafia Online Weightlifting Team, and it peaked my interest. Then I found out that she is a lot more than just a cancer survivor. Denise is a life conqueror. Before you read her amazing interview, give her a follow on Instagram:
==> @denise_deux
Now enjoy the interview!
Coach Mash- What goes through the brain of an 18-year-old girl that is diagnosed with Stage III Colon Cancer?
Denise- Well, it's an interesting thing to be so young and have to face something even experienced minds don't handle well. I grew up in a very unconventional lifestyle. My childhood was no cake walk so at 18 I had experienced a lot of life. When I was diagnosed I thought about all the things I hadn't accomplished yet. I wanted to aid in building a better world, rear children, and travel. I was very off put by the news but I've been a fighter from a small age and to me this was merely an obstacle in my way. I had a lot of personal growth and learned a lot through my various battles with cancer.
Coach Mash- After the diagnosis were you scared, mad, sad, or something else?
Denise- I'm not a very emotional person and when I am emotional it tends to come out in the form of anger. I was mad that I was trying to come out of a rough childhood and create a better adulthood but the universe had to put something so large in my way. Little did I know at that time cancer would only aid in building me.
Coach Mash- How did your family take this news? I know that if one of my children were diagnosed, I would lose my mind.
Denise- Well, I was in a weird place with my family. My family was very broken up my entire childhood. Growing up I became very independent and when rough patches hit I preferred to handle them alone and not stress out others with my burdens. I've always taken cancer on the chin as if it was a cold or just another daily task to handle. That being said my family wasn't a big part of my life during my initial cancer and they've always just trusted that I had things handled. I've always preferred to deal with my cancer on my own.
Coach Mash- And then the second diagnosis. What in the world was going through your mind?
Denise- Well, when it came around the second time it was caught way earlier and nowhere near as aggressive. My treatment was minimal and fast. The third time was when it was a real pain in my ass. I had just gone through a really rough break up, I had a toddler, and I had just competed for the first time in Powerlifing. I was pissed off at the timing of this cancer and the fact that it had spread. Luckily, I knew more the third go around about what worked and didn't work for me. My treatment was very unconventional and strange. I had to take a lot of time away as an athlete and focus on the bigger tasks like work, motherhood, and my overall health. Slowly but surely things were under control and now I'm in remission once again. I'm back to training and things are slowly piecing back together.
Coach Mash- When you realized that you were pregnant, were you overwhelmed or what? I mean you were living a life of trials by age 20 that most will never see.
Denise- Well, I have always wanted to be a mom. I grew up in such a strange childhood that a huge part of me wanted to build something better for my children. My daughter was a bit of an accident in my marriage but I was ready for the challenge. I became a single mother shortly after her birth and really that's when my mindset changed. Cancer changed my mentality a lot but motherhood was a whole different ball game. I was scared I would fail her. I was worried I wouldn't be able to teach her life skills and one day her downfalls would be my fault. From the time I found out I was pregnant and every day since I've thought about how to grow her into a better human. She is indeed a remarkable being.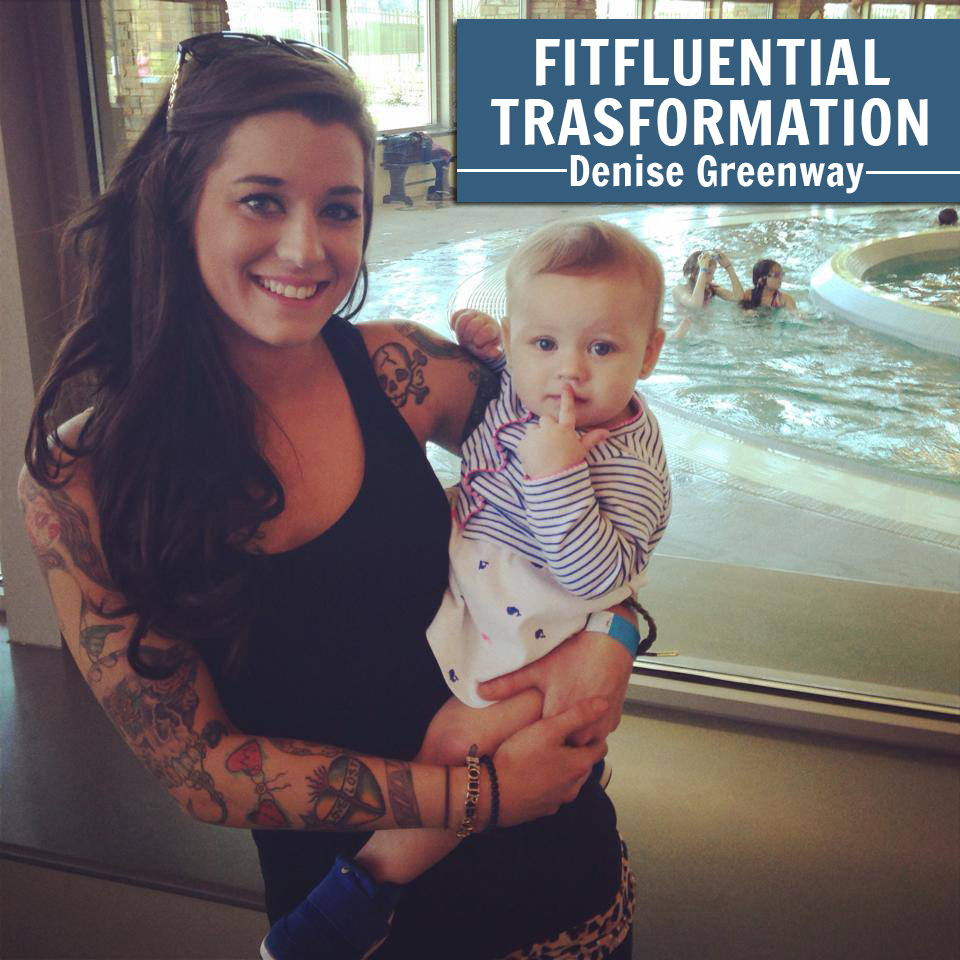 Coach Mash- What led you down this road of fitness?
Denise- I was always athletic my entire life. I grew up with all rough boys and raised by my father & grandparents. We played street ball and worked in the woods. I never had the desire to be in a gym until late into my first trimester when my energy surged. I was so energetic and my diet was perfection. I fell into CrossFit but always loved the weightlifting more. Eventually, my belly caused me to have to stray away from a barbell. I moved shortly after the birth of my daughter and started going to the YMCA. Through the influence of people around me I got into bodybuilding. I learned a lot about myself during that period. I really loved having a goal and competing but I disliked a lot of the ideals and community of bodybuilding. I met some powerlifters and really loved competing in that sport as well. Later, I got back into weightlifting and Crossfit. I learned I love focusing more on Strength And Conditioning with a sport specific goal. I love lifting heavy shit, I like having the ability to get up and do anything necessary regardless of time stressors, and I love putting myself to the test against others. I stay more in the powerlifting and weightlifting side now because I've learned it's what my soul desires more than what others desire for me.
Coach Mash- When did it become your business?
Denise- While I was pregnant I started the tedious task of accruing a long list of certifications. I loved learning more about human performance and especially nutrition. This has been my main business since my daughter was about 1.5.
So the past 3 years I have been the assistant coach and studier of other programs. I've really forced a lot of my growth because once I dive into something I keep my head down and try to acquire as much experience and knowledge as possible. The past two years I've really started to develop my business and the past year I've really started to find out who I am as a coach and an athlete. Between finding brand sponsorships and training all styles of clients I'm just now (3 years later) really seeing what I want in this business.
Coach Mash- I want to know your athletic goals, business goals, and more importantly what is your mission in life? What is your purpose?
Denise- Well let's start with the main things and move to the smaller issues. I'm huge on bettering the world around you. If you can't influence people to be better and do better than what's the point of existing. Wining competitions and making money is great but if the world suffers while you do that then you're still wasting energy.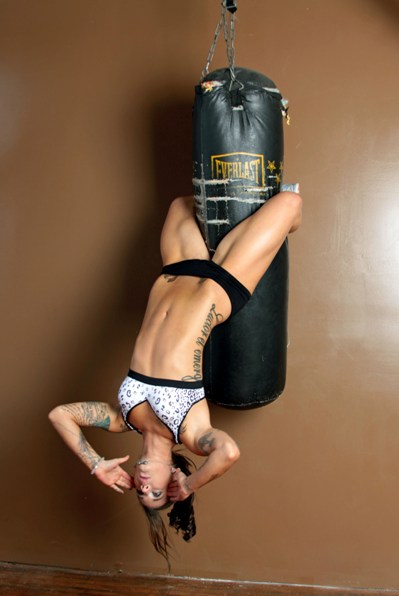 My purpose is to create a healthier world on a mental, physical, and emotional level. I've been given a very unique life that offers me the opportunity to relate to multiple demographics and understand their mentality. I try to better the people entering my life while learning from them as well. Business wise I derive a similar view point. Sure, more money would be great! A bigger business means a bigger platform with bigger financials, which offer me the opportunity to have a larger reach and help people. My athletic goals are on the same playing field! The more I compete and showcase my life as an athlete the more people I encounter and if I can impart a small amount of positivity and wisdom into each one than I consider it a life fulfilled.
"The richer your network of high-quality people interested in making the world a better place, the more you'll care and the better you'll become." -John Berardi ( @precisionnutrition )
Coach Mash- After going through all of this, what do you value in life?
Denise- I value experience most of all. Things are easily lost and destroyed. People come and go. Experience is forever! Experience is what makes me a better coach, athlete, mom, and mentor. Everyday I try to take my experience to another level. I try to be mentored by people. I try to adventure and understand the world better. I try to grow experience through quite times in my life when I can really ponder where I want to be and who I want to become. Experience is priceless.
Coach Mash- Where does it all end?
Denise- I don't think anything has an end, physics teaches us that. I think one day all of this energy and zeal I have will have only grown and blossomed into something for others to absorb and the cycle continues just with a different person.
Coach Mash- How did you get with Power Athlete? John Welbourn is my friend, so this is very cool.
Denise- Well, someone I met recommended them and explained how we align in our viewpoints so I checked them out. I became friends with Tyler Minton and Luke Summers which overtime grew into a kickass relationship with the whole PA family. I've really enjoyed being coached by them and mentored by them as well. Being apart of Wades army last year really connected me on an emotional level to the crew and I can't wait to see how we grow in our relationship. Those guys do some amazing things and I've met some amazing people through their connections that are resulting in me growing as a coach and athlete. I'm really happy to be able to say they are apart of my story as a coach and athlete, there's no better no bullshit men out there like those dudes.
Coach Mash- I have to ask are you afraid that the cancer will come back? I know that I am definitely concerned for my wife. It scares me sometimes.
Denise- I'm not afraid. Fear is a stress. Andy Stumpf spoke about always being aware of your situation and surroundings while you consistently prepare a plan for how to resolve anything that can come about. Seems silly to constantly be on your toes but if I always for thinking then I won't have to reactive think. I have plans in action to keep my cancer at bay, because you're never fully clear, and I've devised plans if it does come back on how to attack it basing those decisions off of what has worked and hasn't worked for me. Fear won't accomplish anything but strategizing will.
Coach Mash- Why did you choose Mash Elite to help you reach your goals? I am actually curious and thankful.
Denise- I like to support great people doing great things. I've never been the coach that was afraid of being coached! I'm friends with Frank, Meg, and Travis from Mash. After reading some of your E-books and speaking with them I decided to grow by going the Mash team. I think there are some great insights I can learn from your coaches and you! I've really loved the programming and it's been improving my strength as well as technique in a great way! I'm super happy to see where this will lead me and what I can accomplish.
Coach Mash- Close with anything that you want to say!
Denise- Anyone that knows me knows I'm a quote girl. I probably send more quotes to people than anyone I can think of, a bit of a book nerd.
A good friend of mine through Power Athlete said, "Tragedy is a gift because it forces us to find our purpose." It's something that, if you really ponder on daily, will change your life. Thinking you're always the one being punished by life won't ever allow you to grow. Taking the tragedies in your life and turning them into a gift that helps lead you down your road to purpose will better your life and those that come in contact with you. Personal growth is the single best thing anyone can focus on. That energy builds and matures to be passed on to others. Build a capacity to love. Grow mentally tough. Stay aware. Experience life. Drink your coffee black.
===============================================================
==============================================
Check out one of the Online Teams:
• Mash Mafia Bronze
• Mash Mafia Silver
• Mash Mafia Gold
• Eat What You Want
• Eat and Lift What You Want
Check them out here: ⇒ Mash Mafia Online Teams