12 Week Mash Mafia No Fat Powerlifting Program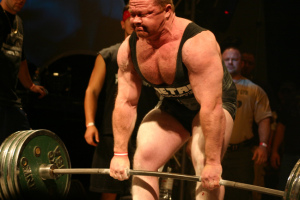 I am committed to forming the best powerlifting team in America. My weightlifting team is well on its way, so now it is time to turn my focus on powerlifting. The Mash Mafia Compound now resides in the very building where I finished my pro powerlifting career. There is something magical about that place as you all can see from the massive PRs that my team hits on the weekly.
Now it is time to fill it with world champion powerlifters as well. This article and new routine is to show that commitment. Team Mash Mafia is taking powerlifters in all the different levels right now. You can check the teams out below:
The Mash Compound is looking for powerlifters that want to be coached up by Coach Mash. I am talking about men and women that want to be the best in the world. If you are interested, email us at the address below:
>>> info@mashelite.com <<<
The 12-week program below is a great plan to get you strong without a lot of unnecessary assistance work. This is the meat and potatoes baby! One exercise that I want to address up front is the DB Power Clean.
The DB Power Clean is not a complex movement. Basically the athlete shrugs the elbow level with the shoulders and then performs an external rotation. That's it! I am just looking to match external rotation with all the internal rotation of bench pressing to prevent injuries.
If you have any questions about the other exercises, simply reply to this article in the comments sections. I will either explain the exercise, or make a video for you. I want all of you to benefit from this website. If you communicate questions, then I can be assured of your progress.
Enjoy the program!
Week 1
Day 1
Back Squat 10RM, then -10% for 2×10
Deadlift 5RM, then -10% for 2×5 not paused
Goodmornings 3 x 8 reps
Day 2
Bench Press 1st and last rep competition pause 10RM, then -10% for 2×10
DB Clean & Press 5×10
DB Tricep Extensions/6 ss Pushdowns/10 x 6 sets
Day 3
Front Squat 5RM, then -10% for 2×5
Unilateral RDLs 8 reps x 3 sets ea leg
Farmer's Walk Unilateral 45 sec ea hand x 3 sets if you get all 3 sets with each hand without sitting the bar down, increase the weight the next week 5-10 lbs
BB Rows 3 sets x 10 reps
Day 4
1 Boards Closegrip Bench Press 3RM
Closegrip Bench 5RM, then -10% for 2×5
Weighted Dips 3×8-10 reps
Plate Lateral Raises 3 x 10reps
Day 5
Back Squats 1st rep Paused 5 sec 3RM, then -10% for 2×3 not paused
Elevated Suitcase Deadlifts 3 x 8 Reps ea side
GHDs 3×8 Reps
Week 2
Day 1
Back Squat 10RM, then -10% for 2×10
Deadlift 5RM, then -10% for 2×5 not paused
Goodmornings 3 x 8 reps
Day 2
Bench Press 10RM, then -10% for 2×10
DB Clean & Press 10 reps x 5 sets
DB Tricep Extensions/6 ss Pushdowns/10 x 6 sets
Day 3
Front Squat first 2 reps paused 1 sec 5RM, then -10% for 2×5
Unilateral RDLs 8 reps x 3 sets ea leg
Farmer's Walk Unilateral 45 sec ea hand x 3 sets if you get all 3 sets with each hand without sitting the bar down, increase the weight the next week 5-10 lbs
BB Rows 3 sets x 10 reps
Day 4
1 Boards Closegrip Bench Press 3RM
Closegrip Bench 5RM, then -10% for 2×5
Weighted Dips 3×8-10 reps
Plate Lateral Raises 3 x 10reps
Day 5
Back Squats 1st rep Paused 3 sec 3RM, then -10% for 2×3 not paused
Elevated Suitcase Deadlifts 3 x 8 Reps ea side
GHDs 3×8 Reps
Week 3
Day 1
Back Squat 8RM, then -10% for 2×8
Deadlift 5RM, then -10% for 2×5 not paused
Goodmornings 3 x 8 reps
Day 2
Bench Press 1st and last rep competition pause 8RM, then -10% for 2×8
DB Clean & Press 10 reps x 5 sets
DB Tricep Extensions/6 ss Pushdowns/10 x 8 sets
Day 3
Front Squat 5RM, then -10% for 2×5
Unilateral RDLs 8 reps x 3 sets ea leg
Farmer's Walk Unilateral 45 sec ea hand x 3 sets if you get all 3 sets with each hand without sitting the bar down, increase the weight the next week 5-10 lbs
BB Rows 3 sets x 10 reps
Day 4
1 Boards Closegrip Bench Press 1RM
Closegrip Bench 5RM, then -10% for 5
Weighted Dips 3×8-10 reps
Plate Lateral Raises 3 x 10reps
Day 5
High Bar Back Squats 1st rep Paused 1 sec 3RM, then -10% for 2×3 not paused
Elevated Suitcase Deadlifts 3 x 8 Reps ea side
GHDs 3×8 Reps
Week 4
Day 1
Back Squat 5RM
Deadlift 3RM
Goodmornings 3 x 8 reps
Day 2
Bench Press 1st and last rep competition pause 5RM
DB Tricep Extensions/6 ss Pushdowns/10 x 4 sets
BB Rows 3 sets x 10 reps
Day 3
Front Squat 3RM
Unilateral RDLs 8 reps x 3 sets ea leg
Farmer's Walk Unilateral 45 sec ea hand x 3 sets if you get all 3 sets with each hand without sitting the bar down, increase the weight the next week 5-10 lbs
Day 4
Floor Presses 5RM, then -10% for2x 5
Weighted Dips 3×8-10 reps
Plate Lateral Raises 3 x 10reps
Day 5
Back Squats with 3 sec pause 1RM
Elevated Suitcase Deadlifts 3 x 8 Reps ea side
Week 5
Day 1
Back Squat 5RM, then -10% for 2×5
Deadlift every minute on the minute focus speed 70% for 8 sets of 1 reps EMOM (work up in weight but don't pass 90%
Goodmornings 3 x 5 reps
Day 2
Bench Press 1st and last rep competition pause 5RM, then -10% for 2×5
Closegrip Floor Presses 8RM, then -10% for 2×8
DB P. Cleans 3 sets x 15 reps
Day 3
Front Squat first 2 reps paused 3 sec 3RM, then -10% for 2×3
BB Rows 3 sets x 6 reps
Farmer's Walk Bilateral 45 sec x 3 sets if you get all 3 sets without sitting the bar down, increase the weight the next week 5-10 lbs
Abdominal Work
Day 4
2 Board Closegrip Bench Press 3RM
Closegrip Bench 3RM, then -10% for 2×3
DB Tri-Delts 3×9 ea direstion
Pull-Ups 3 sets of submaximal reps
Day 5
Back Squats 1st rep Paused 5 sec 1RM, then -20% for 3×3 not paused
Zercher Deadlifts off Blocks with Bar at Knee 3RM, then -10% for 2×3
GHDs 3×8 Reps
Week 6
Day 1
Back Squat 5RM, then -10% for 2×5
Deadlift every minute on the minute focus speed 70% for 10 sets of 1 reps EMOM (work up in weight but don't pass 90%
Goodmornings 3 x 5 reps
Day 2
Bench Press 1st and last rep competition pause 5RM, then -10% for 2×5
Closegrip Floor Presses 8RM, then -10% for 2×8
DB P. Cleans 3 sets x 15 reps
Day 3
Front Squat first 2 reps paused 1 sec 3RM, then -10% for 2×3
BB Rows 3 sets x 6 reps
Farmer's Walk Bilateral 45 sec x 3 sets if you get all 3 sets without sitting the bar down, increase the weight the next week 5-10 lbs
Day 4
2 Board Closegrip Bench Press 3RM
Closegrip Bench 3RM, then -10% for 2×3
Pull-Ups 3 sets of submaximal reps
DB Tri-Delts 3×9 ea direstion
Day 5
Back Squats 1st rep Paused 3 sec 1RM, then -20% for 3×3 not paused
Zercher Deadlifts off Blocks with Bar at Knee 3RM, then -10% for 2×3
GHDs 3×8 Reps
Week 7
Day 1
Back Squat 5RM, then -10% for 2×5
Deadlift every minute on the minute focus speed 70% for 10 sets of 1 reps EMOM (work up in weight but don't pass 90%
Goodmornings 3 x 5 reps
Day 2
Bench Press 1st and last rep competition pause 5RM, then -10% for 2×5
Closegrip Floor Presses 8RM, then -10% for 2×8
DB P. Cleans 3 sets x 15 reps
Day 3
Front Squat 3RM, then -10% for 2×3
BB Rows 3 sets x 6 reps
Farmer's Walk Bilateral 45 sec x 3 sets if you get all 3 sets without sitting the bar down, increase the weight the next week 5-10 lbs
Abdominal Work
Day 4
2 Board Closegrip Bench Press 1RM
Closegrip Bench 3RM, then -10% for 2×3
Pull-Ups 3 sets of submaximal reps
DB Tri-Delts 3×9 ea direstion
Day 5
Back Squats 1st rep Paused 1 sec 1RM, then -20% for 3×3 not paused
Deadlift off Blocks with Bar Below Knee 3RM, then -10% for 3
GHDs 3×8 Reps
Week 8
Day 1
Back Squat 3RM
Deadlift every minute on the minute focus speed 70% for 6 sets of 1 reps EMOM (work up in weight but don't pass 90%
Hyper Extensions 3×8
Day 2
Bench Press 1st and last rep competition pause 3RM
DB P. Cleans 3 sets x 15 reps
Tricep Pushdowns 3×12
Upper Muscular Imbalance
Day 3
Front Squat 3RM, then -10% for 3
BB Rows 3 sets x 6 reps
Day 4
Floor Presses 3RM, then -10% for 2×3
Pull-Ups 3 sets of submaximal reps
DB Tri-Delts 3×9 ea direstion
Day 5
Bar Back Squats 1RM
Deadlift off Blocks with Bar Below Knee 3RM, then -10% for 3
GHDs 3×8 Reps
Week 9
Day 1
Back Squat 3RM, then -10% for 2×3
Deadlift with mini-bands every minute on the minute 70% for 8 sets of 1 reps EMOM (work up in weight but no misses)
Kang Squats 3 x 5 reps start at 35% of Back Squat and work up from there
Day 2
Bench Press 1st and last rep competition pause 3RM, then -10% for 2×3
Closegrip Floor Presses 5RM, then -10% for 2×5
Plate Lateral Raises 3 sets x 10 reps
Seated or T-Bar Rows 3 sets x 10 reps
Day 3
Front Squat Paused 5 sec 1RM, then -20% for 3×3 not paused
Weighted Hypers 8 reps x 3 sets
Abdominal Work
Day 4
3 Board Closegrip Bench Press 3RM
Closegrip Bench Paused 3 sec on chest 1 RM, then -20% for 3×3 not paused
DB Tricep Extensions 6 sets x 8 reps with 30-45 sec rest between sets
Pull-ups 3 sets of submaximal reps
Day 5
High Bar Back Squats 1st rep paused 5 sec 5RM, then -10% for 2×5 not paused
Deadlifts off 4″ Blocks 3RM, then -10% for 2×3
GHDs 3×8 Reps
Core Muscular Imbalance
Week 10
Day 1
Back Squat 2RM, then -10% for 2×2
Deadlift with mini-bands every minute on the minute 70% for 6 sets of 1 reps EMOM (work up in weight but no misses)then take bands off and max
Kang Squats 3 x 5 reps start at 35% of Back Squat and work up from there
Day 2
Bench Press 1st and last rep competition pause 2RM, then -10% for 2×2
Closegrip Floor Presses 5RM, then -10% for 2×5
Plate Lateral Raises 3 sets x 10 reps
Seated or T-Bar Rows 3 sets x 10 reps
Day 3
Front Squat Paused 3 sec 1RM, then -20% for 3×3 not paused
Weighted Hypers 8 reps x 3 sets
Abdominal Work
Day 4
3 Board Closegrip Bench Press 2RM
Closegrip Bench Paused 3 sec on chest 1 RM, then -20% for 3×3 not paused
DB Tricep Extensions 6 sets x 8 reps with 30-45 sec rest between sets
Pull-ups 3 sets of submaximal reps
Day 5
High Bar Back Squats 1st rep paused 3 sec 5RM, then -10% for 2×5 not paused
Deadlifts off 4″ Blocks 1RM, then -20% for 2×3
GHDs 3×8 Reps
Week 11
Day 1
Back Squat 1RM, then -20% for 3
Deadlift every minute on the minute 70% for 8 sets of 1 reps EMOM (work up in weight but not past 90%)
Day 2
Bench Press competition pause 1RM, then -20% for 3
Plate Lateral Raises 3 sets x 10 reps
Seated or T-Bar Rows 3 sets x 10 reps
Day 3
Abdominal Work
Recovery Day
Day 4
3 Board Closegrip Bench Press 1RM
Closegrip Bench Paused 3 sec on chest 1 RM, then -20% for 3 not paused
DB Tricep Extensions 6 sets x 8 reps with 30-45 sec rest between sets
Day 5
High Bar Back Squats Take 90% of week 10's 5RM for 2×5
Deadlifts off 2 inch Blocks 1RM
GHDs 3×8 Reps
Week 12 Taper Week and testing
Day 1
Back Squat 85% 2×1
Deadlift 80% 2×1
Day 2
Bench Press competition pause 85% 2×1
Seated or T-Bar Rows 3 sets x 10 reps
Day 3
Abdominal Work
Recovery Day
Mobiity
Day 4
Off just move aroung
Day 5
Max Out
Squat
Bench
Deadlift